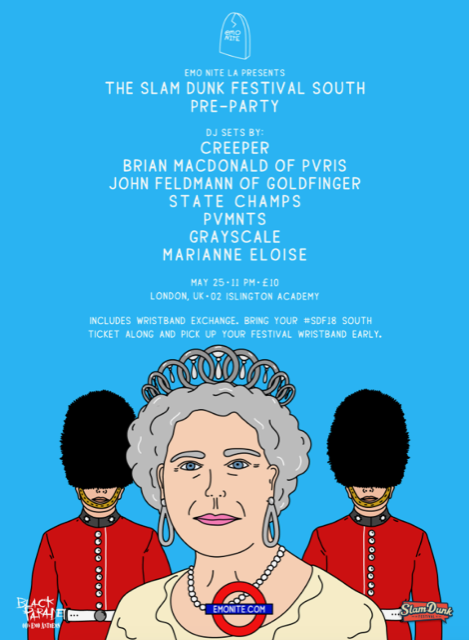 If you haven't heard of Emo Nite LA yet, it's probably because you've been hiding in your mom's basement crying for the past 5 years since MCR broke up. Well, it's time to dust off your Black Parade jacket, dry your tears, and forget those "My Chemical Romance aren't actually emo" arguments. I'd happily sit here all day and insist that nothing is more emo than Rites Of Spring, the original Embrace with Ian MacKaye, and Jawbreaker, but now isn't the time, because the legendary Emo Nite has finally come to the UK, and is running the official Slam Dunk Festival South Pre-Party at the O2 Academy Islington in London this coming Friday 25th May.
Emo Nite has been running for three years now and has grown from its humble beginnings in a small dive bar in LA to filling out the likes of the Echoplex (a 500 capacity venue) as well as pioneering and paving the way for dozens of similar emo and alternative music club nights that are now occurring with higher frequency all over the US, UK and Europe. It's also gone on tour, running "Emo Nite LA" from Atlanta to Seattle to Dallas, and now London, providing us adult "emo kids" with what is set to be an epic and sweaty late night singing along to the cheesy classics of our youth.
The best news is, you don't need to have a Slam Dunk ticket to attend (although you probably should check out Slam anyway since the line up is hella as always), and you can buy your Emo Nite tickets totally separately, for only £10. And for those that DO have a Slam Dunk South ticket, you can exchange it for a wristband on the night, enabling you quicker entry on the actual day of the festival – just another bonus of attendance.
Emo Nite was originally started off by three friends (Babs Szabo, T.J. Petracca, and Morgan Freed) who just wanted to have a party and dance to their favorite tracks from the 90s and 2000s. It turned out, quite a few other people did too. It began with playlists – no DJs or bands – just the music speaking for itself, more like a party than a nightclub or event. Since then, the phenomenon has grown and developed into a cult hit and has become famous for its celebrity DJs (including Mark Hoppus, Mikey Way, and Chris Carrabba), guest appearances, and even full live band performances from the likes of The Used, Tigers Jaw, Hawthorne Heights, and From First To Last.
The night's first UK event will be no exception and play host to a plethora of impressive guest DJs sets by Creeper, Brian Macdonald (PVRIS), John Feldmann (Goldfinger), Grayscale, Marianne Eloise, State Champs, and PVMNTS.
The playlist is an eclectic and satisfying mix of emo (in all its forms), pop-punk, post-hardcore, and a hint of metalcore. You can expect to hear the likes of S&S favorites Panic! At The Disco, Taking Back Sunday, Fall Out Boy, My Chemical Romance, The Used, Senses Fail, Good Charlotte, The Starting Line, Linkin Park, Jimmy Eat World, Thrice, Every Time I Die, Get Up Kids, Blink-182, Weezer, Dashboard Confessional, Sunny Day Real Estate, The Ataris, Hot Water Music, Alkaline Trio, New Found Glory and many, many more. Basically, any awesome band or song you can think of, Emo Nite will have you covered.
Check back with S&S over the weekend when we will be providing some exclusive coverage of the event, including reviews, pictures, and interviews. It's going to be a night to remember and one not to miss, because who knows when it'll be back in the UK again. If you're in London on Friday, regardless of whether you're attending Slam Dunk or not, get yourself and your mates down to Emo Nite, starting from 11pm till 4am this Friday 25th May at 02 Academy Islington.