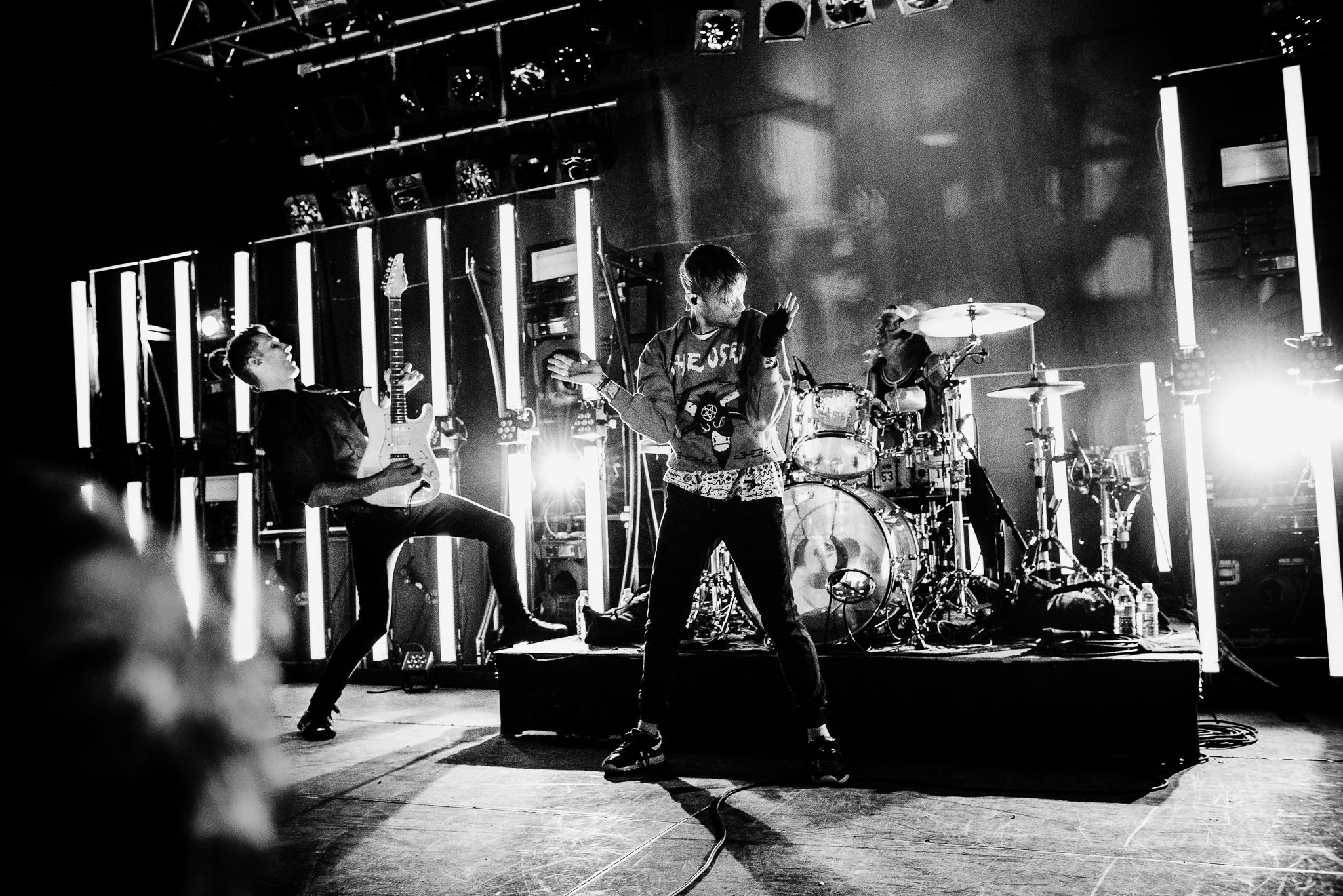 November 12, 2017
Starland Ballroom
Sayreville, NJ
See our photos of The Used here!
In 2002, like many others at the time, I was an emo kid. Every morning, I would throw on a pair of low cut, tight Levi's with a studded belt and Youth Large band t-shirt from Interpunk or a local show merch table. On chilly days, I'd don an oversized hoodie as I walked to my high school bus stop. My iPod was jam-packed with the latest scene discoveries and frequently repeated The Used's self-titled debut album. Full of angst yet tempered with tender heartache, Bert McCracken's explosive vocals made me feel alive.
How beautifully ironic that 15 years later, I'm still screaming along to "The Taste of Ink" at my teenage self's favorite New Jersey music venue. The Used are touring with fellow emo era staple Glassjaw and celebrating their latest release, The Canyon.
I squeeze into the way too small photo pit between the stage and barrier with a plethora of other photographers. We awkwardly fumble around each other as Glassjaw kick off their hits-laden set. I remember when Worship and Tribute, also released in 2002, took the scene by storm. Those of us in nearby Jersey unofficially adopt New York bands as our own, and Glassjaw was no exception. Daryl Palumbo was, yes, practically worshipped by several of my friends.
The charismatic frontman and crew perform songs like "Tip Your Bartender" and "Ape Dos Mil" as if a decade and a half haven't passed; their energy is infectious and unable to be matched by the nearly sold-out audience, though they try, crowd surfing and fist pumping away. Palumbo and I share an unexpected moment with smiles and laughter before the other photographers and I are shuffled out of the pit. I watch their fans continue to respond to Glassjaw's set, bursting into screams when the band leaves the stage, hoping for an encore that wouldn't come.
The venue starts to buzz as The Used's set time draws near. It's clear that die-hard fans are ready to combust with excitement. The lights dim, and McCracken takes the stage in a self-promotional holiday spirit, wearing a Used anti-Christmas sweater. The intro to "Take It Away" starts to play, and I am 18 again. A banner drops, revealing the other band members and a backdrop of colorful lights. I try my best to maneuver around the claustrophobic photo pit, following McCracken, bassist Jeph Howard, and guitarist Justin Shekoski around the stage as drummer Dan Whitesides holds down the fort. The Used follow up with "The Bird and the Worm" and "A Box Full of Sharp Objects" before I'm exiled from the front again.
"Without a doubt, this is one of the best clubs in the entire world," says McCracken, encouraging concertgoers to "be a child again," if only for tonight. He shares how his baby girl Cleopatra Rose inspires him and assures that if we're going to channel our younger selves anywhere, "a rock show is the perfect place."
The band launch into "Rise Up Lights," their second single from The Canyon. I notice a young female crowd surfer wearing fuzzy boots and chuckle to myself. I find it fascinating that a band I've held dear for so long can be experienced by teenagers today just like I encountered them years ago.
McCracken continues to chat up the crowd after every song, this time mentioning his sobriety in light of his friend's death, Chester Bennington of Linkin Park. Having seen The Used perform while McCracken was still in the throngs of addiction, I appreciate how solid his performance is as opposed to years ago. The Used are sonically stronger than ever, projecting power far beyond a four-piece.
McCracken begins to recite "I Know A Bank Where The Wild Thyme Blows" from A Midsummer Night's Dream before jumping into "All That I've Got." He lets the audience screams ring out when the music pauses in the middle of the song, basking in the spotlight and teasing the crowd. If you're a rock star who doesn't have fun on stage, what's the point? McCracken enjoys every moment as The Used's playful frontman.
As talkative as ever, McCracken begins telling a story from Warped Tour 2001 in New Jersey. "Sixteen years ago, we were playing this song. All the power went out on stage, and the entire crowd sang all the words. I knew right then and there that all my dreams had come true. Every time I say it, I still can't believe it…Thank you from the bottom of my heart for allowing my dreams to come true. I want you to also know that I do this for me first because I feel like my place on this planet is to maybe help other people feel like they're not alone."
Alone is the last thing we feel as The Used play "The Taste of Ink" to a slew of cell phones capturing the collective joy in the room. McCracken abandons the mic and encourages us all to sing the second chorus without him. I look around and think how even after all the changes in our lives, we're still the same kids who love music and want to make a difference in the world.
McCracken encourages the crowd to open up a circle pit, not to smash into each other but rather have a dance off. He shares that he once pretended to be sick so he could watch Michael Jackson dance on tv, and that solidified his desire to be a performer. The Used then play "Over and Over Again," the first single from The Canyon. It sounds familiar to me, mimicking the danceable beat and guitar line of "Let It Bleed," one of my favorites.
"Are you having a good time? I'm really asking. I'm really wondering because I'm having a fucking great time."
Never one to hide his leanings but rather blatantly express them regardless of reaction, McCracken covers a myriad of topics. He clarifies that the scarf draped on his mic stand symbolically represents solidarity with Palestine. He also shares his disdain for salespeople and Facebook before performing "Listening."
He then again references his sobriety stating, "If there's hope for someone like me, there's hope for someone like you." McCracken reminisces on when he saw Tom Petty perform saying that he was struck by how "after every single song, he said 'thank you' in the most sincere and beautiful way. I want to try and do that." McCracken cycles back to Shakespeare, reciting more from A Midsummer Night's Dream.
Before "Sound Effects and Overdramatics" and "About You," the chatty frontman goes deep. "In the last six months, I learned more about the psychological healing power of music than I ever thought was possible. Music is the most important thing in my life." Talking about a friend who committed suicide, he says, "If I feel like crying, I'm gonna cry if you allow me to."
The band power through "Pretty Handsome Awkward" and "Selfies in Aleppo" as I realize that McCracken often stands sideways, perpendicular to the crowd. I wonder if this is only for aesthetics or if he feels more connected by essentially singing with his fans, not at them. He switches his Shakespeare to Hamlet, reciting more by memory before closing The Used's set with "I'm a Fake" where he descends into the pit much to the delight of the audience.
The band wave their goodbyes as the stage goes dark. Crowd members who had hung back throughout the night begin to file out, though the loyals at the front refuse to leave. Their dedication is rewarded with sirens and the return of The Used, ending with "Maybe Memories" after over 90 minutes of pure, in-your-face emo rock. I exit into the cold November air and hope that in another 15 years, we'll do it all over (and over) again.
The Canyon is available at the following links:
Vinyl/Bundles: smarturl.it/theusedmerch
iTunes: smarturl.it/TheCanyonIT
Spotify: smarturl.it/TheCanyonSpotify
Apple Music: smarturl.it/TheCanyonAM