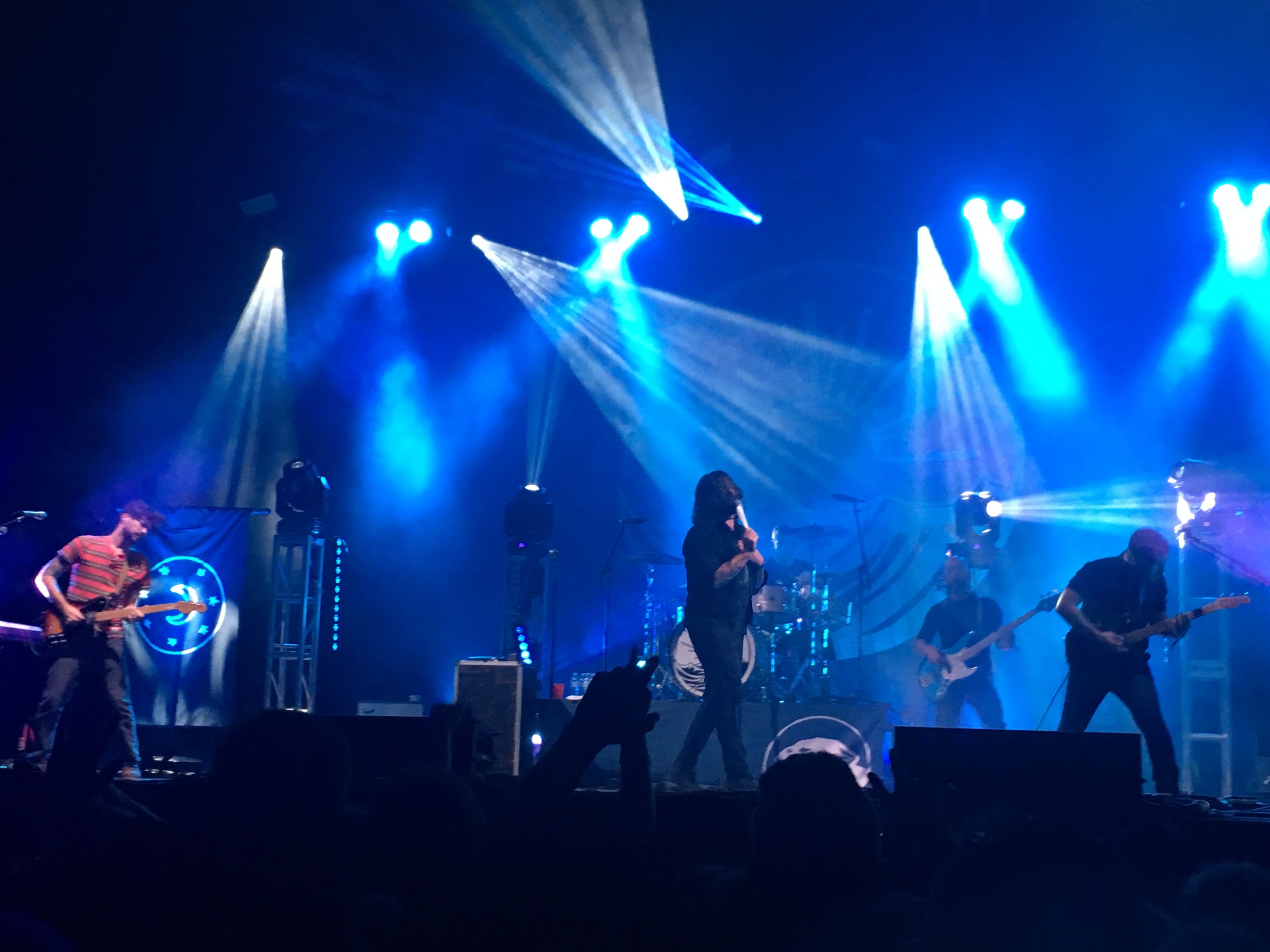 It's no secret that Taking Back Sunday are one of my favourite bands, which is exactly why I chose to see them twice at Riot Fest. They were headlining the Rise Stage on the Saturday evening of the festival but then played AGAIN on Sunday evening – the latter during the special Riot Fest Lates shows that were taking place all over the city each night, with tickets to be purchased separately.
Adam Lazarra commanded the stage with his usual swagger during the songs, swinging the mic around and catching it like a pro, prancing about the stage like he owned the place and deserved to be nowhere else in that moment than up there performing for hundreds of crazy kids going wild. Anyone who's met him, however, or even seen any of the band's shows, will know that he's a sweet, well mannered and humble guy who hasn't let the success of the band go to his head.
"I can't believe you're all choosing to watch us instead of Queens Of The Stone Age," he mumbled over the mic in apparent disbelief during their Saturday night set. "You could have been like, I dunno, riding the zipper over there, or sitting around getting drunk, or watching Queens Of The Stone Age, you had so many choices tonight and you chose us, it means a lot…"
Similarly, on Sunday night, he seemed surprised that so many people had come out to see them play at 1:00am: "I said to John, like, 'We're playing at 1 in the fucking morning. No one's gonna be there, man. And yet here you all are. It's fucking amazing. We've played Riot Fest so many times now, and we can't believe they keep asking us back. Every time they ring up we're like, it must be a mistake…"
That kind of humility, whether staged or genuine, always goes down well with a crowd, and Taking Back Sunday are already preaching to the converted. Every single word to every single song is sung along loudly and enthusiastically, arms swaying in the air for the slower numbers, and pits breaking out for the faster ones – a few crowd surfers here and there, too.
"How many of you came to see us last night, too?" Adam asks on Sunday, to whoops and cheers as virtually everyone raises their arms in the air. The band still has a massive fan base, and they work it like pros. Their performance is slick and solid, barely missing a beat or dropping a chord (except once, but I don't think anyone noticed!). One of the amazing, unique things about this band is their ability to change up the setlist. Having seen them two nights in a row, I was expecting the same set, maybe with one or two changes. On the Sunday, it was a completely different set, their whole original Riot Fest performance thrown out the window in favour of doing whatever the hell they wanted. They know their own music inside out. They could probably stand up on stage, take requests all night, and still sound as tight as a nut.
One thing doesn't change though, and that's ending the night on "MakeDamnSure," a TBS classic that never fails to bring the house down. If these guys are ever playing in your hometown, which is a high possibility considering the amount of work and touring they do, you better make damn sure you go see them, cause you won't regret it. 😉