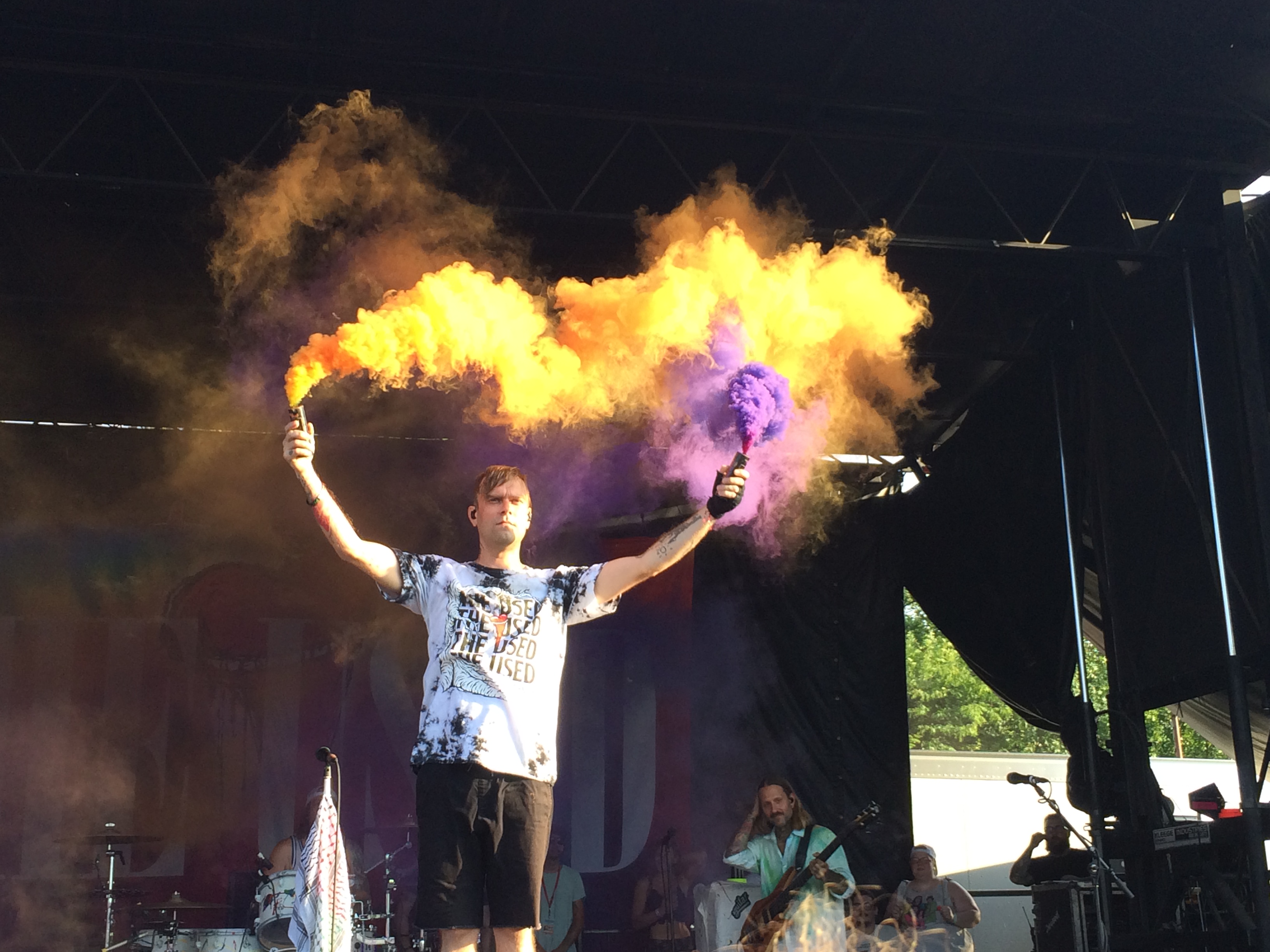 Dates Attended:
Bonner Springs, KS (07/05/18)
San Antonio, TX (07/07/18)
When Kevin Lyman announced that 2018 was to be the last final full run of Warped Tour, a bunch of pop-punk and alternative music fans from all 'round the world rushed to get tickets, knowing this was their final chance to witness the legendary travelling festival. The lineup was released to a mixed reception and the inevitable calls for My Chemical Romance to reform, but for all intents and purposes, this was a good line-up, encompassing a wide range of classic bands such as Mayday Parade, The Used, Senses Fail, Simple Plan and Taking Back Sunday, as well as including plenty of new, young and up and coming bands, continuing in the Warped Tour tradition of supporting and showcasing fresh talent.
One of those such artists is the aptly named Yungblud, who at only 19 has a stunningly bright future ahead of him. The solo artists from Leeds, UK who has a backing band of two (guitar & drums) as well as utilising samples for his live show, dropped his debut album 21st Century Liability during his Warped Tour run. The album itself is well worth checking out, but it was his live performance on the Owly FM Stage that looks set to win him a bunch of fans wherever he goes.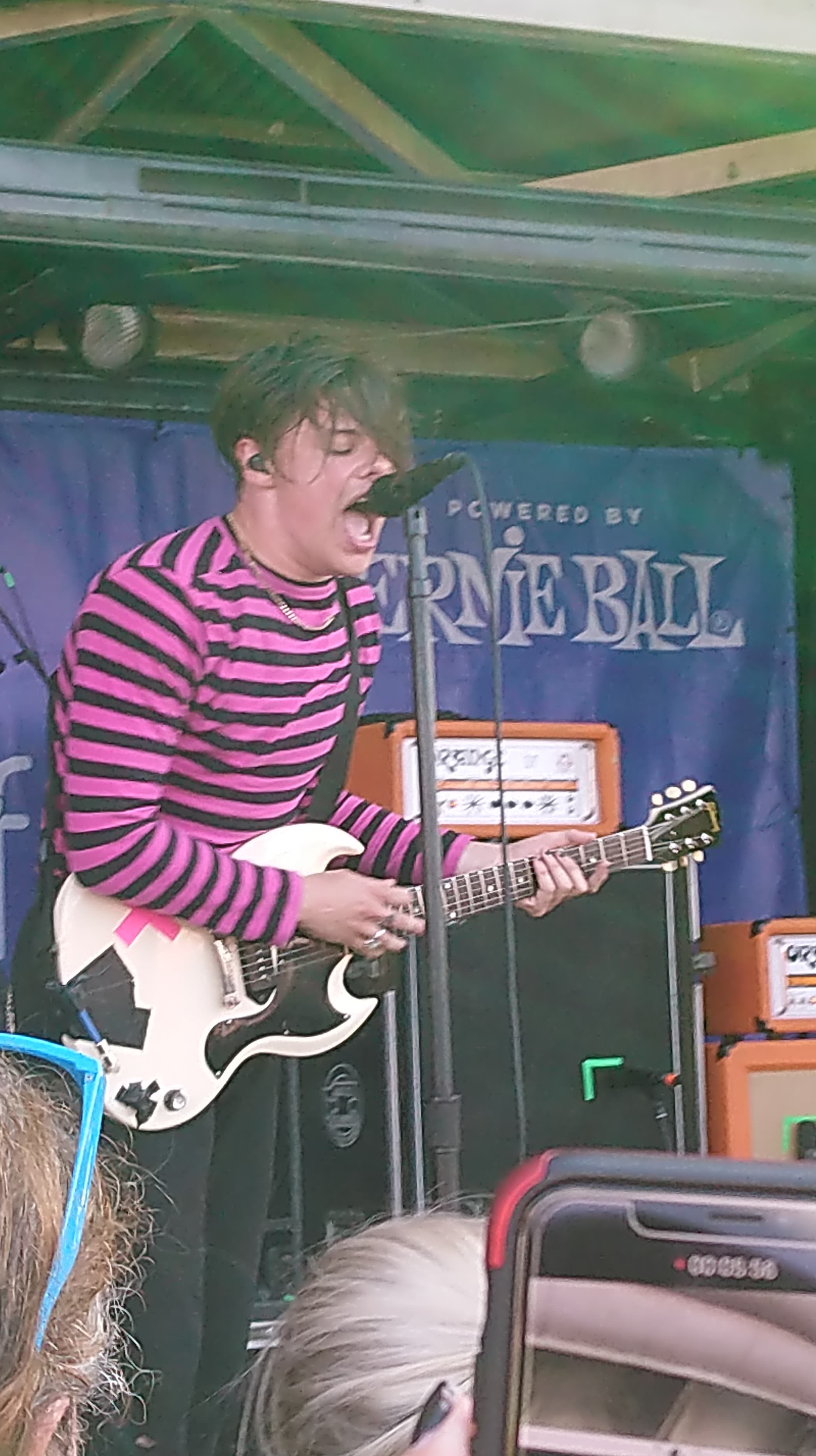 Photo by Andy Andreas
Prancing about like a rocket fuelled on sass, and with the stage presence of a young Gerard Way, this guy has star written all over him, his on-stage antics a mixture of amusing, erotic and absolutely enthralling. Making love to the microphone, sucking his finger, grabbing his crotch, rolling on the floor, taking fistfuls of his own hair, shaking his hips and licking his guitarist's face – you name it, he does it, and he does it with such ease and natural confidence that it doesn't come across as cheesy or "for show." He just totally pulls it off. You can't look away, and boy, do the crowds love it. Screaming, cheering and whooping, he has them eating out the palm of his hand within the first song; jumping when he says jump, arms up when he tells them to, and quite a lot of them singing along already knowing the words, too.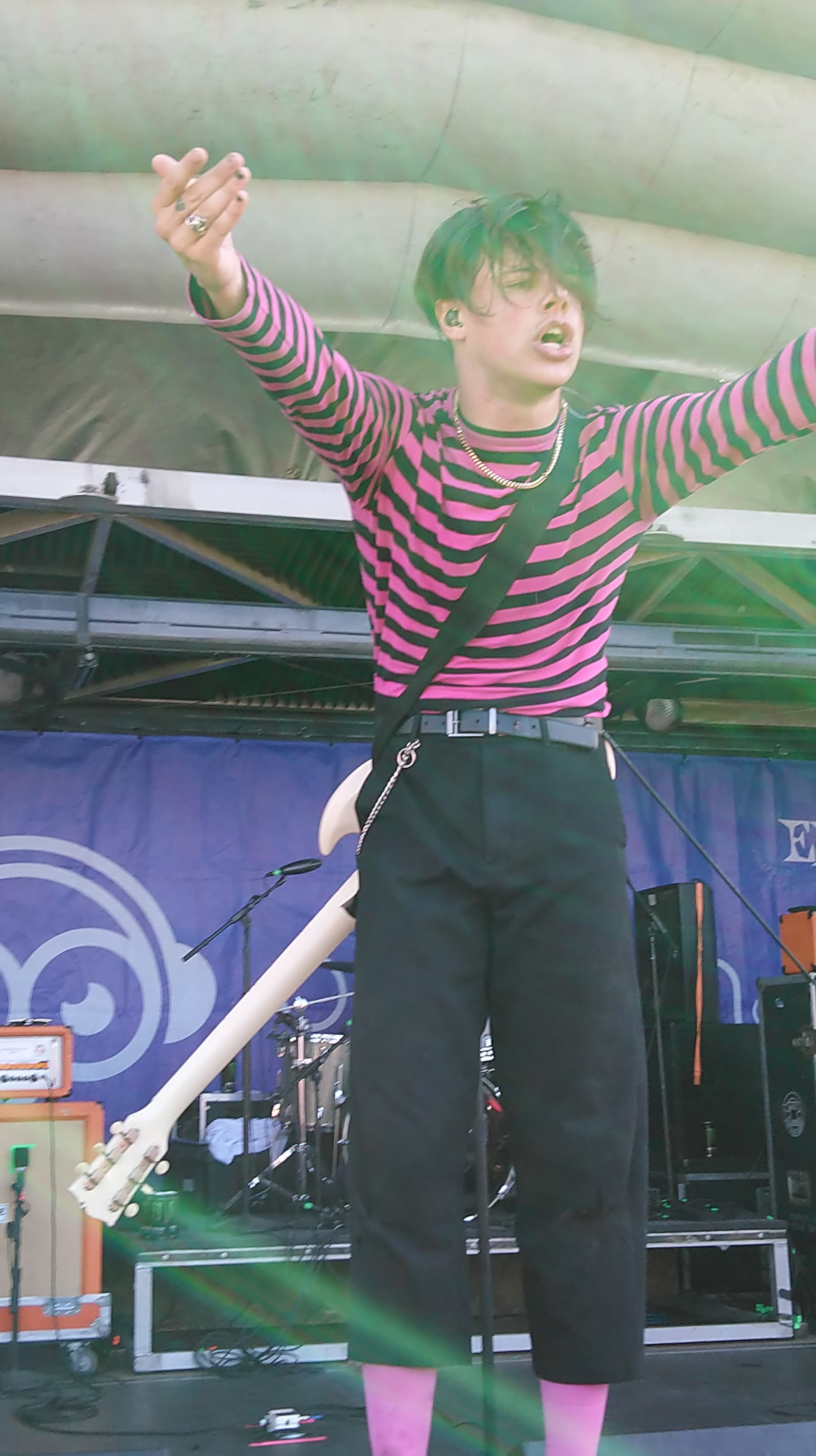 Photo by Andy Andreas
Musically, for those who haven't checked out his record yet, his songs are infectious pop-rock bops with some funky reggae and dance beats and rapping here and there. He wouldn't be out of place on a tour supporting Twenty Øne Piløts (that needs to happen), and the choruses are all singalong-friendly and get stuck in your head for days afterward so be prepared. Title track "21st Century Liability" is a real tune and a half, and songs like "Anarchist" and "California" had everyone with their arms raised high in the air, enthusiastically singing along – joining in with certain parts even if they didn't fully know the words off by heart.
In between songs, his banter was easy going and friendly, coming across as a genuine, down to earth guy delighted and amazed at the response he was getting. But it's well deserved, and you better watch out, because Yungblud is going to be huge.
On from the new to the old then, or at least, old in experience, because The Used are still going strong and know how to put on a good show. Carrying two sticks billowing out brightly coloured smoke all around him, a triumphant Bert McCracken casually strolled out onto the Left Foot Stage with his arms aloft, to screams and cheers as the audience pushed forward, his band picking up their instruments and getting themselves ready behind him. He stood at the front of the stage, switching between manic grinning and moody serious rock star in a split second then, once the smoke was beginning to die down, he turned, tossed the sticks, and began The Used's classic hit "Take It Away" to open up the set, the spoken word intro having been playing underneath their dramatic entrance.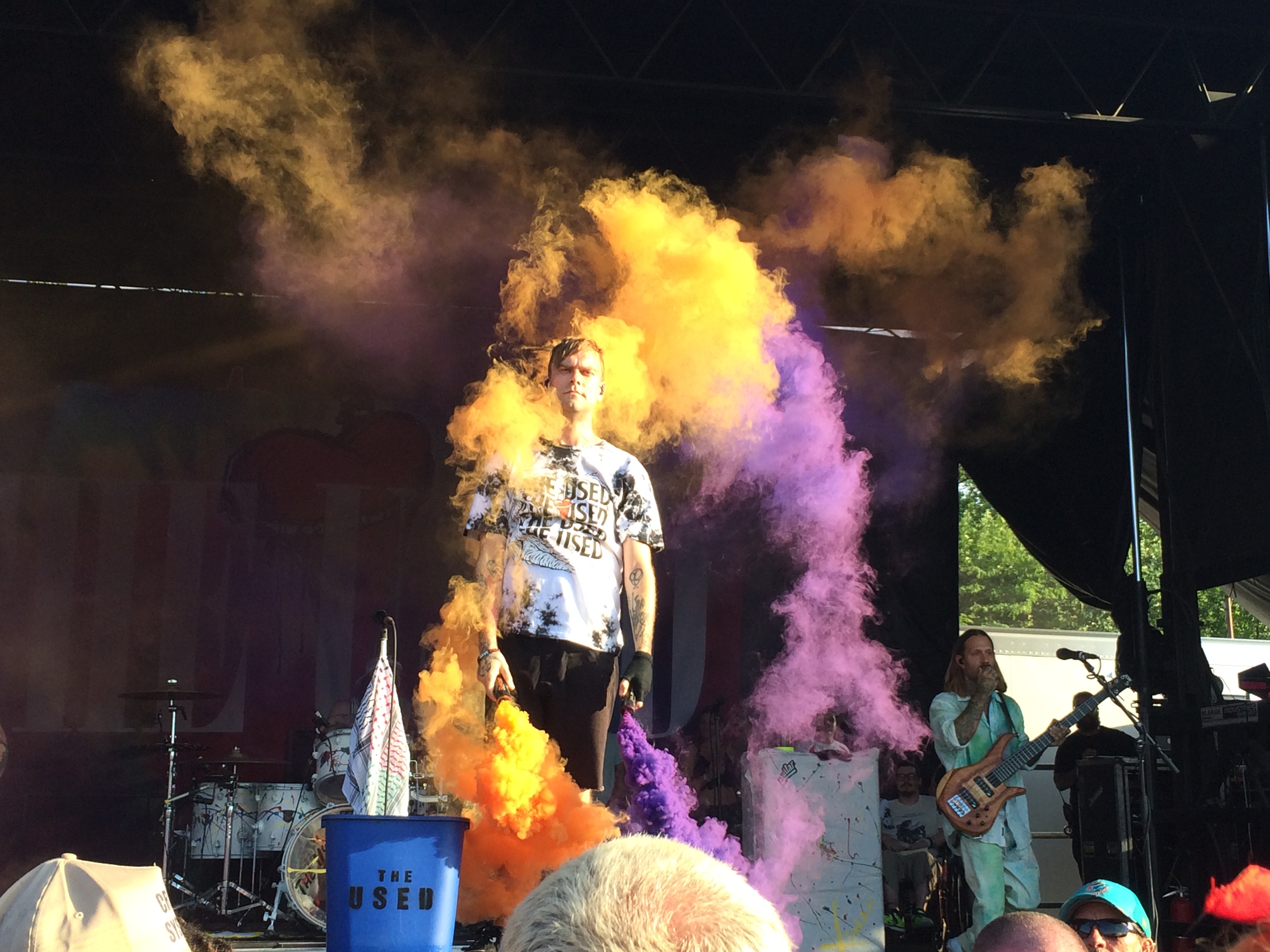 Indeed, it was a set full of classics, with the newest song being off 2009's Artwork ("Blood On My Hands"), and everything else being off their first three albums; three albums which, despite an overall strong back catalogue, generally epitomise the style, theme, and attitude of The Used. It was a well chosen and thought out festival slot, playing to a mixed audience of "die-hard" Used fans, as well as a bunch of people who had listened to them back in the day and happily jumped around turning to their friends saying "I remember this one!"
Favourites such as "A Taste Of Ink," "Pretty Handsome Awkward," and "A Box Full Of Sharp Objects" were all part of thehalf-hourr set, the latter of which was the closing song, cleverly mixed with a medley of "Smells Like Teen Spirit" (which clearly has the same chords) and resulting in a final crazy circle pit.
Audience participation and response was encouraged throughout, with Bert requesting the crowd to organise a wall of death for the start of "Pretty Handsome Awkward," and a massive circle pit for second song "Listening," which basically continued on and off throughout the rest of the set. Controlling the crowd like a natural born rock star, McCracken had them all eating out the palm of his hand as he jumped around, still with plenty of energy and raw passion. The band have gone through a few tumultuous changes recently, but new guitarist Joey Bradford seems to be settling in well, with a bit of on stage fun between him and Bert as Bert held up a wind machine to his face. Drummer Dan Whitesides was given a special honoroary mention as it was his birthday on the day of the San Antonio show. Bert held aloft a yummy looking chocolate cake for him, which Dan then came to collect and hurl into the crowd, sending cake flying everywhere as people threw it around.
Another great moment of the show was when Bert, wrapped in a Mexican flag, held his middle finger aloft and yelled, "Rest in fucking peace, Donald Trump." Not one to shy away from political issues, he also gave a shout out to Palestine with his scarf draped over his mic stand – a standard feature at every Used show now.
The Used have been Warped Tour regulars for the past 18 years, particularly in the mid-2000s heydey of the tour, so to play the final one only seemed fitting and was probably bittersweet for the band. They certainly sent it off in style though, and they were the perfect nostalgic choice to complete the line-up.
It's sad to be marking the end of such a historic and renowned festival, but Warped Tour has had a good run over the years and has seen the rise of some amazing bands who started out as relative unknowns playing the small stages. It was a pleasure to witness at least some of it, and good luck in the future to all the bands who played!