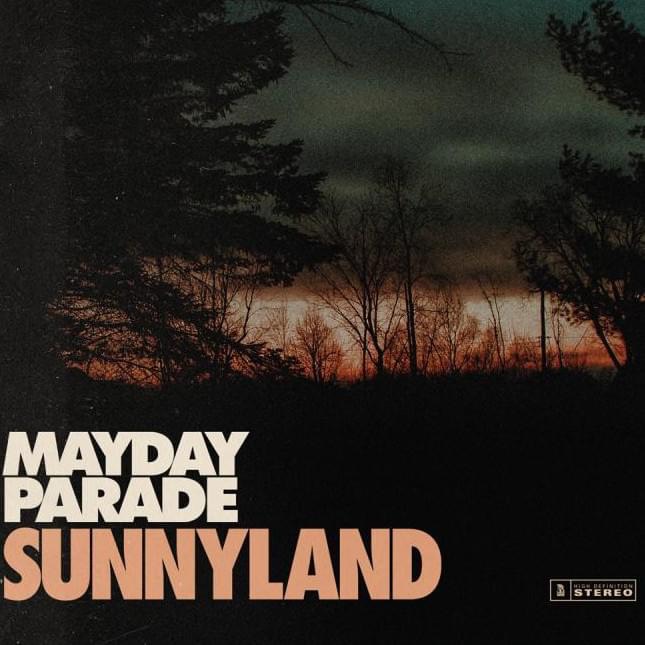 Sunnyland is a real place, sort of.
Its actual name was "Sunland Hospital," and the Tallahassee location, operational from 1967 to 1983, was one of a Florida-wide chain of mental health facilities. After its closure, the abandoned building became a source of numerous urban legends and served as a common break-in spot for rebellious local high-schoolers — who nicknamed it "Sunnyland"— up until its 2006 demolition. So as a place, it's long-gone and longer-empty. But as a setting for a ghost story, it's one that's familiar to a generation of Tallahassee teens — among them, the members of pop-punk band Mayday Parade.
"We'd sneak into Sunnyland in high school," bassist Jeremy Lenzo told us in an interview last month. "We'd be walking around with flashlights and having a good time, as high schoolers do."
It's perhaps an oddly joyful sentiment to attach to such a spooky locale, and that irony is central to Sunnyland, Mayday Parade's sixth full length studio album. Like a haunted house in the sunshine state, Sunnyland is a mixture of dark and light, and like any teenage memory, it brims with emotion at every turn.
Over the course of their six albums, Mayday Parade has explored a variety of sounds, from their energetic early work to the gloomier inclinations of 2015's Black Lines. But no matter what they sound like, Mayday Parade is consistent on one significant front: they are a band of poetically-inclined songwriters, crafting lyrics and melodies with unending starry-eyed romanticism and a willingness to pour their hearts out on the floor.
Sunnyland is no exception; the album is ballad-heavy, sometimes spunky sometimes sad, equal parts lovestruck and lovelorn and lovely. It is also some of the most innovative and accomplished songwriting of the band's career, full of unique, engaging arrangements and impassioned lyrics. This is Mayday Parade at their most elegant, most finely-tuned, and most heartfelt – a brilliant light and a masterful artistic triumph.
The album begins with its three lead singles, and all three of them are winners. "Never Sure" is a feisty pop-punk tune that sets the album off at a running start, while "It's Hard To Be Religious When Certain People Are Never Incinerated By Bolts of Lightning" is just as rousing but with a more serious mindset. As lead singer Derek Sanders told Billboard, "It's Hard To Be Religious" was written partly in response to the 2016 election, and the song definitely has a socio-political note. Its lyrics are frustrated, despairing and cautiously hopeful in turn, grappling with a world that feels unrecognizable, clinging hard to the fact that "these days we have each other." It's a powerful message, and combined with the song's roiling melody, it makes for a gripping, cathartic rebel yell.
The third single is "Piece Of Your Heart," a vibrant love song with a clap-and-chant arrangement tailor-made for concert sing-alongs. Wistful nostalgia is a prominent theme throughout Sunnyland, and "Piece Of Your Heart" plays the emotion for smiles; "if I could go back, I would do it all over with you," Sanders sings in the bridge, so warm and sweet that it feels like it's being whispered around a campfire. It's not a big song — just the opposite, compared to the rowdy other singles it feels quite pared down— but it has strength of spirit that really makes it fill the room. With rose-colored earnestness and super catchy hooks, I think "Piece Of Your Heart" is likely to be the album's breakout hit.
"Take My Breath Away" places the band's southern roots on full display, as they explore a sparse folk-rock style reminiscent of The Civil Wars. Thematically, the song is a heavy one —a haunting look at a love you'd do too much for, the refrain builds to an almost resigned cry of "hold me down in the river and take my breath away"— but musically, it's all heavenly light. Built on fragile violins, star-like pricks of acoustic guitar, and an angelic vocal performance from Sanders, it's a stunning portrait of burdened grace. Sunnyland features four ballads, and it's a tough call, but I think this is my favorite; arresting and unforgettable, "Take My Breath Away" has me gasping every time I listen.
"Where You" is also a standout. A tender depiction of the early stages of grief, the song's drifting melody and rich combination of violin and piano result in a dreamlike atmosphere. There's a throwback emo, Secondhand Serenade vibe at play here; with lyrics like "but I wake to find you nowhere and I'm tearing at my sheets," the song is at once intimate and massive, a waking nightmare put to beautiful score. Raw, aching and grand, it's a definite hit.
In addition to ballads, Sunnyland features a number of faster songs, including several —"Is Nowhere," "How Do You Like Me Now," and "Looks Red, Tastes Blue," all total bangers — that veer towards hard rock. "Is Nowhere" in particular strikes me as among the heaviest songs the band's ever done, dropping in like a lightning storm and raging through its running time. Sanders might be best known for his romantic vocals, but he's no slouch when it comes to heavier genres, and the album's harder songs also feature some standout guitar work. Both lead guitarist Alex Garcia and rhythm guitarist Brooks Betts are tremendous talents, and it's a rush every time they take center stage for one of their many spectacular solos.
On the more upbeat side, "Satellite" is a bright and joyous love song. I have mixed feelings about the chorus — its "satellite" and "diamonds in the sky" images feel bit too cliché for a band that's normally more sophisticated. But the verses and the song's overall sound are something spectacular. Combining a danceable acoustic through-line, sparkling bursts of electric guitar and an instantly memorable melody, "Satellite" has a gem of an arrangement. Lush and jewel-toned and shining, it's a testament to Mayday Parade's top-tier songwriting skills.
Finally, the album concludes with its two remaining ballads — "Always Leaving" and "Sunnyland." "Always Leaving" is the weakest of the four slow songs — a melancholic take on tour life, it has a pretty melody but it just doesn't feel as special as something like "Take My Breath Away". "Sunnyland," on the other hand, is one of the album's artistic centerpieces. Like "Piece Of Your Heart," it's heavy on nostalgia, but here the theme takes a much more somber tone, as Sanders reminisces on his childhood and pines for days gone by. "Take me back to Sunnyland," he sings, "so I can find the light again," referring maybe to the literal flashlights described by Lenzo but more likely to something like innocence. The arrangement is delicate and glowing, layers of violin and vocals spun together like hazy glass. It's a sepia-toned, tear-jerking wonder, and it carries out the album on a gorgeous high.
Mayday Parade recently passed their 10-year anniversary, so the reflective mood present throughout Sunnyland makes a lot of sense. The band has a lot of history, not to mention a long back catalogue of hits to draw from. But reflectiveness aside, there is nothing stagnant about Sunnyland. The album pushes towards new creative heights, and it reaches sky. One of Mayday Parade's best ever, I think it's bound to be a pop-punk classic. Sunland Hospital might be an empty memory, but Sunnyland is a sun-filled here-and-now. Grab your flashlight — you'll want to stay a while.