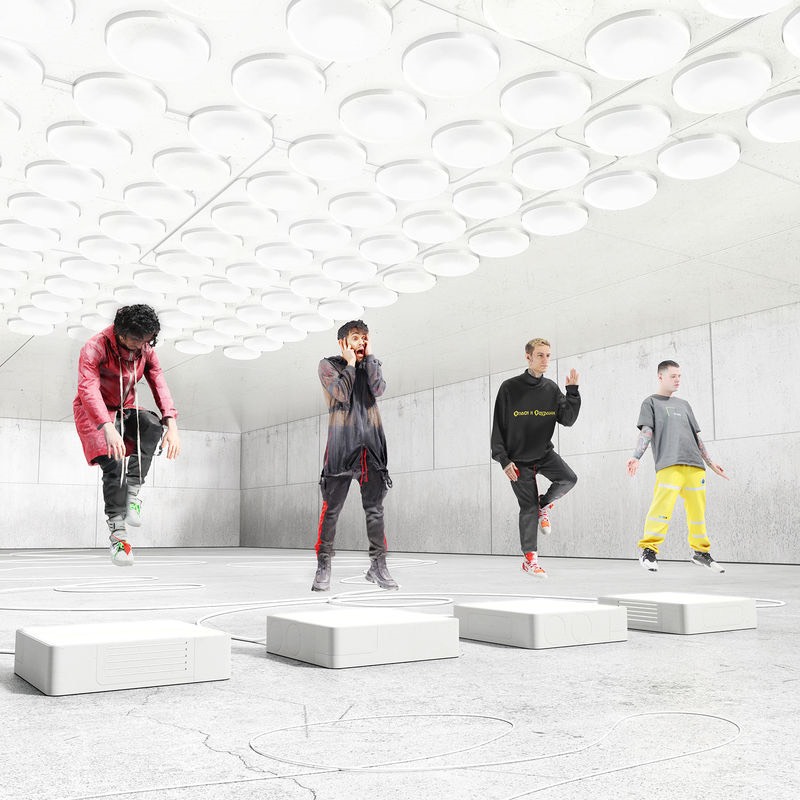 The cover art for Sudden Sky, the newest album from Texas metalcore band Crown The Empire, depicts the group's four members as digitally rendered 3-D models. They are posed to match the emotions each member felt while recording the album — guitarist Brandon Hoover is suspended in freefall, lead singer Andy Leo's face is contorted in an anxious scream, and bassist Hayden Tree runs full-speed forward while drummer Brent Taddie stands steady and still. The figures float above white display stands in a bare room with fluorescent lights and wires snaking across the floor. They are caught between seconds, both artist and art-piece, somewhere between robot and human.
It's a vaguely dystopian image and one that well-reflects the album's themes. As the band told giggoer.com, Sudden Sky was largely inspired by science fiction movies and the changing concepts of emotional openness in a digital age. "The main concept behind our new album Sudden Sky is vulnerability," Hoover said. "In an age filled with technology, we are slowly losing the true meaning of real human connection. Instead of showing how we feel, we numb ourselves with drugs and distract ourselves by staring at screens. The only way to break this cycle is to disconnect."
To that end, the album's science fiction vibes are evident from its opening tracks. Following spoken-word intro "(X)," in which Leo muses on fear and destruction against a backdrop of clattering industrial noise, Sudden Sky bursts to life with the explosive "20/20." An urgent, attention-grabbing opener, it does a great job of setting up the album's massive scale, and its undercurrent of electronic sounds — listen closely and you can hear static, buzzing, and beeping throughout — lay the groundwork for its cinematic atmosphere.
Single "what i am" is, unfortunately, one of the weaker tracks — it's catchy and mosh-pit ready but doesn't feel particularly special. "BLURRY (out of place)," on the other hand, is a showstopper. As the era of Warped Tour comes to an end, hardcore genres have seen some decrease in visibility while genres like indie-pop and alt-hip hop have risen to prominence in both the pop and alternative landscape. Incorporating some aspects of these genres into a few choice songs is a smart move, and "BLURRY" does so excellent effect. The song's chorus is headbanger heavy, but its verses are sparse, echo-y, and glum — they have a Twenty One Pilots-eque alt-rock vibe and sense of melancholia, and they give the song a ton of crossover appeal. Gloomy and unusual, the song feels unique, fresh, and of-the-moment without sacrificing the band's metal roots.
"MZRY" is another standout, chronicling an experience with depression while pushing the album's cinematic ideas to epic heights. The song employs a range of tempos and disjointed moments; it mashes ominous verses and monstrous breakdowns, a string-laden bridge, distorted vocals, and a melodic chorus. It's a roller-coaster of fury and fear. With its whirlwind of sounds and dark emotions, the song reminds me a lot of the 30 Seconds To Mars classic "The Kill," and it has a narrative quality that begs for repeated listen. Nightmarish, thrilling, and superbly written, "MZRY" one of the best songs Crown The Empire has ever released.
Angsty "Under The Skin" and industrial-tinged "SEQU3NCE" both dig deep into the album's dark themes; "SEQU3NCE" features a vicious refrain of "It's hard to save yourself, a revelation no one cares to find" — among the album's most striking lines. And on the bleak "March of the Ignorant"— which Leo has stated was inspired by western film No Country For Old Men — the band employs a pared-down production style to create an eerie neo-noir wasteland. Like "Blurry," "March of the Ignorants" reminds me of Twenty One Pilots; featuring a slowed-down tempo, trumpet riffs, and marching-band beats, it has a mellow mood and pessimistic outlook that would fit right in among today's sad-pop radio hits.
Finally, album-ender "Sudden Sky" is a rock anthem driven by vibrant drumming and a bombastic beat. Lyrically, it's the most optimistic song on the album, replacing the sadness and trepidation of earlier tracks with calls to "be human," "shut down the airwaves," and "float away, come alive." Forceful, sweeping and grand, it's a keep-fighting song full of grit, breath, and strength, and it ends the album on a moment of well-earned hope.
Crown The Empire were formed in 2010, and in their nearly decade-long career, the band has established themselves as a major metalcore name. They've been a headlining act for years, but that doesn't mean they're resting on their laurels. In addition to building on the band's signature sound, Sudden Sky finds Crown The Empire exploring the anxiety-ridden themes and downbeat sounds that are defining the current pop landscape; it's a hardcore album for the Billie Eilish set and a fantastic addition to the band's catalogue. Though its inspirations might be post-apocalyptic, in our post-Warped Tour world, Sudden Sky brings metalcore to the modern moment.