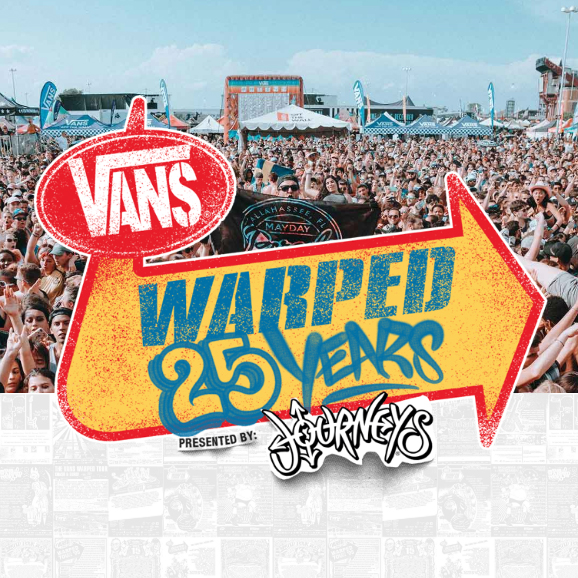 "Who's at their first Warped Tour? … Oh man, you guys missed out on a lot of cool shit!" – Tyson Ritter, The All American Rejects; Vans Warped Tour 2019; Mountain View, CA.
There are a lot of things that you can say about Warped Tour – and most of it was said last year when we thought that 2018 would be the final Warped.
It was the punk-rock teenager's version of summer camp. It was a traveling emo carnival, where for one glorious, sunburn-tinged day, every weird kid got a chance to feel like they actually fit in somewhere. It was where many, many legendary bands got their start and where many up-and-coming bands dreamed they could be.
Even if you were just a spectator, it was a moment you held your breath for. If you were in what was known as "bandom," (aka "band fandom") this was your Olympics. There was a solid chance that all of your favorite bands were playing at any given Warped Tour, and even if you couldn't make it out to that year's date, you still got all of the pictures and updates from LiveJournal and later Tumblr.
At the risk of sounding melodramatic, Warped Tour was more than a festival – it was a movement.
A movement that many of us took for granted. A cross-country tour of not just some bands, but an entire festival. A small city set up and torn down within the span of 24 hours and then wheeled off to the next vacant lot to be done all over again. Those of us old enough to remember the Fuse TV show "Warped Roadies" only got a taste of how chaotic and stressful that actually could be, and those of us now old enough to actually have jobs where we have to plan for events (or have ever had to set up a deceptively named "EZ Up") know how absolutely impossible that actually seems.
But every summer, for 25 glorious summers, Warped Tour did just that.
Poetically, my first Warped Tour and my last Warped Tour were exactly a decade separated. 2009 would be the last year Warped Tour came by my hometown of Fresno, California. I was 12 years old at the time – the perfect age to start attending Warped Tour, and being raised in what was primarily a conservative farming town, Warped Tour was the pinnacle of what I considered to be "cool."
Admittedly, age has blurred memories of what that show was actually like, but I remember the heat (Fresno in August is what I imagine Hell feels like), and I remember how I felt when I attended – like I had accomplished some rite of passage. Catching glimpses of people whose music I owned, like Sierra Kusterbeck and Travis Clark felt huge, as if I had just walked past royalty. Even bigger, I saw kids who looked just like me and liked the exact same music I did. Until that point, I was convinced that I was apparently the only person in my city who had heard of Warped Tour, but once in attendance, I realized that there might be hope for me after all, and I might find friends who liked the same stuff I did.
(And reader, let me tell you, I did end up finding my people. But that's a story for another day.)
Oddly enough, this last Warped Tour at Mountain View kind of made me feel the same way. There was something comforting – nay, reassuring – about seeing a sea of fellow adults, still sporting candy-colored hair, faded anchor tattoos, and questionably bad band tee shirts. While most of us were brought to our first Warped Tour by our parents who insisted the fried hair and (admittedly, now dated) music was "just a phase," we were now still defiantly in attendance almost a decade (or more) later, on our own dollar, ready to send off the festival that made us feel like we belonged.
There were, of course, a lot of fresh faces as well, and that's when I really started to get sad.
For me and many of the actual adults in attendance, we got to have our Warped Tour experience, and I couldn't be sad for myself, really. But it bummed me out to know that there would be a future where kids with badly dyed hair and worn-out, scribbled on Converse wouldn't have a homecoming to go to, nor one to look forward to. It seems silly to say, but I remember how monumental it was to get those first Warped Tour tickets – and the feeling of having something like that to look forward to every summer, and it's definitely sad that there is a future where that just…doesn't exist.
I don't get to say this often, but in this case, I think I grew up in a perfect time, when Warped Tour permeated the scene kid zeitgeist. From TV shows to internet communities to the hallowed day of your date itself, I got to experience Warped Tour in all its glory, and I think that today's emo kids and tomorrow's emo kids deserve something like that, too. It was a pretty cool thing.
Of course, there are plenty of other festivals that are cropping up, between Sad Summer Festival, Rockstar Disrupt Festival, and even Uncool Fest, which has the same great DIY energy that Warped Tour had.
But there will never be another Warped Tour, and we all know it. No matter what takes its place, Warped Tour will always be the punk-rock summer camp. And even though we all know it really isn't gone for good (it can't be, right?), it's still pretty sad to say goodbye.
God Save the Warped Tour. May it never be forgotten.