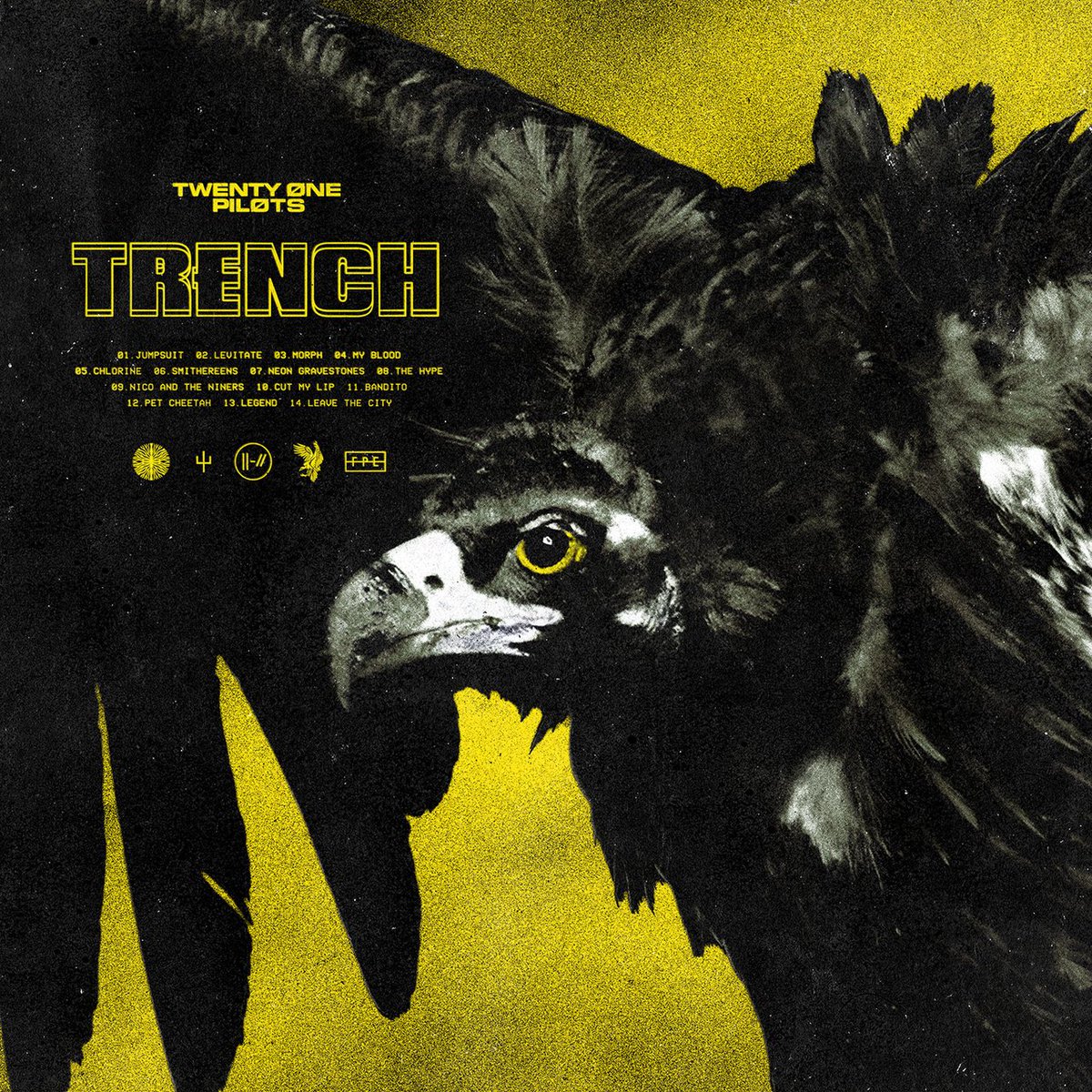 I'm convinced that Twenty One Pilots can do no wrong. That's a bold claim but, their new album Trench proves they are a dominant duo, and they are here to stay. With the new record comes a new, elevated sound that's slightly softer, but lyrically still as powerful as ever. A couple of their songs sound out of the 70's or 80's while a lot of Tyler Joseph's raps are reminiscent of Lin-Manuel Miranda's style. Of course, Twenty One Pilots' originality still shines through with their moments of ukulele, techno, and Josh Dun's trumpet skills all making timely appearances. That much being said, if you're expecting the same vibe as Blurryface you may be significantly surprised. This album shows how Tyler and Josh's music can change but still be amazing.
"Jumpsuit" was one of the two singles released in anticipation of the upcoming album. It sounds the most like Blurryface but, if you listen to the album collectively, it's easy to notice this is the anomaly. It's a great fast-paced song with killer guitar, and I personally think it was the smart choice to start with. Out of the four songs released prior to the album, "Nico and the Niners'" relaxed vibe gives a good feel for the album as a whole. I really liked this song before hearing the rest of the album but now it's actually at the bottom of my list. Don't get me wrong – it's still a great song but there are just so many other bangers that I personally like more.
Let's move into the songs that give me a 70's/80's vibe. "My Blood" with its deep bass and Tyler's high-pitched vocals (I had no idea he could sing this high) is my favorite single hands down. It honestly feels like it could be straight out of the decade my parents grew up in, and I'm all for it. I can't get enough of this song; it's vintage, catchy, and yet still has that Twenty One Pilots flare. "Legend" is the other song that gives me throwback vibes. This song is about Tyler's late grandfather, so it feels fitting that it has an older sound to it. At the same time, their signature ukulele and Josh's trumpet blend seamlessly into the background. It's an extremely happy sounding song despite the heart-wrenching lyrics that are guaranteed to make you weep. The final verse is sure to pull at your heartstrings as Josh's trumpet closes the track.
My two absolute standout tracks, for completely different reasons, are "Neon Gravestones" and "Pet Cheetah." Tyler doesn't try to hide behind his lyrics on "Neon Gravestones;" instead, he's straightforward and blunt about his opinions on suicide in this culture. Lyrically, it is the best song off the record, period. Most of the song is sung/rapped in a very hushed tone which seems to suggest the seriousness of the topic. And the lines "promise me this/if I lose to myself/you won't mourn a day/and you'll move on to someone else" just hit me in the feels every time. I could go on about the lyrics in this song forever but could never do it total justice. If you're a fan of meaningful lyrics, this is the one you want to hear. On the other hand, "Pet Cheetah" is my favorite song in relation to sound. I think it is the most unique song off the entire album and it totally gives me Stranger Things vibes. It has a killer beat, takes multiple turns, and if they decide to play it live on tour, it could be one of the most fun tracks to sing along to.
The background music on "Morph" sounds like a video game, and at first, I was unsure how I felt about it but it definitely grew on me. Random tidbit, but I love the way Tyler sings, "defense mechanism mode" and of course when the voice at the end changes "not done" to "Josh Dun."
Speaking of Twenty One Pilots' Easter eggs, "Levitate" indirectly mentions one of their most famous songs, "Car Radio." Tyler raps, "I got back what I once bought back in that slot/I won't need to replace." This song falls somewhere in between "Ode to Sleep" and "Heavydirtysoul" so if that sounds appealing you'll dig "Levitate."
"Chlorine" reminds me of early Lady Gaga. I'm talking like The Fame and The Fame Monster era when Lady Gaga's experimental pop sound was all the rage. There's really no better way to describe this song than "strange." Tyler's vocals almost sound like he put a different filter on his voice in multiple sections, and I don't mean autotune. It's hard to explain without actually listening to it, but I highly recommend. Plus, there's something oddly interesting about the image of "sipping on straight chlorine." Similarly, "Smithereens" gives me Chance the Rapper vibes, particularly his song, "Same Drugs." Both songs sound eerily similar from the beat to Tyler's vocals and cadence throughout the track. However, the context is what really puts this song over the top for me. Tyler talks about how he would defend his wife in any situation despite saying "he'd get messed up." You'd think this song might be fast-paced and aggressive, but good old Twenty One Pilots could not have made it more relaxed. I also cry over the line, "They think it's messed up to sell out for your girl." *cries*
"The Hype," "Cut My Lip," "Bandito," and "Leave The City" are all extremely laid back. "Bandito" and "Leave This City" are probably the two slowest songs on the album. "The Hype" kind of reminds me of the song, "I Wanna Get Better" by Bleachers. I think it's just the way Tyler sings because I can't really narrow anything else down but, 10/10 recommend both. "Cut My Lip" is probably the most simplistic song, but the sound really draws me in. In a strange way, it almost has a tropical vibe to it. Ok, hear me out on "Bandito" – I'm trying to like it, I really am. I definitely don't hate it. But the fact that Tyler says "Folina Sahlo," and I have no idea what he's talking about is bothering me. Give me a couple more days and hopefully, I'll have more insight. For now, I'll leave it at – I'm undecided on this song. "Leave This City" is the closer, and I mean what better way to end a killer album than this song? It's a great reminder of everything Twenty One Pilots stand for. Their signature "Stay alive" makes an appearance, and I can't help but think this is the sequel to "Truce." Somebody on Instagram even noted that the last piano note of "Truce" is the same as "Leave This City." Mind = blown. And to lyrically end the song with "They know what I mean" – there are just too many emotions. You can't help but feel special when Tyler addresses The Clique as "they." It's just a great reminder how much this music means to Tyler and Josh but also to the fans.
I'll be honest – I was worried about this album. Blurryface was the era I discovered my favorite band, and I was terrified of hating their new sound. However, I could not be happier with the finished product. Although this album takes musical risks, Tyler and Josh could not have executed it more perfectly. Hats off to a great musical duo. I'll see you guys on October 30th😉