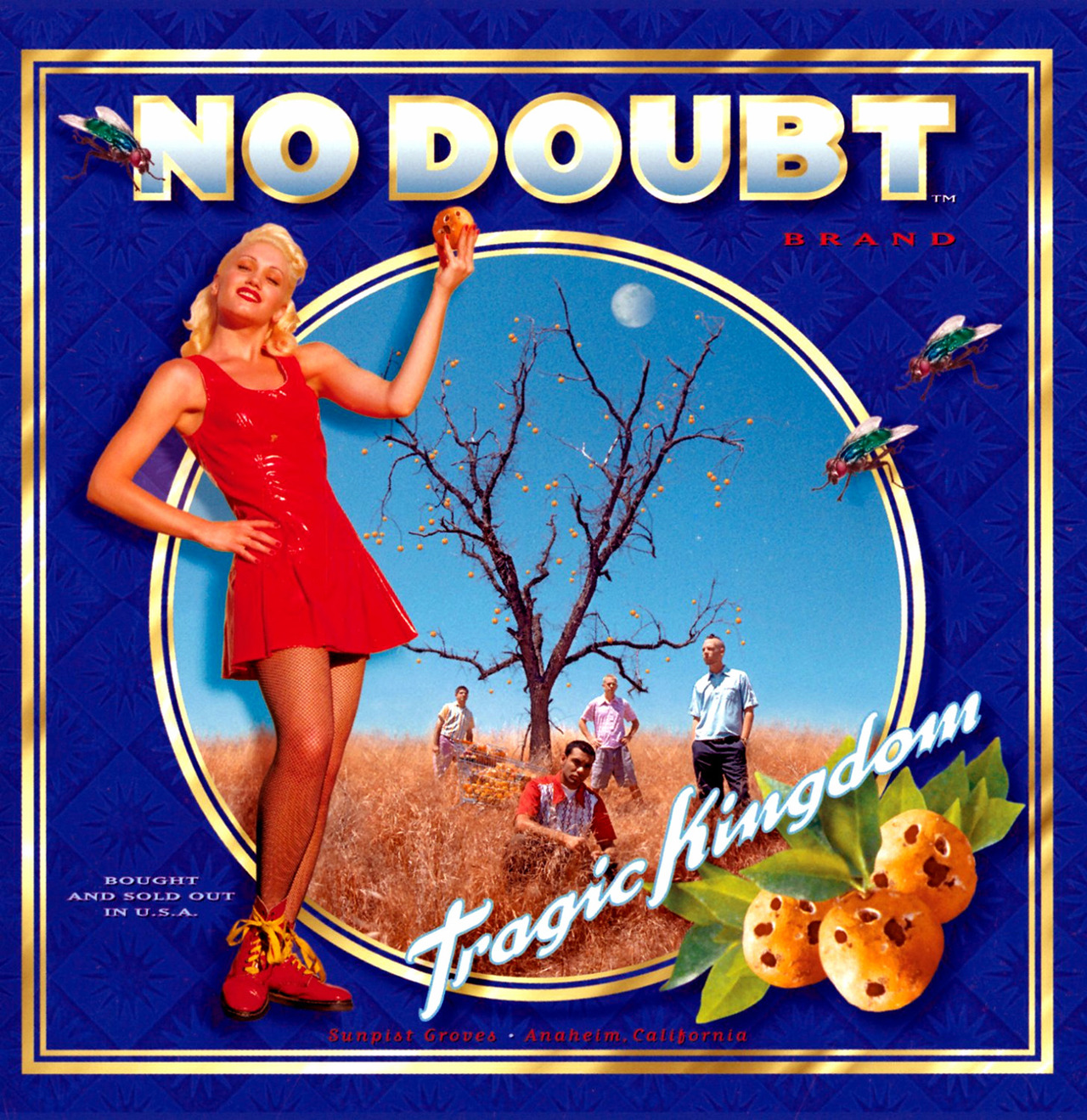 Welcome back to The Mise(ry)-en-Scene, where I'm taking a look at the history of the emo subculture and the Warped Tour scene by discussing a significant album from each year, beginning in 1994 with the first surge of pop-punk and moving towards today.
1995 – No Doubt, Tragic Kingdom
Before she was a hollaback girl, a Harajuku girl, a fashion icon, and a pop superstar, Gwen Stefani was "just a girl"… and the original scene queen.
As with pop-punk, the mid-90s saw an increase in visibility for ska-punk. A hybrid of reggae, pop, and big band, ska was developed in 1970s Jamaica and then spread into England, where bands like The Clash and The Specials incorporated it into the punk scene. By the 1990s, the genre had developed something of a cult following on the Southern California rock circuit. Soon enough, a number of ska-punk bands were getting mainstream US radio play.
One of these bands was No Doubt. An Orange County ska-punk act fronted by then-26-year-old singer-songwriter Gwen Stefani, No Doubt had some following in the SoCal scene during the late 80s, and they released their self-titled debut album in 1992. But it was with 1995's Tragic Kingdom that they struck gold.
Like much of the ska movement, Tragic Kingdom is upbeat and bright, full of bouncy hooks and clashing drums. It wears both its reggae and punk influences proudly; opening track "Spiderwebs" begins with a burst of brass and bongos before seamlessly moving into a pop-rock electric guitar line, a kind of call-and-response that returns many times. It's high-energy, fun, and groovy — an album for a summer dance party.
As the album gained momentum, Stefani proved to be a forceful presence. With her funky clothes and platinum-blonde curls, she was both tomboyish and fashion-forward, and she brought a boisterous girliness into the alt-rock world. Though the grunge bands of the early 90s did not lack for strong frontwomen, Stefani's energy was a different one — less dark and dreary, more spunky and wild. As she told Rolling Stone in 2002: "All the women around me that I could look at were in bands like L7 or Hole. They were angry, and I didn't really feel like that. And the other ones were these folky girls, so there wasn't really anybody, until I discovered Blondie. She was sexy, and she wasn't ashamed to be rocking out, and to me, that's having it all."
Tragic Kingdom is a pretty light and frothy listen. But it isn't completely without substance. Because the album is dominated by the young adult female experience — Stefani's experience, specifically, as she has writing credits on all but two songs. She sings about growing up, getting hurt, breakups, and bad boyfriends with an emotional, confessional touch. There's a reason why the album's best-remembered track is the classic breakup ballad "Don't Speak"— it's because Stefani's pain felt raw, relatable, and real.
Also notable are "Sixteen" and "Just a Girl." Bold, brassy, and loud, these two up-tempo tracks found Stefani pushing back against the limitations and expectations societies place on girls. Though her tone was sparky and sarcastic, her frustrations were real. She was "sixteen with a lot to say/but [they] won't give you the time of day," She was "just a girl, all pretty and petite," "just a girl living in captivity." Both songs described their young female subjects as "freaks"— "I'm just a girl, guess I'm some kind of freak," and "you're only sixteen, wanna catch a peak/but they, they look at you like you're such a freak"— creating a sense of cagey social claustrophobia. All Stefani wanted to do was be herself, and tear the pretty pink packaging society would place on her to shreds.
So if the listeners were "freaks," then Stefani was the freak queen. After Tragic Kingdom's release, she became one of the most prominent female faces in alt-rock: "I was, like, the first female artist to be on [L.A. radio station] KROQ in a year," she told Rolling Stone in 2002. "We played the KROQ [festival] and I was the only girl in the entire show, except Moby's bass player, the entire day." In 1995, No Doubt also played at the very first Warped Tour — of the twenty-five acts, they were one of just three with female members.
Stefani was a misfit icon — my first exposure to her came through reading Meg Cabot's 2002 young adult novel All-American Girl, where she is repeatedly mentioned as being the idol of the book's cynical, black-clad heroine Sam. And though Stefani's career would eventually take her in a more pop-focused direction, her influence on alt-rock remains. Just take a look at 16-year-old American Idol contestant Allison Iraheta's 2010 performance of "Don't Speak." Dressed in a black-and-fuchsia prom dress and chunky bracelets, her red-velvet-cupcake hair piled into a spiky crown, Iraheta looked in every way like a 2000s Myspace queen, and she belted out Stefani's lyrics with a passionate fury. Fifteen years after Tragic Kingdom's release, and the song still made for a perfect alterna-girl anthem.
From Avril Lavigne and P!nk to Hayley Williams and Billie Eilish, the technicolor tomboy has become a pop-punk staple. And with her combination of bold fashion, girl-power charisma, and honest songwriting, Gwen Stefani set the template. A riot girl in red lipstick, she was rebellious and fabulous, speaking her mind and dancing to her own beat.
——
Also in 1995…
-As mentioned, 1995 was the year of the first Warped Tour. At the time it was a much smaller event — just 25 bands and 25 stops. It wouldn't be called the "Vans Warped Tour" until a year later when the shoe brand became an official sponsor.
-Green Day released Insomniac, their follow-up to last year's Dookie. Although it didn't sell as well as Dookie, Insomniac was well-received and further cemented Green Day's place as punk-rock heavy-hitters
-Meanwhile in the San Diego skate-punk scene, Blink-182 released their debut album, Cheshire Cat. Though not quite a mainstream breakthrough, the album performed much better than expected and gained the band attention from both critics and fans.