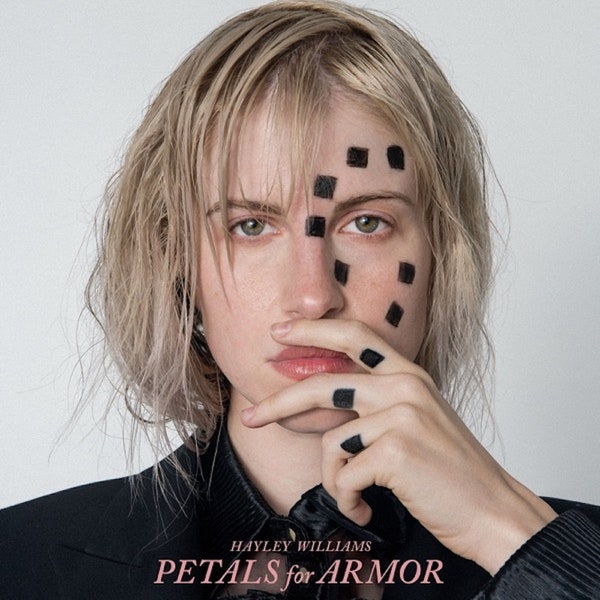 The idea of an artist going solo may not seem so groundbreaking these days. However, when you've endured the public spotlight for half your life – amid heavily publicized personal and professional drama, along with massive expectations from an adoring fanbase – the stakes are notably high. Paramore frontwoman Hayley Williams faced a daunting challenge with her eagerly-anticipated debut album, Petals For Armor, a record born out of immense personal struggle and introspection. In the lead-up to its full release, Williams sent her work out in waves ,and the final result is some of her most dynamic, ambitious, experimental, and personal work yet – while revealing new layers of artistry and honesty in the process. For Williams, Petals isn't merely just a solo record or a collection of songs but rather a personal statement of independence that's exhilarating, soulful, and cathartic in equal measure.
What's immediately striking about Petals is how diverse and expansive it is sonically. Musically, Williams and her collaborators incorporate sounds and styles ranging from synth-pop, ambient music, R&B, soul, indie, electronic, and alternative. The versatility on display results in some of the album's most unexpected yet rewarding moments, such as the dramatic R&B flourishes of "Simmer" and "Leave It Alone" and the 80's style power-pop of "Over Yet" and "Pure Love."  Other tracks see Williams imaginatively experimenting with song structure, like on the stand-out "Roses/Lotus/Violet/Iris" which combines elements of ambient and indie music to stunning effect with gorgeous background vocals courtesy of female indie supergroup Boygenius.  The musical scope of Petals For Armor excels at being both epic and intimate, which allows the listener to experience a multitude of emotions and ideas.
The richness of Petal's musical ideas lies in how Williams is able to handle contrasting moods and tones. Much of the subject matter revolves around heartbreak, commitment, growth, and self-love – themes she's explored before but never as candidly as she does here. On tracks such as "My Friend" and "Why We Ever," Williams offers some of her most vulnerable and raw vocal performances thus far, and her lyricism contains a newfound directness that lay her complex emotions to bare. Even in the record's more pop-centric moments, Williams isn't afraid to navigate her personal life. Tracks such as the stomping alt-pop of "Creeping" and intimate indie stylings of "Cinnamon" reach for something deeply honest and revealing. Vocally, Williams delivers some of her most maximalist performances alongside some of her most sincere and soulful.
Despite the heavy emotional stakes the record often explores, there's a genuine sense of liberation and freedom to be found on Petals For Armor. In past releases, Williams has flirted with the boundaries of pop, but it's mesmerizing to see her embrace it fully here. Standouts such as "Sugar On The Rim" and Watch Me While I Bloom" showcase Williams tackling dance-oriented pop with confidence and swagger, resulting in some of the album's most immediately satisfying moments. The euphoria and exuberance Williams exhibits are utterly infectious, and the boldness and sophistication of her craft elevate these tracks to artful effect. In terms of artistry and ambition, Petals For Armor showcases Williams taking risks and delving into new sonic and lyrical territory with total abandon and an uncompromising level of adventure and passion.
What truly qualifies Petals For Armor as a triumph, however, lies in the purity of its emotions. Being honest and revealing on record can be tremendously challenging, and for Williams, baring her soul contained its own unique set of challenges. Thankfully, she rose to the occasion, and Petals allows us to examine Williams as not just an artist but a human being. Its explorations of her insecurities, desires, and personal growth are richly accomplished and achingly human. It's rare to see an artist give so much of themselves fully, but in William's case, her transparency and vulnerability are two of her greatest strengths, and they're utilized masterfully all throughout Petals. It's often noted that when artists release solo material, it tends to differ from their previous work. On Petals For Armor, Williams demonstrates tremendous progression and growth while expanding her artistic direction into some truly exhilarating possibilities.
Venturing out on one's own is difficult no matter what field you're in – but especially as a musician or artist. With Petals For Armor, Haley Williams accomplishes some tremendous feats, but her most singular achievement may be that she reminds us she's human. The results rank among some of her most accomplished and daring work thus far. It's a true testament to her artistry that after five albums and several years in the industry, it feels like we're closer to examining Williams' humanity than ever before. Not many artists could translate their personal struggles and flaws while forging ahead at the same time. For Williams, however, she once again proves that she's the only exception and creates a genuine masterpiece in the process. The fact that she can sound even more human while doing so is her truest achievement yet. Watch her watch bloom indeed.
Songs to Spin: "Pure Love,"  "Simmer," "Dead Horse," "Over Yet," "Watch Me While I Bloom," "Roses/Lotus/Iris/Violet," "Creeping"