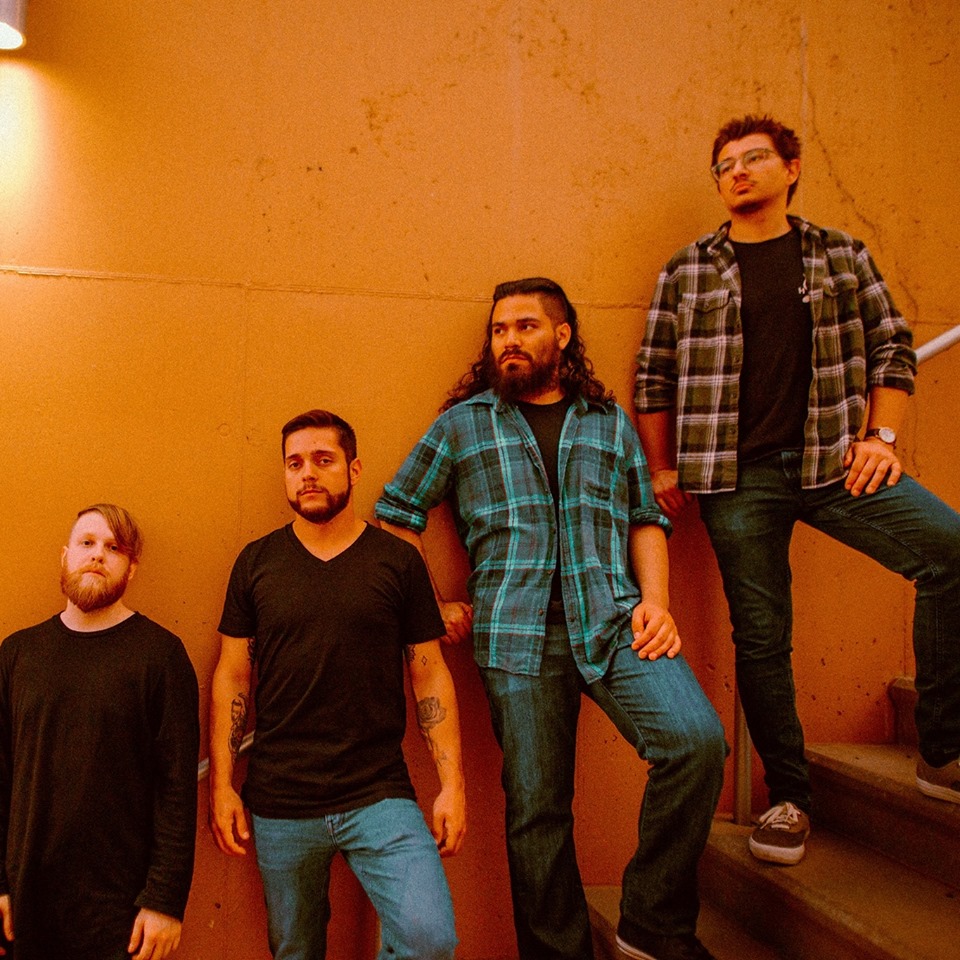 Visenya are a four-member alternative hardcore rock band from Piscataway, New Jersey. The band started back in 2014 and includes James Perry (vocals), Chris Lynch (guitar), Brian Herrera (bass), and Nick Skid (drums). With killer instrumentals and out of this world vocals, Visenya are easily a band to watch. Their debut EP, Common Place, is out now and features the hot track "Enchiridion."
S&S: Your EP Common Place is out now. What was the process like making this album?
James: The process was a long one and took several months. We tracked it between March and June of 2018 with Mike Lisa (of Hidden In Plain View). There were some communication issues about reworking some parts of songs initially, but we worked passed it. We had three or four different engineers who offered to do test mixes for us, and we couldn't all agree on which one was best. This took a little while and tested our abilities to compromise and move forward through disagreements. The mixer we eventually agreed to go with sent back some mixes that we were less than happy with even after a couple of rounds of revisions. We decided to instead have Shaun Werle (WerleyBird and Soundmine Studios) mix it, and I think the final product speaks for itself in terms of the amazing job that he did with the songs. Overall, I think the roadblocks we hit tested us, and made us question and figure out how far we were willing to go as a band thus far, and I think we're all better individually and as a unit because of it.
S&S: How did you guys meet, and who needed the most convincing when you decided to start a band?
James: I knew Chris in high school, but we became close when we started working at a local Quick Chek together. I showed him some songs I had written and asked him if he'd wanna play guitar for it, and he was instantly down. I knew Nick through mutual friends for a few years prior to him joining the band. The initial exchange went something like this:
"Hey, Nick, play guitar in my band."
"I don't have a guitar."
"That's fine, use mine."
"I don't have an amp."
"That's fine, use mine."
Then he quit like a year after that and came back as our drummer later on after an exchange similar to the one above. Chris and Nick were already in another now-defunct band. I've known Brian since 7th grade and asked him to join the band as our bassist at the end of 2017 when our original bassist Kyle decided to step down and shift focus to his degree. He had never been in a legitimate band before, and I sent him a heartfelt text outlining what we would need from him and he stepped up. So, to answer the "who took the most convincing" question, I think it would be Nick haha.
S&S: How did you end up with the band name Visenya, and does it have anything to do with Game of Thrones?
James: Yes! I think you're the first person to pick up on that haha. Back when we first started writing music, we couldn't agree on a name or come up with anything that all of us were happy with. I think a couple of us were outside during a show and Nick, our drummer, was on his phone looking up names of GoT characters and started rattling them off. He got to "Visenya" and both of our eyes lit up. We asked Chris what he thought, and he liked it (even though he hated GoT at the time). Anyway, yeah, Visenya Targaryen was a badass warrior queen of Westeros like 200 years before the events of the show. We're nerds if you couldn't tell.
S&S: What song does each of you like the most from the album?
James: "Simple Conversations" and "Revisions" (I can't decide!)
Brian: "Blue Spirit"
Chris: "House Divided"
Nick: "Blue Spirit"
S&S: Is there a song from the EP that you had to cut that you regret?
James: Not this time around, fortunately! We try our best to put our all into all the songs we write so they would all make the cut for the EP. We had a couple of additional songs we were working on, but they weren't finished by the time these five were. We were absolutely sure that these five songs as the EP was the move, so we set aside the other ideas for future releases.
S&S: What are some of your hobbies when you're not making music?
James: Photography/videography and video editing. I'm trying to get more into graphic design as well. I do that as side-work. I also enjoy playing video games, exercising, watching movies/videos, etc.
Brian: Studying philosophy and psychology, swimming, hiking, playing video games, and watching movies.
Chris: Camping, binge-watching shows, and walking/running.
Nick: I've really gotten into watching MMA and playing with my dog Bruce. And beer.
S&S: Writing songs and rehearsing can work up an appetite. What are some of your absolute must-have snacks?
James: Kettle popcorn.
Brian: Any kind of chips are my go-to when writing. For rehearsing, I eat whatever Nick feeds me.
Chris: Chips, pretzels, gummies.
Nick: Leftovers.
S&S: If you had a chance to collaborate on a song with anyone mainstream or indie, who would it be and why?
James: Brendon Urie (Panic! At The Disco) and Hayley Williams (Paramore) because they're both goddamn creative geniuses and phenomenal singers, performers, and writers.
Brian: I would probably like to see what it's like to work with Plini. His approach to writing is pretty complex, and I like being challenged with my guitar playing.
Chris: Paramore because they're dope writers and musicians and also seem like chill people to hang out with.
Nick: Ed Sheeran because he's a great singer and really knows how to loop, and I'm really into that.
S&S: What's a typical day look like for you guys?
James: We get together once a week to practice and rehearse, especially if we have a show coming up, but we always try to run the live set and make sure to tighten up anything that needs addressing. Before that, we'll usually just hang out, sometimes get food, and just chill and shoot the shit before delving into the business and musical stuff. After running set, we'll do some writing together and work on anything that we worked on the week before and/or ideas that any of us had during the week while apart. If we need to address any other business, we usually knock that out before writing so we can be completely focused on that.
S&S: Where do you draw your inspiration from when coming up with new material?
James: Right now, I'm on a Paramore kick (great songwriting inspiration in general), but I also like to listen to a lot of pop music when trying to get inspired for writing vocal parts; artists like Jordan Smith, Craig David, Brendon Urie, Kehlani, etc.
Brian: I draw inspiration from the past and whatever I'm daydreaming about. For me, the instrumentation should convey a big story, so I try to pull apart my emotions and what I've learned in the past, and attempt to translate that to the language of guitar or bass.
Chris: My inspiration for writing depends on my mood and how I find myself reacting to whatever we're working on.
Nick: Dance Gavin Dance.
S&S: During performances, what do you do to keep it refreshing and new?
James: Personally, I try to bring some humor to the live sets in between songs. I'm not up there cracking a bunch of jokes or doing a standup routine or anything, but I like to keep it lighthearted and fun. I think a lot of bands in our genre take themselves and their image too seriously, and we're just a bunch of goofballs that just love to have fun, so I like to showcase that. I think it humanizes us more too. Like we're just some dudes that like to play music; we're not special.
S&S: What's your favorite genre of movies?
James: I love dumb comedy movies and anything that will make me laugh.
Brian: Psychological thrillers, action, Quentin Tarantino.
Chris: Thrillers.
Nick: Anything that's not a superhero movie.
S&S: What makes you different from other bands?
James: I don't know. We don't claim to be some innovative, "next-level," or "game-changing" band that pushes the envelope, but we definitely try not to be generic and do our own thing. I don't think this makes us totally unique from other bands, but our musical influences are super diverse. Like we do listen to some of the same artists, but it's not all one genre, so we pull influences from all over the place. We come together as one single musical idea rather than trying to compromise between the many different kinds of music that influence us individually, and we end up with songs that we collectively love. We're also really good at joking around with each other while still managing to get work done.
S&S: Are you currently on tour, and where can we catch you next in the tri-state area?
James: We're not on tour currently, but we have two shows coming up in the next couple of weeks. The first one is Saturday, July 20th @ Roxy and Dukes in Dunellen, NJ w/ The View From Here and Heavensake. The other is Sunday, August 4th @ House of Independents in Asbury Park, NJ w/ Tilian (Dance Gavin Dance), Landon Tewers (The Plot In You), Brent Walsh (I The Mighty), and Rivals. We're super stoked on that one cause DGD and ITM are some of our favorite bands!
S&S: What are some parting words of wisdom you'd like to share with aspiring artists?
James: Write the stuff that you wanna write. Forget what other people are doing, and make music that speaks to you personally. Write songs even if they suck so you can get better at honing that craft, and make time to PRACTICE EVERY DAY. Use YouTube to learn things you don't know how to do, and if you can afford it, consider taking lessons with an expert on your instrument cause even if you're great, you can always get better and learn from others!