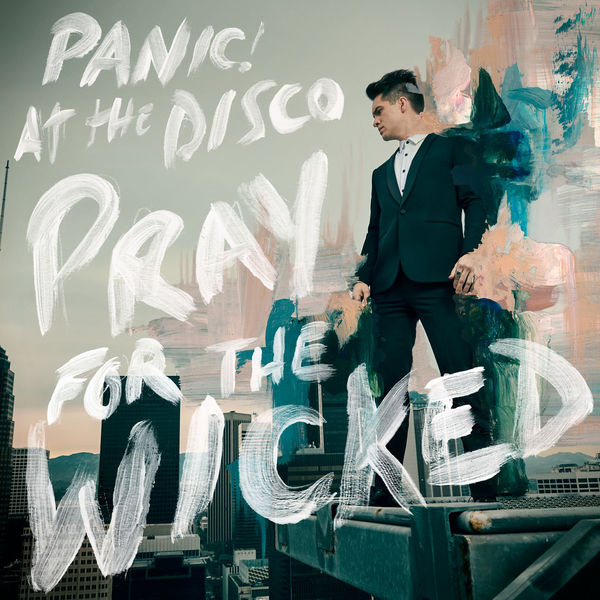 After waiting over two years for some brand new tunes, while the now lone wolf Brendon Urie was working on proving himself to be a pure punk one-man-band (literally), we have received once more a brand new album with a great range of songs. In true Panic! At The Disco style, Urie has delivered a selection of hits that range from orchestral dance tracks to more alternative tunes, to slow and heartfelt ballads that will make you feel all the emotions you have and have not lived through.
It seemed that Urie had struck gold with the tracks from his 2016 release Death of a Bachelor. Pray For The Wicked contains similar themes of freedom and joy, keeping your head up high, and living life to its fullest. Though, there have been changes within Urie's work life; one of the most notable is the departure of former bassist and touring bassist Dallon Weekes, who has gone on to focus on his latest venture with the band I Don't Know How But They Found Me. With another change to his line-up, meaning a new surprise to fans with the latest tour bassist Nicole Row, one would expect a change in what is given to us.
The album gives us a peek into the religious inspiration in Urie's soul, evident from the release of the album's first single, "Say Amen (Saturday Night)," which contains a lyric of the album title: "I pray for the wicked on the weekend." When the single was released, Urie stated that the song had a strong tie to his religious past, being raised Mormon since he was younger. It mixes his childhood with his current lifestyle: his pure religious upbringing and the Mormon teachings he had learned, with his frivolous and carefree ways of today – he is known for going out, letting go, having the occasional drink, and partaking in other recreational hobbies.
Not being a strictly religious man now, the connection between the lyrics "it's Saturday night" and "can I get another amen?" comes from this mixture of aspects though Urie's life. In the newest electric/orchestral Panic! sound and with those passionate vocals we know he can deliver, this can be considered one of the more personal tracks from the album.
Accompanying "Say Amen" on its March release was the promotional single "(Fuck A) Silver Lining." This track sounds like it is where we left off Death of a Bachelor, as it is an upbeat song that sticks with the more pop/electronic sound that the 2016 album experimented with. As the first track on the album, it feels like it was Urie's way of transitioning into this new record; there is something new, something for everyone in this 11-song track list, but the listener will be welcomed to the new album through the sound we have heard over the last two years.
The lyrics sing loud and proud of personal confidence and, in true Brendon Urie style, state that nothing he gains will be good enough. "Fuck a silver lining / 'Cause only gold is hot enough" are the opening lines of the chorus in the song, which plays with the phrase "every grey cloud has a silver lining" – silver is second place, and he believes he deserves first place. The song also uses the phrase of everything being "cherries on top" – luck upon luck, greatness upon greatness – which I feel is a personal truth for Urie. Being someone who has faced ups and downs, musically and emotionally, he is ready for his rewards – something I am sure we can all relate to. Everyone deserves gold; no one should have to settle for silver. A very strong message in a very catchy song – the best way to deliver a message.
The next track on the album is the latest one to be unveiled, "Hey Look Ma, I Made It." This is, if it can be described as such, one of the more 'woke' songs Urie's released recently. It speaks closely to his life as a musician and about the struggles his parents were concerned about him going through. Again, in true Brendon Urie style (at this point, that just means loud, confident, and greatly cheeky), he brags about finally reaching a point of success he's loving. He has fame, he has money, and he is doing what he loves to do most, which is all he's ever worked towards.
However, there is a downturn in the lyrics when it switches to the true fact of life that people want to be associated with the rich and famous just because they are rich and famous, and Urie confesses in the lyrics that he has worked to avoid such people. The second verse opens with, "Friends are happy for me / Or they're honeysuckle phonies," meaning he has found people in his life who are fake and just hanging around with him due to his newfound status in the music industry. It is a real thinker of a track and one that definitely sums up Urie's journey to musical success: keeping his head up high, staying positive, and having to deal with the negative with a smile on his face and a laugh in his voice. The last connection I found in "Hey Look Ma, I Made It" is the continued reference to religion, specifically in the song's pre-chorus. Lyrics such as "In a golden cathedral / I'll be praying for the faithless" links to lyrics found in other tracks like the previous, "Say Amen." It is a true testament to how Urie does keep his religion in his life, and in his view of the world around him, and how it still appears in the strangest ways during his days. Combined with the orchestral accompaniment throughout the track, there is a great hint to faith and fame swirling together throughout Urie's maturing into this industry. I do honestly hope to hear more autobiographical tracks such as this, where it is all presented in the well-known, ever-changing sound of Panic! at the Disco but tells a true story of high points, low points, and what everyone has been through. It can be interesting peeking into the lives behind the music.
Most of the tracks on Pray For The Wicked are of a fast tempo, a beat you can dance to, or just good for creating a self-esteem boosting playlist, but I do have my personal favourites beyond the singles. This includes "Roaring 20s," which uses the famous nickname for the 1920s to describe the music's style and the story behind it. The opening themes of Broadway are inspired by Urie's love for musicals; obviously including his 10-week stint last summer on Broadway as Charlie Price in the international musical hit Kinky Boots. He describes this time as how he "topped off [his] twenties by doing Broadway," which further links to how the track is about him settling into his prime (like Urie really ages anyway) and getting ready for what life gives him. Whether that is anxiety, learning to "medicate, maybe inebriate," or a change in his fame status, he takes everything on and lives through life. This is another great autobiographical tune on this album – and again, I am enjoying looking into the workings of Urie's mind beyond his voice.
My other personal favourite is the album's closing track, "Dying in LA." It is such a switch-up from what came before it, but Urie does have a new tendency to leave the more mournful and heart-breaking ballads for the very end – Death of a Bachelor's "Impossible Year," anyone? – and it is so beautifully put together with piano and strings working together in a sweet harmony. The track tells the story of someone who aims to find fame and fortune in Los Angeles but over time, their lack of success brings them down and they lose hope in becoming the star they wished to be. This has been noted as being an almost completely opposite story than one of the band's previous songs, "LA Devotee," which Urie wrote about his love and fondness for Los Angeles. Instead of joy, luck, success, and happiness, the song is tinged with tragedy, hopelessness, and loneliness – unfortunately, how many hopefuls end up when their big-time plans never work out how they wish they would. Coming from someone like Urie, who is the last surviving member of his band and is running the project all his own, it must come from a place deep in his heart where he feared, and perhaps still does, that he will someday lose his fame and success and become lost in the city of LA. It may have been a track to make my heart break and my eyes water, but well done to Panic! at the Disco for once more finishing a contrasting but enjoyable album on such a painful yet beautiful note. Well done.
There is never an easy and simple way to sum up a Panic! at the Disco album, as each one is so deep and complex, it cannot be summed up in a short sentence. This album, however, can be considered a further view into Urie's life throughout his rise to fame and his steady career since his late teens. In a way, Pray For The Wicked is the most suitable sequel to Death of a Bachelor, where the latter focused on Urie's relationships and the party side of life, and the former is focused on his fame and faith.
Personally, I do hope there is more of a reconnection in future music with Urie and his faith; whether it's a stronger belief or a further disassociation between his soul and God. It's always a telling aspect of a person's character on their viewpoints of faith and religion, and I love to learn more about our favourite one-man-band singer. I'm praying for your continued success!
Pray For The Wicked is available on Apple Music and Spotify now. To see when Panic! at the Disco are coming to your city on the Pray For The Wicked Tour, check out their tour page for dates and purchase yourself some tickets!