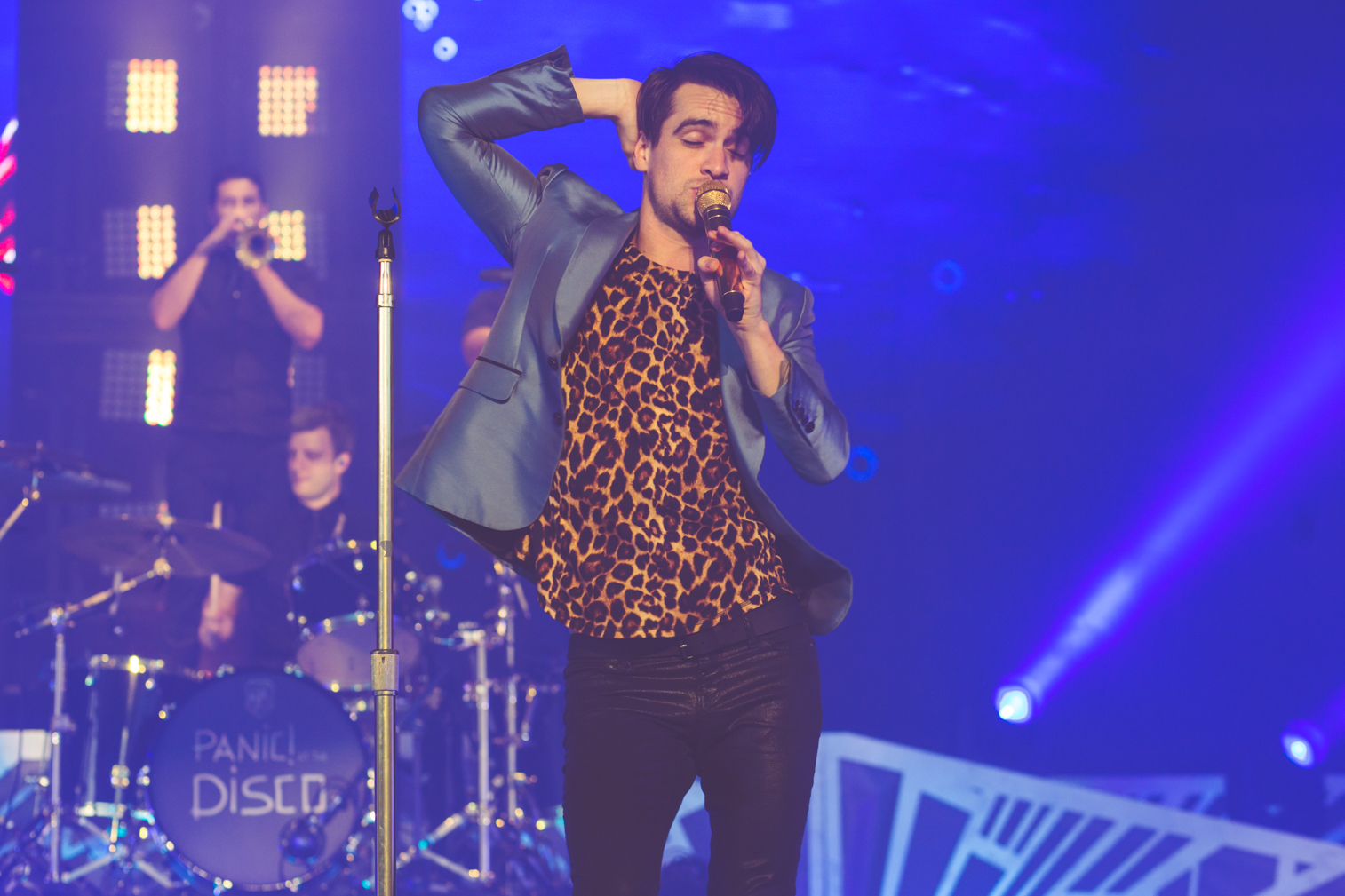 Photo: NKD Mag
Panic! at the Disco
July 2, 2016
PNC Bank Arts Center
Holmdel, NJ
When the teacher went around the classroom on the first day of school and asked everyone to name three interesting facts about themselves, my go to answers were: 1) I had never owned a passport, 2) I had never broken a bone, and 3) I had never been to a concert. And for 19 years, these facts stayed true. However, in the summer of 2016, appropriately named "the summer of emo" by Jared Monaco of The Maine, I finally got to experience the beauty of live music.
A few of my friends and I had been pretty big Panic! at the Disco fans for a while, so when a summer tour was announced, we were determined to go. Not only was this going to be my first concert, but my unhealthy obsession with Brendon Urie would be complete upon seeing him perform. I had listened to all of Panic's albums plenty of times and fell in love with Urie's stage presence, wild personality, and undeniable talent.
The day of the concert was sticky and humid, but that didn't stop my uncontrollable excitement. On line, we passed the time by watching a soccer match on my friend's phone. Each second waiting was filled with more anxiety than the next. When we were finally allowed in, my friend Kristina and I practically ran to the merch table to pick up shirts. We waited on a discombobulated line when one of the vendors asked if anybody actually knew what they wanted. Our hands flew up immediately as we rushed to the front of line.
With shirts in hand, we proceeded to our seats and started another round of torturous waiting. Next to the stage were two large screens that played music videos as people shuffled into their seats. I honestly don't know if this was done on purpose or not, but the same five music videos played on repeat for the next hour. If I didn't already know the words to "Cheap Thrills" by Sia, they had been ingrained in my brain forever by the time the concert actually started.
After what quite literally felt like 19 years, I watched a band I knew nothing about take the stage to kick off my first concert. Andrew McMahon in the Wilderness played a few songs as I leaned over to my friend and said, "This guy's voice sounds familiar." A few minutes after that statement, the lead singer explained how he had previously fronted a band called Jack's Mannequin who I was somewhat familiar with. They went on to perform the song "Dark Blue" from Jack's Mannequin, which I happened to love and know a majority of the words to. They later performed another song I knew as well ,and by the end of their short setlist, I was ecstatic I got to see them perform.
Panic! at the Disco were up next, and I could not be more pumped. As the sun set, Urie took the stage, and the venue erupted with screams and claps. He came out wearing black skinny jeans and a leopard top, an iconic image ingrained in my memory forever. The show started off strong with Urie performing "Don't Threaten Me With a Good Time," one of my personal favorites off his latest album, Death of a Bachelor. "Emperor's New Clothes" showed off Urie's vocal range while "Nine in the Afternoon" tied the old with the new. During "Crazy=Genius," he even rocked on the drums, as if the man couldn't already play a wide variety of instruments.
And just when I thought Brendon Urie couldn't get any more talented, he did a cover of "Bohemian Rhapsody" which was so beyond moving. There are few, if any performers, that can sing that song as well as Freddie Mercury originally did. However, Urie's vocals were magnificent and literally gave me chills as he simultaneously played the piano and belted the powerful lyrics. The next to last song he performed was "This is Gospel" which he explained was about his friend Spencer and his struggle with drug addiction. Urie went on to sing this song beautifully, and it was one of my favorite songs of the entire concert. Of course, he ended with "Victorious" which finished off Panic's portion with just as much energy as its onset. Urie waa a sweaty, shirtless mess after the final song, but he genuinely looked liked he enjoyed every minute of it, as did I.
Weezer went on to perform their set, but in all honesty, my head was in such a whirlwind after Panic's performance that my attention span could not handle another band. Nineteen years and the first concert I saw had appropriately fried my brain in the best way possible. Not to mention, I went home that night and my ears continued to ring for hours. Still to this day, I am so thankful Panic! at the Disco was the first concert I ever attended. Urie did more than put on a show – He WAS the show. His talent and charm filled the entire venue at least ten times over. The amount of energy he possessed was incredible as he danced around stage yet hit every note imaginable. Let's put it this way: There is no way I'm waiting another nineteen years to see Panic! at the Disco again.