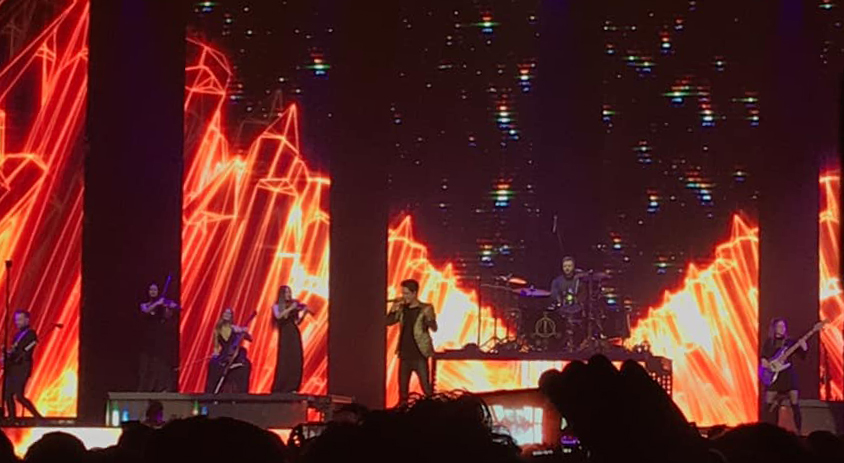 Panic! at the Disco
March 29, 2019
O2 Arena
London, England
What happens when you bring together bouncy basslines, strong alternative-rock guitar riffs, and the lights and theatrics of a Broadway musical? You get Panic! at the Disco's worldwide Pray For The Wicked Tour, and it's the experience of a lifetime and the lifetime after that.
Over the years, Panic! have been one of the few bands that rose to fame in the 2000s to remain as passionate to the sound and stage that they became accustomed to – but of course, as years passed and the band's size began to decrease, it was left to frontman Brendon Urie to continue the pop-punk legacy the band created and is still maintaining. Of course, on stage, he is living the best of all lives alongside his touring band: drummer Dan Pawlovich and the two newest members of the touring ensemble, bassist Nicole Row and guitarist Mike Naran. However, there should also be a special mention given to the classical strings musicians touring with Panic! on this cycle: violinist Desiree Hazley, violist Kiara Ana Perico, and cellist Leah Metzler. With the different direction Panic! took on Pray For The Wicked, praise to these talented people for keeping up every night and bringing the music to life.
It's time to focus on the night in question: Friday 29th March 2019. After one sold-out night at London's famous O2 Arena, the "one-man" band returned for another sold-out show on the same stage, and the spark was still alive. The flame did not dim nor die; the fire burned, and the burn was good.
How did it feel more like a musical than a music show? There were many tricks and theatrics that Urie put in to give a lively, bright, and happy kick that got everyone up and dancing away to every song. One of the standout moments was when Urie walked through the crowd – high fiving and shaking hands with his adoring and diverse fandom – to the B stage, where he took to his grand piano upon a round suspended platform to perform a cover of the Bonnie Raitt track "I Can't Make You Love Me" – and there was not a dry eye on the floor. Even for those attending who were unfamiliar with the song before that night, it touched everyone's hearts in the way only Urie could in that moment And it led to the perfectly smooth transition into the Pray For The Wicked ending track "Dying in LA." A melancholic look at trying to make a name for oneself in Los Angeles, it was a planned trick to pull and pluck the heartstrings. If you were there and you weren't sobbing, you're lying because no one escapes that song without a wet face and a sniffle.
Is it a Panic! at the Disco show if they don't play the open and positive anthem of the LGBTQ community, "Girls/Girls/Boys?" It's the most anticipated song of the night – besides a couple of others that appear later on in the setlist – and it is where the love is felt, embraced, and shared among your fellow fans. A number of people had come wearing rainbow flags, bisexual and pansexual flags, and many more. And by the end of the night, most of these flags ended up on Urie himself, who is now known from this tour as ending up being covered head to toe in every colour of the rainbow and looking oh so ecstatic about it.
It was a proud moment for the thousands of people in attendance that night, as well as the millions of LGBTQ individuals in this world, as there can never be enough love and warmth, especially in a familial environment such as inside a music venue before your very idol. With rainbows lighting up the seated crowd from red to violet, there was a sense of safety and security. You felt invincible and loved – and that's what every person deserved.
From the trademark trick of the backflip in "Miss Jackson" to the phenomenal rendition of "The Greatest Show" from the world-famous musical, The Greatest Showman, there was still another song the crowd waited for – a staple of the band's live shows for years now. The heartfelt, passionate cover of what Urie agrees is "the greatest rock song ever made" – Queen's "Bohemian Rhapsody." After singing it every night, bringing it to life year after year, tour after tour, there is still that raw emotion behind every belted out word, and he aces every rendition. There is a beauty in hearing that one song live that cannot be described – and especially so when it's Panic! at the Disco at the forefront.
At a show where the fans are varied – long-time fans and brand new lovers; younger listeners and old-school emo kids – there is usually one tune of the night that connects everyone. One of Panic's biggest all-time hits is an earlier song and still deeply loved – the Fever classic "I Write Sins Not Tragedies." It doesn't matter where in the band's timeline you came into the fandom – whether it was during Pretty. Odd. when the whole band was still one, or whether it was Urie's first solo stint in Death of a Bachelor – everyone knows the debut album A Fever You Can't Sweat Out, and everyone knows "I Write Sins Not Tragedies." It's just a given at this point, and hearing thousands of voices join in unison to question closing the "goddamn" door and chanting about the infidelity of the "groom's bride" is so strangely touching because it's a testament to how far this Las Vegas group has come since their formation almost 15 years ago.
It is the outcome of Urie's hard work, with his old band members and on his own in his studio, and the success that he wanted, needed, and surely deserves after so long. Closing on the 2016 hit "Victorious," there was nothing more fitting.
Panic! were victorious that night. They were victorious the night before. They will never stop being victorious.
Here's to a fun and successful rest of tour!