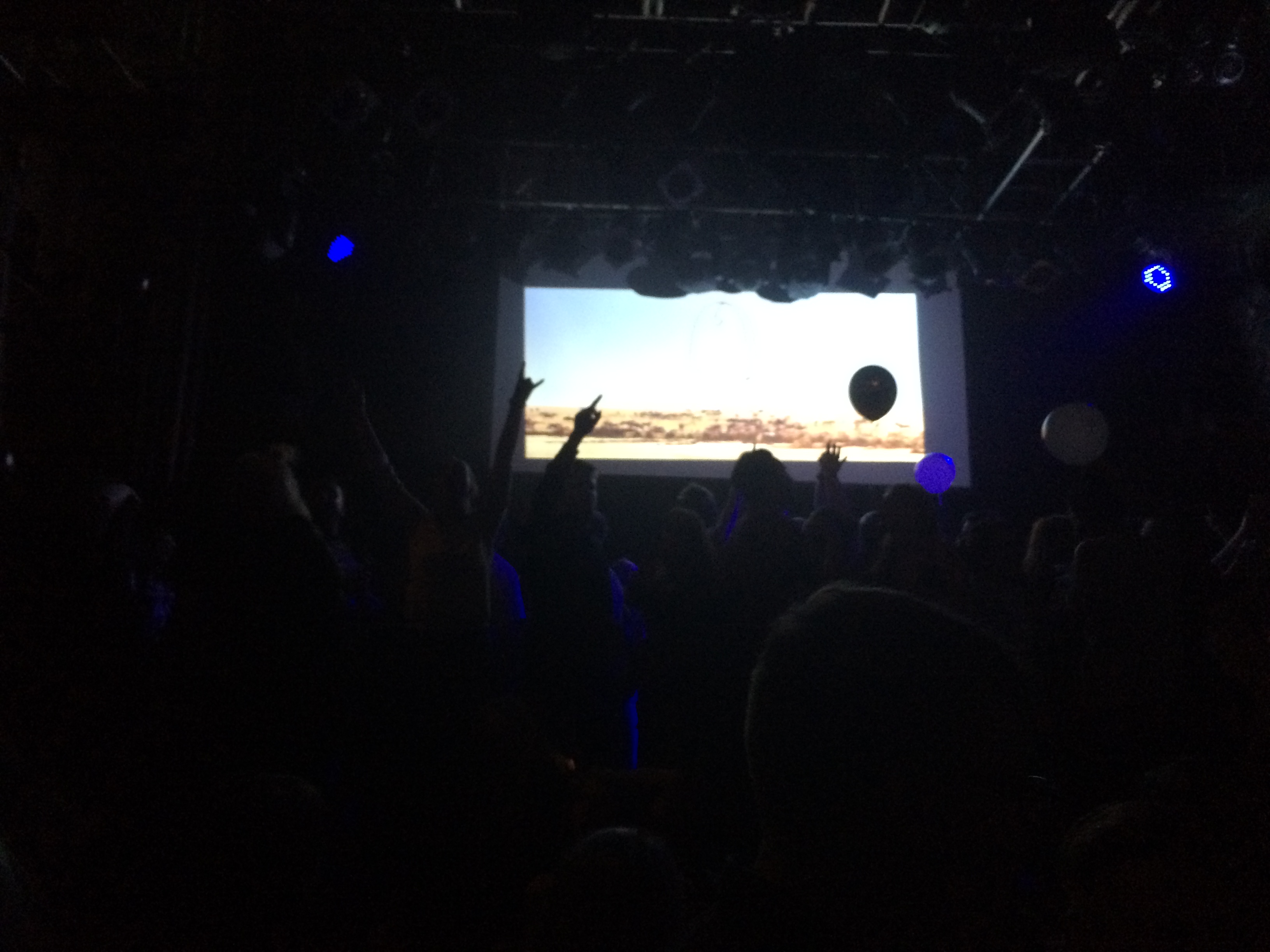 It's been a long time coming but finally, Emo Nite LA arrived in the UK, and what better occasion than for the Slam Dunk South Pre-Party.
A small line formed outside the O2 Arena just before doors on the warm Friday evening in Islington last 25thMay. For most of the attendees, this was the start of their Slam Dunk, with the majority of the crowd having tickets to SD South in Hatfield two days later. A small minority of other partygoers were starting their festival experience earlier, however, by attending Slam Dunk North in Leeds the following day.
Before doors opened, we managed to catch up with two of the three Emo Nite founders – Morgan Freed and Babs Szabo – for a quick chat as they were blowing up some black balloons emblazoned with the slogan 'every night is emo nite.'

Despite operating under the name Emo Nite LA, none of the three are originally from LA; with Morgan hailing from New York, Babs from Hungary, and third founder TJ Petracca from Utah, which Morgan dubbed "the whitest place alive." They met because they once all worked in the same building, with Babs specifically telling us how she met TJ at a friend's birthday doing karaoke.
"…and that's when we thought about doing an emo night…We sang Dashboard Confessional's Hands Down. Then we thought…'we should do this at a bar'."
And that's how it really began, as the concept of mates hanging out playing the kind of music that they wanted to listen to, but it took off pretty quickly.
"The first one we did was at a really small bar in Echo Park," said Babs. "One hundred twenty capacity…it was very laid back…we were playing Spotify…everybody was just kind of screaming at us telling us what to play next, and we just played it off our laptops."
They were completely bowled over by the response even from the very first event they ran. It seemed they were filling a gap in the market. Emo Nite was what people wanted.
"We made a Facebook event page…it was just word of mouth…Hundreds of people showed up, there was a line, and it was raining…"
Sounds pretty emo.
By the third event, they were already moving venues to somewhere bigger.
"We made the mistake of saying Mark Hoppus was going to DJ," said Morgan. "So everyone thought it was gonna be like…a Blink show…That's why we don't really announce [the guest DJs] anymore."
The night always draws a mixed crowd, attracting both new and old fans of the music, and has now expanded to be able to accommodate the varying tastes when it comes to the vast spectrum of 'emo.'
"In the first couple of ones, we played a lot of old stuff," Morgan tells us. "Like old Promise Ring and Sunny Day Real Estate…but we found out that people just really wanted to just sing along to shit. What we do now is we have four stages, four different rooms."
At the SD South Pre-Party, however, it was just one room – with a flavour and hint of all the various genres from your typical Emo Nite LA.  As doors opened, there was some hip-hop chart type music playing and most people were just mulling around talking, getting drinks, and not really paying much attention. Then, at 11:30pm, the three founders hit the stage to the sound of horns and fanfares, asking the all-important question: "Who's ready to sing along to some fucking Fall Out Boy?"
There was an almighty cheer as they hit play on 'Sugar We're Going Down' with people immediately rushing forwards, dancing, singing along, headbanging. The change in the crowd was noticeable, instant, and actually pretty impressive. The emos had woken up, and with The Used's "The Taste Of Ink" as the second official song of the night, it was pretty clear the direction things were moving in.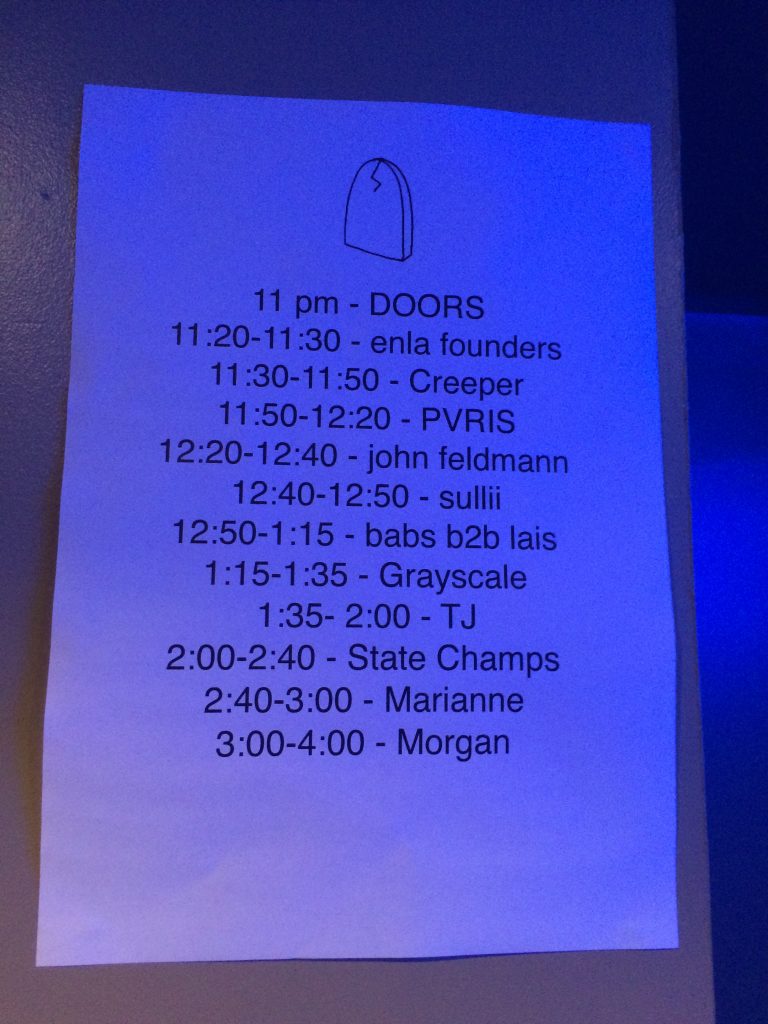 After a ten to fifteen-minute opening slot, the decks opened up to the guest DJs. There was little doubt in everyone's mind that Creeper would play the first MCR song of the night, and it came in the form of "I'm Not Okay." The stage was filled with so many people dancing to the announcement that security was causing a bit of an issue and not allowing people up, to which Creeper responded, "We're trying to have a fuckin party in here, we're not putting on a show, we're just hitting play."
Obviously, it wasn't the only My Chem song of the night. "Teenagers" followed by "All The Small Things" blasting out at 1:10am was a genius decision by Babs b2b Lais. PVRIS announced they were going to "take us back to the 90s" before hitting the crowd with "Smells Like Teen Spirit." "Dance Dance" also went down a storm, as well as the new State Champs song, and John Feldmann dropped "The Taste Of Ink" again because why not, with Grayscale giving us "Lifestyles of the Rich and Famous."
The last set of the night was delivered by Morgan and featured 45 minutes of classic emo tracks mixed with dance beats and samples including "MakeDamnSure," "thnks fr th mmrs," "Welcome to the Black Parade," and "I Write Sins Not Tragedies." This set wasn't as well received as the straightforward emo tracks, and it definitely wasn't everyone's cup of tea, although the crowd did warm up to it after the initial few songs and began boogying along. Morgan was laid back and chatty, keeping the relaxed atmosphere of the evening going by openly stopping songs when he felt they weren't working and starting new ones.
On the whole, the evening was track after track of pure tunes and classics delivered by a plethora of excellent guest DJs. I'm sure I probably missed a lot of the changeovers and some awesome songs by being in the bathroom or chatting to people outside, but the atmosphere of the whole evening was one of jubilance and enjoyment, everyone just having a laugh and a dance together. It was the perfect introduction to Slam Dunk.
One clear highlight of the festival was most definitely Frank Carter & The Rattlesnakes who, let's be honest, would probably be the highlight of any festival. Frank's blistering, energy-charged live shows have become something of a legend, and they only get better and more exciting as his career progresses. The former Gallows frontman seems to have really settled into his role as a "Rattlesnake" now and is still hellbent on his path to change the music scene. "We've started something here," he told the audience, standing there proudly in his leopard print faux fur coat which stretched down to his ankles. "And you're all part of it."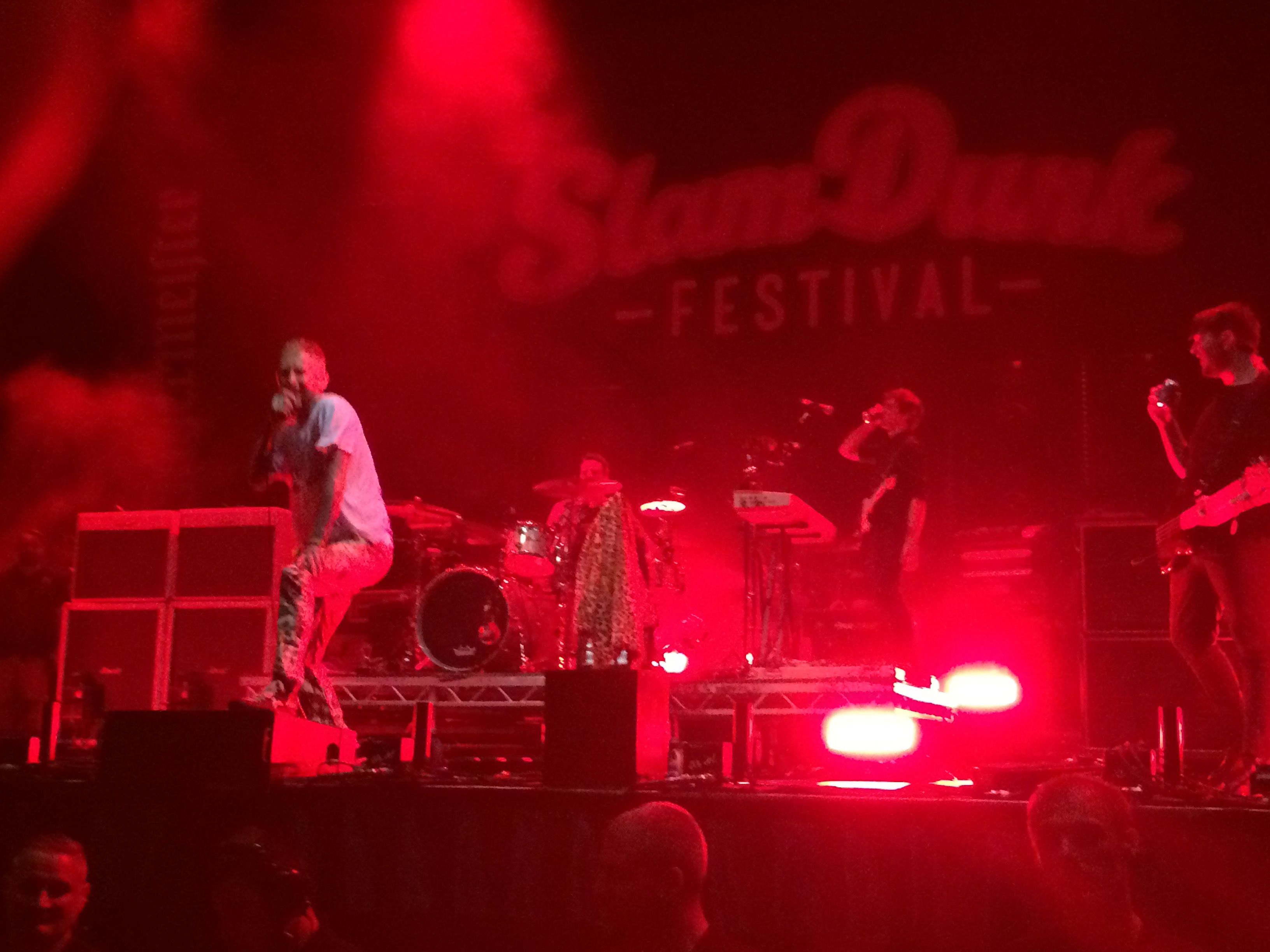 If anyone wanted the definition of a rock star in today's current scene, they'd only need to point in the direction of Frank Carter. The singer's total dominance and stage presence are impressive, and his performance never fails to impress either. From the very opening song of "Juggernaut," he was already making his way into the crowd, standing on the hands of his fans, and walking over them before disappearing as he got dropped – and then reappearing again a few moments later on the stage again, grinning from ear to ear unscathed. He didn't wear the coat for long, which wasn't surprising given the heat, but it was a good image to open up with. For those who have been treated to a full FCATR performance at one of their headline shows, there's normally a section in the middle where they play a couple of slower numbers, and you get chance to have a breather from the pit and grab a beer. There was no such moment during their Slam Dunk set. It was all go, 12 songs of pure rock and hardcore from start to finish, with very little time to take a breath. The band stuck fully to their upbeat and heavier numbers, busting out the likes of "Fangs," "Vampires," and "Jackals," with Frank orchestrating various crowd activities at different points in the show.
As is now standard at Frank Carter gigs, "Wild Flowers" is dedicated to all the girls in the crowd and is a "girls only" crowd surfing song, which basically results in three minutes of total mayhem as waves and waves of women come surfing over kicking all the guys in the heads as they struggle to keep up. It's always a fun moment at any FCATR show and pretty hectic. Another great moment is during the beginning of "Devil Inside Me." Frank invites – correction, orders – the whole crowd to crouch down to the floor while he sings the first verse. The atmosphere is tense and electric, because everyone knows what's about to happen. As soon as the chorus kicks in, madness ensues, with the crowd leaping to their feet and hurtling into one another resulting in a gigantic, messy moshpit.
Then there's the final song, "I Hate You," dedicated to "everyone you've ever fallen out with, everyone you despise…now's your chance to tell them." It's the ultimate revenge song, and almost everyone has that special someone in their lives who they can think of when screaming the words of the song back at Frank. It brings the house (park) down, with everyone shouting at the top of their lungs and pointing their fingers at the stage. Frank Carter just seems to be consistently on the up, and if you haven't caught one of his live shows yet, you really need to.
Inside the sweaty tent enclosing of the Rock Sound Breakout Stage, Palaye Royale gave a theatrical and enthusiastic performance to impress the hundred-strong crowd who had gathered to watch.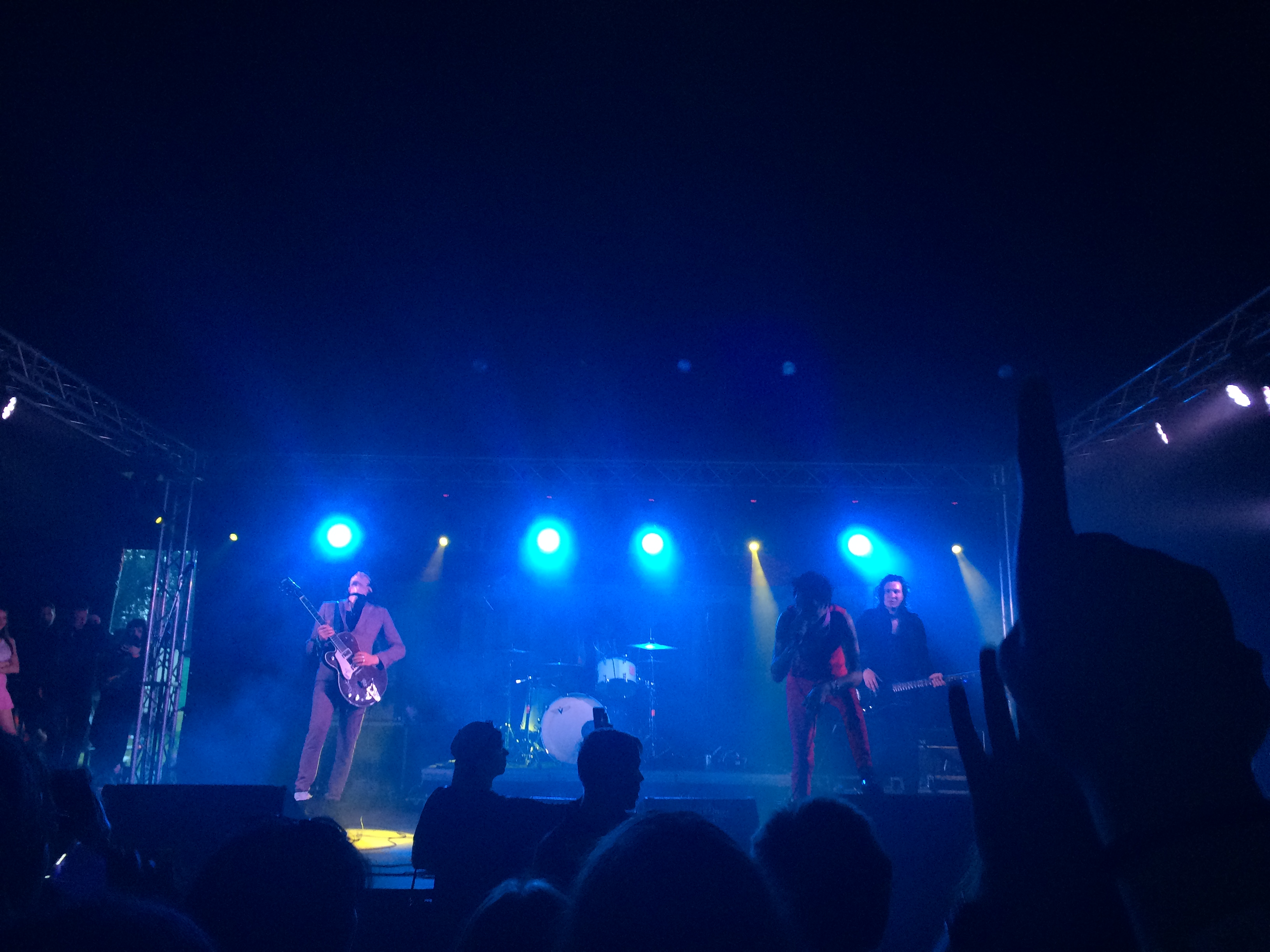 With their left-handed, suited and booted modesque guitarist mounting the monitors for dramatic rock star poses, and lead singer Remington Leith leaping into the crowd to encourage them to jump along with their lively and faithful cover of MCR's "Teenagers," the band left a good impression and clearly won over some new fans. They also had a fairly decent contingent at the front who were bopping along and shoving each other about a bit, singing along to the clear fan favourites "Mr. Doctor Man" and "Don't Feel Quite Right."
Inviting the fans to come hang out with them after the show, they ended the energetic set with "Get Higher." If this excellent performance whetted your appetite for some more Palaye Royale, or perhaps if you weren't lucky enough to catch their set, you can see them on their first headline tour of the UK which is scheduled for October.
Playing their first ever festival headliner in the UK were Good Charlotte, a surprising fact given the longevity and popularity of these pop-punk legends.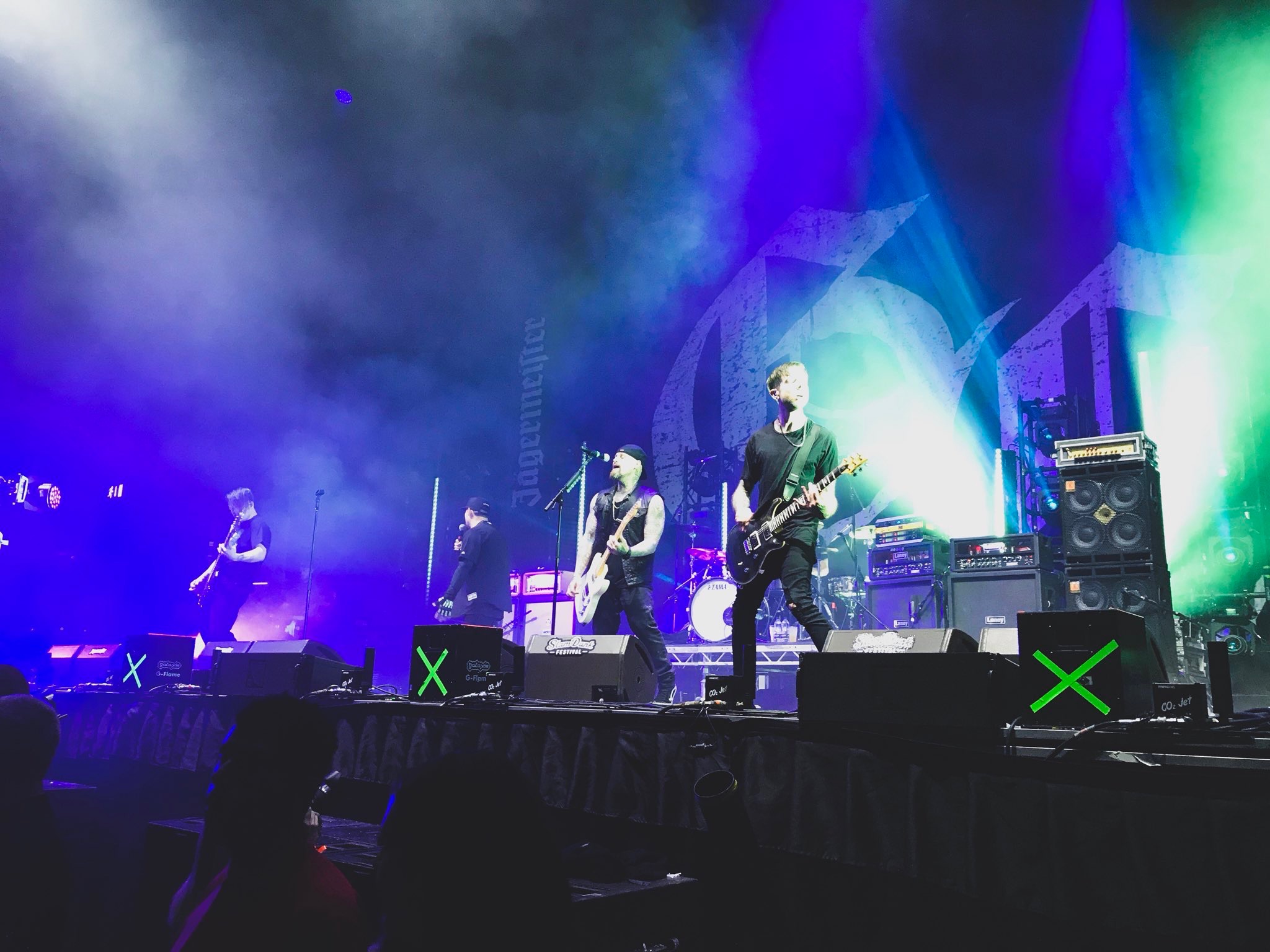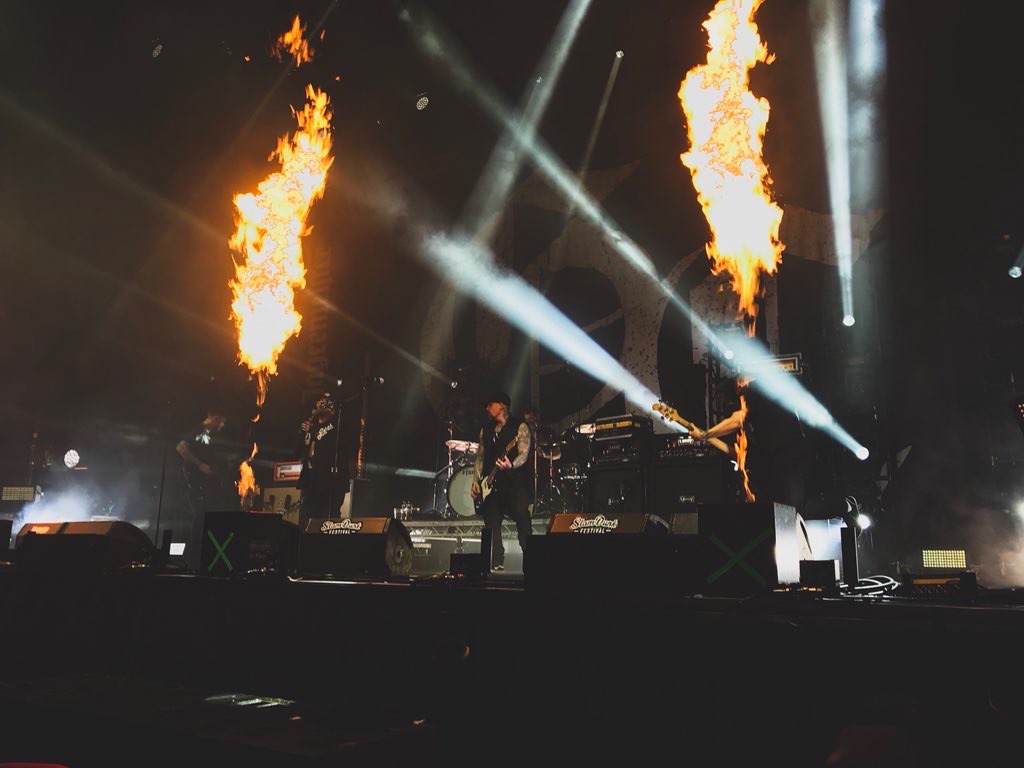 (Good Charlotte photos by Shelley Drogt)
"You made me nervous now, Joel," laughed Benji Madden down the mic after his twin brother shared this little nugget of information with the screaming crowd of mixed fans, some who were Good Charlotte diehards who had seen them multiple times, others who were witnessing their inimitable show for the first time (a survey that was carried out by a show of hands).
Filling out the wide open space of the Main Stage at Slam Dunk South, the band were perfectly suited to an open-air show such as this one, especially on a warm, balmy Sunday evening, and there was a decent crowd who had shown up to see them, despite there being an excellent choice of other amazing headlining bands on the line up.
For those who haven't been to a Good Charlotte show before, there's generally a lot of talking involved in between (and sometimes during the middle of) songs, and this was no exception. If anything, there was even more chit-chat than I'd seen at their shows before, perhaps because they were so hyped up about being there and wanted to share that obvious enthusiasm and excitement. Sometimes, the conversations happened in between songs, other times it occurred during the songs themselves, such as "Riot Girl" for example, which involved a two minute breakdown during which the band continued to play chords and a basic backbeat while Joel talked about the history of the band, how proud they were to have got this far, how they often spoke about giving up but are glad they didn't, the importance of pursuing your dreams, not quitting, never giving up, etc. These are the standard Good Charlotte themes, and it's all pretty inspiring stuff. It's not unusual to witness fans moved to tears and in fact, one stood right next to me and had to sit down on the ground to have a moment.
Another key element of every Good Charlotte show is audience participation, which here was actively encouraged with stadium professionalism and huge call and answer sessions which had the crowd wailing "yeah," "okay," and "way-oh" back at the band. These boys know what they're doing, and it's crazy that they've never headlined a festival here before because they're clearly naturals at it. That being said, they are playing a show at Alexandria Palace in February 2019, which they happily announced live at Slam Dunk to whoops of excitement from the crowd.
In terms of song choice, they stuck pretty faithfully to the classics, taking everyone on a trip back to their youth and reminding them of the multitude of hits this band have had, opening up with "The Anthem," ending with "Lifestyles of the Rich and Famous' and throwing in the likes of "The Young and Hopeless," "Boys And Girls," and "The River." They, of course, found time to give an airing to their brand new single "Actual Pain" which had been released only a couple of days before Slam Dunk. It went down pretty well with the crowd, some of whom had clearly already started to learn the words. By the end of an exciting evening complete with flamethrowers and excessive amounts of smoke machine, everyone was pumped up and chanting for more as the crowds slowly began to make their way home at the end of the second official day of Slam Dunk.
The festival, on the whole, was an incredible experience – as it nearly always is – and these are just a few highlights of what turned out to be an amazing weekend and fantastic line up all around. Can't wait to do it all again next year, but until then, there's Download, Leeds & Reading, Riot Fest and a whole bunch of amazing festivals coming up this year around the world, so the party isn't over yet.