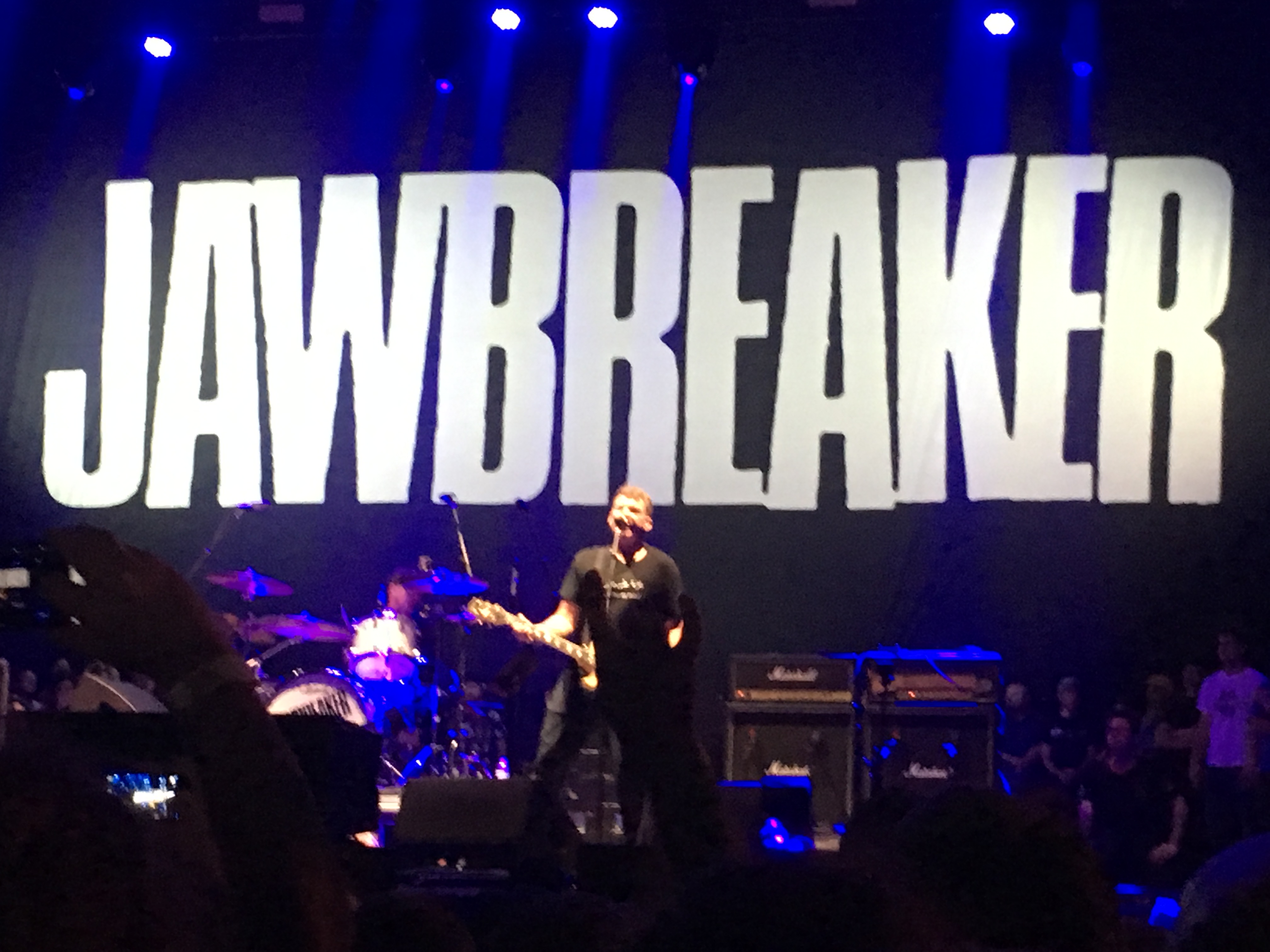 Chesterfield Kings: The Triumphant Return of Jawbreaker
I remember exactly where I was when I found out Jawbreaker were reforming after a 21-year hiatus to perform at Riot Fest. I was at an airport about to board a flight, and I immediately began to Google "flights to Chicago". At that point, I had £12 in my bank account. Being self-employed, my income varies massively, and I wasn't sure how I was going to do it, but I knew I had to. I realised they were probably going to announce a tour after their Riot Fest appearance, so I could have just waited, but it wouldn't have been the same. This was the reunion show. A once in a lifetime opportunity. I put the wheels in motion, worked hard for a couple of months, and managed to save up (just) enough money for my trip…
Sunday 17th September 2017
My Airbnb is overlooking Douglas Park where the festival is taking place. It's an ideal setting, very convenient. It's certainly one of the most surreal experiences of my life when I wake up on the Sunday morning of Jawbreaker's imminent performance, slightly hungover, to realise I've been woken by the band's soundcheck, giving me a quick sneak peek into their setlist. As I lie there in bed, smiling to myself, listening to the sounds of "Jet Black" float up through my open window, I just know this performance is going to be something very special indeed. Later on, I'm walking round the festival, seeing various bands, drinking beer, chatting to random people, and I walk past this girl wearing a shirt that says "Jawbreaker Jawbreaker Jawbreaker Jawbreaker" on it over and over again – that one piece of merch accurately summing up what the inside of my brain looks like for the whole of that day.
As the hour finally draws close, and I'm waiting in the middle of the crowd, the atmosphere is electric, tense even. People are openly chatting to those around them about their excitement; debating set list choices, sharing their stories of the band and how far they've traveled to come see them. I think it's impossible to understate the importance of Jawbreaker and the impact they've made on their very dedicated and hardcore fan base.
"I wouldn't be alive today if it wasn't for Jawbreaker," I hear someone say behind me.
Music definitely has a capacity to be life-saving, and there are certain bands that seem to have that affect more than others. Jawbreaker is one of them.
It's definitely a strange feeling to see and meet so many of their fans in one place. On your average night out at a show, even when wearing a Jawbreaker shirt, it's still pretty difficult to actually meet someone else who listens to the band or even knows who they are. But they have a cult following, and it feels like all of them are at Riot Fest.
As the lights go down, everyone starts screaming and cheering, the excitement reaching fever pitch, and some people are already looking visibly emotional. Then suddenly, the opening chords of "Boxcar" ring out as the lights flash up again. Of all the songs they could have opened up with, I guess it had to be "Boxcar," and it set the bar high for the rest of the evening. There's immediately an incredible, frantic surge forwards in the crowd as everyone begins to go completely crazy. I'm automatically pushed closer to the front and end up in the packed-out pit. We're all so cramped together we can barely move enough to push each other around, but we definitely do our best. It's not the roughest, wildest pit I've been in, but it's one of the more intense and difficult to actually breathe on occasion, but who needs to breathe when Blake Schwarzenbach is standing on the stage right in front of you?
The set is filled with inspired choices, and they run through so many classics yet still manage to leave out my favourite song, which begs the question, just how many Jawbreaker "classics" are there? I guess for the average Jawhead, every song is a classic, (that's not actually the fandom name, I just made it up). Tunes like "Want," "Kiss The Bottle," "Boxcar," "Jet Black," and "Boat On A Hill" were probably always going to make the cut, but it's equally as surprising that songs like "Chesterfield King" and "Jinx Removing" didn't. It must have been a tough choice.
The band is obviously well-rehearsed. They're tight, and despite only being a trio, thy pack a real punch on stage. Although their sound is occasionally multilayered and enhanced by the help of a few samples, it is mostly just them up there, and they look like they're having the time of their lives. In between songs, people in the crowd are looking at each other and just grinning, everyone deliriously happy. The guy next to me says, "I can't believe this is actually happening," and I think that sentiment is shared throughout the crowd. It's a joyous, celebratory occasion, shared between both the band and the audience. This doesn't feel like a tired reunion spurred by a need for money or fame. They want to be up on that stage, and the time is right, despite the many years away from the scene.
As the set draws to a close with "Bivouac," there are a few people with tears in their eyes or even on their cheeks. This has been an emotional evening, and the only downside is that it feels too damn short. Despite them having played for over an hour, I'm fairly sure most people in the crowd could have taken an extra thirty minutes, myself included.
"Tell your friends about this new band, Jawbreaker," Blake mutters sarcastically as they say their goodbyes to wild screams and cheers in response. To many though, Jawbreaker will be a new band, especially if they start to tour again and even (hopefully) release new music, there will be a whole bunch of kids discovering Jawbreaker for the first time and getting into them. It's a really exciting thought, and I for one am thrilled to be party to this new era of the ban and to have had the honour of being there in person to witness their incredible reunion performance.
2017, the year of Jawbreaker.