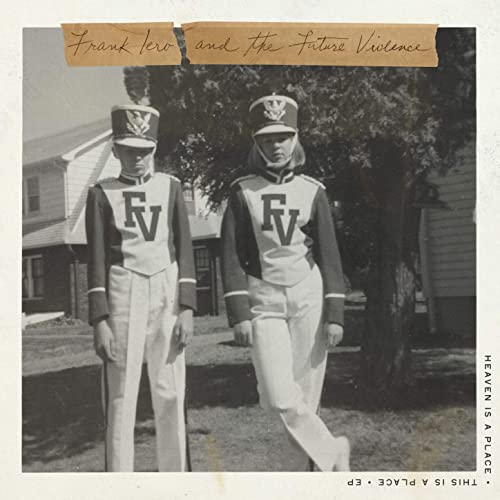 If this has been a year of suffering, then Frank Iero has been in his element as far as songwriting material is concerned.
After an impressive leg of touring off Frank Iero and the Future Violents' record Barriers — a circuit which included the 2019 (and as it turns out, last thus far) Riot Fest — the band's namesake and frontman has taken on the usual suspects of pride, sour romance, and self-loathing and turned them into yet another eardrum-blasting release. Perhaps the events of the last 10 months have simply recontextualized everything in a dramatic light, whether or not any given piece of art is connected to it at all; then again, is there any art that has not been directly or indirectly touched by the pandemic? Regardless, Heaven is a Place, This is a Place feels like a grand culmination of seven years' work on Iero's part.
The EP opens with the aptly named "Violence," a track beholden to the group's signature art punk stylings and Frank Iero's signature lilting vocal delivery, but also tinged with something akin to southern garage-rock. One thing is certain: this band has grown increasingly comfortable with riffs, sticking the landing with an aggressive, bass-heavy one on this track. Per usual, Iero's singing is not for everybody — some will find it off-putting, some will find it deeply affecting, and others will perhaps need some time to acquire a taste for it. In just 18 minutes, however, he makes a convincing case for that acquisition.
"Sewerwolf" dials the heaviness up, crossing over into quasi-prog territory and occasionally evoking the aftertaste of doom metal. Just when the Violence starts to approach being radio-friendly, they pull you back into a surrealist detour and remind you of where their artistic priorities lie: making music that sounds unequivocally and uncompromisingly like what Iero would want to make.
It's The Future Violence's cover of "Losing My Religion" by REM that stands in stark contrast to the rest of the material here. As abrupt a change it is, it's not surprising. Each of Iero and company's efforts has at least one reprieve like this, a somber calm floating in a chasm of cacophony. If the original was sobering, then this version is dreary to the point of bleakness. It's a real standout moment in the band's discography as a whole that also fits right into Iero's apparent fascination with extracting and distilling misery. The stripped-down instrumentation is used effectively, once again proving that the band is capable of less-is-more as much as they are more-is-more. REM's 1991 folk-rock ballad was always a desolate song, but the Violents make it sound truly desperate in no small part thanks to Iero's raw inflections.
The final entry is fairly to-the-point with its title. "Record Ender" is long, sprawling, and atmospheric. It's also a crown jewel of Frank Iero's catalogue, showcasing just how far his work has evolved in the last decade.  It's unapologetically theatrical, recalling the more cerebral post-hardcore and pop punk that dominated roughly a decade ago and infusing it with a newfound fervor. The result is an arresting, nakedly earnest song about devotional love, presumably in the face of all the trauma and chaos preceding it. Love is a through line for all three original tracks penned here, but it is only on the final one that a sense of bittersweet closure is presented. "It's only raining on my side of town/ The medication has been keeping me down," Iero sings. But at the same time: "If sadness finds you call out my name/ I'll be right beside you/ Because it takes a mess to love a wreck, but what does that matter anymore?"
Heaven is a Place, This is a Place is a testament to how far Frank Iero's prolific, ever-changing project has come. It's difficult to pin down exactly what he's seeking in his art, but it reads like an elaborately-constructed catharsis all the same. Whatever it is that Iero taps into to create his music, the formula seems to be working just fine. And it will without a shadow of a doubt make you miss mosh pits.