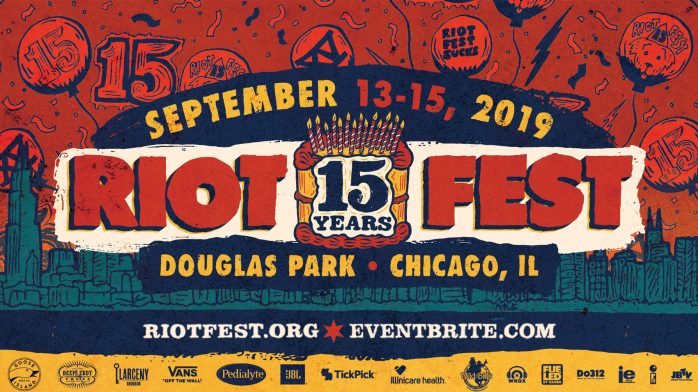 My festival experience as a somewhat reclusive 17-year-old was limited to one day in an Ohio summer during Warped Tour, and given the stark differences between that and the three-day sprawl that is Riot Fest, I wasn't much prepared for the latter.
Not to say diving in fresh-faced was a bad thing; for all the learning curves associated with being a kid in an entirely unfamiliar Chicago punk candy shop, your first experience with Riot Fest will likely be a positive one. Even if I can barely walk or move my general upper body after the fact, there's something to be said for a place full of drunken 30-somethings and no plumbing being one of the most euphoric experiences you've managed to have.
Each morning, my friend and I dutifully packed our schedules and sunscreen and headed out to Ogden Street, at the intersection with Sacramento being the entrance to the festival. Over the course of those three days, I started a pretty fine collection of highlights:
Anti-Flag
Chris Barker, periodically interjecting with "fucks," "fuck," and "fucking," announced from the top of the morning (ours, anyway) that Riot Fest was an escape from bigotry. All the ills of contemporary American society – transphobia, homophobia, racism, sexism – were outside the fences of our sanctuary, according to Anti-Flag. His rant was a noble one, if simplistic.
I thought about his statement while GWAR said they wanted Caitlyn Jenner to show them "her gender-fluids," and I thought about it when an inebriated man threatened to hit someone before Jawbreaker's set.
Barker asked us to yell out "fuck police brutality," and we did gladly. But that felt like an obvious statement at this point, as if we'd been asked to yell "water is wet." The optics of dozens of people, safely secured in a pricey music festival chanting obviousness felt strange. When we put our middle fingers up, it still felt a little cathartic, if for nothing else but venting frustration with the America we're in. Not to mention that "This is the End (For You My Friend)" slapped as always.
Overall, it was a short, tight set. Anti-flag has been doing festival circuits for years now, and you can tell. This is their element, perhaps more than an actual venue would be. I was reminded of old footage from their Warped days; maybe the evergreen of Justin Sane's faux-hawk helped. Regardless: this was a good start to the day.
I Don't Know How, But They Found Me
I couldn't tell if Dallon Weekes was drunk or not. My guess is no because his stage presence had a sense of calculation to it – like a sober man trying to act drunk for the community play. It was entertaining, and in all honesty, I'm a sucker for their new wave-y dance-pop vibe. I may have to hand it to all the kids on Twitter touting them as the next greatest thing, in fact. I can see Weekes and Seaman taking their formula and running even further with it – really, totally leaning into this 80s kitsch thing they've created. I certainly don't think the world could hurt with a little more IDKHow in it. And – dare I say it – this catchy weirdness is the kind of direction I wished Panic! had kept in.
Hot Snakes
If Anti-Flag are festival fiends, Hot Snakes are their antithesis. The members confessed to having to google tips for playing these sweaty, muddy things, not that you would have been able to notice otherwise. They were delirious, blistering, and perfect for midday heat. Hot Snakes are a band that already have it turned up to eleven just on their studio recordings, but those don't do their live act justice.
Older artists tend to carry a torch with them. They pass it down to the younger bands, but they also pass it down to us. They always have, but there is no place more evident of that than at Riot Fest. You hear Rancid in Save Ferris or American Football in The Story So Far, and you see all those bands affect the audience. You get to experience those bands affecting you, whether by proxy or in the mosh pit. For a moment, Hot Snakes was the wave on the cover of "Jerrico Sirens," rising over us and swallowing us whole when it crashed down.
The Get Up Kids
Have I made it clear how much of a newbie I am? Let me reiterate: I'm a high schooler who spends most of her time indoors, writing about music I can only dream of seeing live. Maybe the distance of that dream is due to the band no longer existing or only touring far out of reach. My usual indie shows were, like, me and a few other kids from my school awkwardly dancing to blues rock that some other kids from our school were performing at a bar.
Until Riot Fest, I had never been in a mosh pit. Hey, at least I knew enough to recognize the circle pit, even if I immediately fell down after jumping in. After Riot Fest, I learned a few things about moshing properly; not that this helps you when you're a 5'3 girl in a pit of 6'0 dudes. For what it's worth, at Riot Fest, the rules of punk inclusivity are upheld: no one bats an eyelid at you jumping in the circle, and should you fall, there will be multiple hands reaching to pull you up immediately. And what better music to discover all this to than The Get Up Kids?
"Action, Action" was arguably the moment the energy boiled over. Some 20 years after the era of Four Minute Mile and Something to Write Home About, a crowd absolutely exploded at the first sound of Moog keys. Some 20 years younger than the folks who grew up with it, I was among them. Someone nudged me into the circle. The torch continued to be passed.
Jawbreaker
The smell of beer was overwhelming at this point, and the crowd around me was an older one. Across the park, Blink-182 was playing, strobe lights and Technicolor screen backgrounds and all. Here, people were milling about more drunkenly than before, the end of the night bringing out the dropped beers that soaked my pant legs. There are the less ideal parts of festivals. Before I could seriously consider if I'd made the right choice in set to watch, the banner was hoisted to the top of the stage: "When it pains it roars."
I can't make a fully informed statement on Blake Schwarzenbach's stage presence that night because the presence is simply him. Cult icon, madman behind the music, and the person responsible for the entire wave of a genre; he could've just said nothing and banged some spoons together, and my fetus-punk brain would've been in rapture. I can say this: he flowed from talking about throwing up in someone's mouth to metaphors for capitalism to flawlessly banging out "Boat Dreams From The Hill" with Adam and Chris.
According to Schwarzenbach, a number of people had tried to coax Jawbreaker out of retirement until they gave in – but it was not with reluctance that we were given "Accident Prone;" it was with tangible passion. The same could be said when the opening riff of "Kiss the Bottle" rattled off, and I found myself clutching at the air, screaming along.
Jawbreaker is something of a punk rock cryptid; you feel like you've been given a great privilege by just catching a glimpse of them. I don't know how long they plan on continuing with the reunion, but whatever that time span is, it felt like a huge stroke of luck that I made to Chicago in September of 2019.
Cursive
I have had "The Martyr" stuck in my head for days now. Seriously. Someone help me. My knowledge of Cursive was limited to a few skims through Such Blinding Stars For Starving Eyes and awareness they hailed from the same Saddle Creek label as The Faint and Bright Eyes. I came into the crowd gathered around the Rise stage feeling woefully poser-like but deeply curious all the same.
But back to "The Martyr" for a second – jarring yet chant-along ready, it's about as Cursive as Cursive gets. For a moment everyone screamed, "Sweet baby don't cry" like the words were clawing at their throat. I also nearly died in the pit, which isn't relevant but was still pretty fun.
It was all coming up flowery prog-rock-post-hardcore goodness. What did you expect? It's Cursive. Maybe I didn't expect to be swept off the cigarette-littered ground so immediately, but at least I know better than to neglect Domestica from now on.
Bloc Party
The Slayer show sounded very great and nice and all, but if Kele Okereke and his thick London accent could read me a bedtime story, I could die happy. "Oh, lovely," he would say after finishing another song on Silent Alarm. "Oh, my days."
"He's so British," I heard someone swoon.
You wouldn't have guessed the most famous thrash band to exist was playing a field away had it not been for the thrum of downtuned guitars that slipped through between songs, because the spread in front of the Rise stage was immense. My friend and I stayed toward the back, exhausted but swaying and headbanging to "Banquet" all the same. Live, the intricacies of Okereke's songs took on a macroscopic form, one that made them all the more spectacular of a post-punk romp.
Frank Iero and the Future Violents
The last time I saw Frank and company was at a somewhat small indoor venue. We all stood politely around, most of us pretty young and equally noob-like, headbanging whenever necessary but remaining in place.
This was not the case at Riot Fest.
While the crowd was noticeably younger, especially towards the front, one would be sorely mistaken to assume a good pit couldn't open up. It took a couple of songs for a circle to take full shape, but once it did, it felt like the only way to consume the Violents' music in that frenzied moment. Teenagers shoved each other from all directions, grinning ear to ear and basking in our newness to it all. We all understood: for many of us, this opportunity was fleeting, and the collective adrenaline wasn't about to let it pass by.
As always, older songs like "I'm A Mess" and "Joyriding" remained staples, but newer tracks from the latest LP were still recited from masses of lips, the innocuous cult of Iero's music evident even at a festival of over 80 different acts.
Ride
Some mechanism in my body just flipped and let me make a glorious fool of myself during the Ride set. All the post-punk flair of their music came out in lilting dances: slow headbanging, turning my ankles in and out, moving my arms wildly. In a matter of seconds, all the shoegaze-y parts would take control again, and I'd be swirling my neck around like I had been old enough to down all the Goose Island served at the fest. A few yards back, a man with one dangling earring and striking curly hair was losing himself in the beat, too.
Ride were the loudest act there. At a festival with everything from thrash to melodic hardcore acts, these Oxford dream-indie folks nearly blew our eardrums out literally (the speakers were uniquely merciless during their set – or maybe I'm just getting soft) and figuratively made sure you were sucked right into the beautiful racket.
American Football
At some point during the set, it began raining. As the show melded together into one warm, twinkling memory, I realized I couldn't pinpoint exactly when.
That wasn't relevant, anyway; what was relevant was the way the sprinkling hit our faces gently while we swayed to "Honestly?". Even after the 'emo revival' and the influx of bands inspired by their legacy, American Football is singular, and even more so while legions of people, of all ages and stories, chanted along to "Never Meant."
Determined to be tough, I didn't cry, but I'll be damned if I wasn't this close.
Taking Back Sunday
If Dallon Weekes was charismatic, then Adam Lazarra could've gotten us to run out in the middle of the Dan Ryan Expressway at a word. Flamboyant and perfectly aware of his idol status without getting across any hubris, he commanded the stage like a searing knife. Everything around him was pure butter.
I got my copy of Tell All Your Friends from the local Half Price Books a couple of summers ago. An aged jewel case that transported you straight to 2002, complete with a bonus disc and a photo of the band taken an entire lifetime of mine ago, it was the best four dollars I ever forked over. It's been on rotation in my stereo more than any of its peers (even my copy of The Smith's The Queen Is Dead, an accomplishment).
At Riot Fest, I wasn't listening to it somberly in my bedroom; I was sandwiched between tight rows of fans who'd been my age when this record came out, pushed back and forth and nearly swallowed up thanks to my stature. From every direction, I was overwhelmed with people chanting. I felt very small and very young and very humbled to be a part of it. Every sing-along moment was drilled into the damp earth. Adam Lazarra leaped behind the drum kit to the highest part of the stage, soaking in our dedication to the words.
I was born too late to see bands like Taking Back Sunday in anyone's basement. I used to be pretty pissed about that. I'd coat another layer of 60-second black polish on my nails and sulk about it, and curse my early 2000s self for being literally an infant. But I got to see this, the after-effect, the legacy of a band that 20 years onwards get teeming crowds adoring their every chord.
I get to see the next wave of bands that are in basements and bars today, and eventually, I will be the elders in the crowd at a place like Riot Fest. I'll get to be a part of the torch-passing.
I sat down to write this and thought, "I am not the person to do this." Not that I had a concrete vision of the "right" person, but I guess I pictured someone older, wiser, who'd been to 10 Riot Fests over and knew the words to every song to every band they saw.
Besides this being a stupid act of self-gatekeeping, I reminded myself: isn't the best person to describe something the person with a fresh experience? I have no other Riot Fests to compare this one to. I don't have much of anything to compare it to, and because of that, I have no precedents. All I can say is that I loved it, with every giddy teenage nerve in my person.
It's a little conflicting ideologically: tickets are no small potatoes, you're only allowed food and drinks you can buy once inside, and t-shirts hovered pretty consistently around the $30 mark. Only VIP concert-goers were allowed to dip and return to the festival at any point in the day. For what's essentially punk rock mecca – a yearly pilgrimage to Chicago to see our equivalents of gods – the whole DIY and anti-corporate thing presents some ethical questions. But then again, it's Jawbreaker, for christ's sake. And The Get Up Kids. And someone in the vendors section sold handmade scrunchies, and dammit, were they cute scrunchies.
It's not overly hard to shove reservations on that front to the side when freakin' Patti Smith is 300 yards away on the Riot stage. Yet when you realize how trashed beautiful Douglas Park is when the three days are up, you question some things.
A day before the fest, writer Pascal Sabino of Block Club Chicago, a local online publication, posted the article "Here's How NOT To Be A Rude Jerk At Riot Fest, According to Douglas Park Neighbors." One day into the festival, I read it while curled up in my Chicago relatives' living room.
For the last several years, the neighborhood of Douglas Park has felt the brunt of Riot Fest's downfalls: the loud drunks at all hours of the night, the horrendous traffic issues, overall discombobulation. When you consider the leeway the cops teeming about give the predominantly white attendees of an expensive music festival – leeway they don't give predominantly Black and Latinx communities in the Douglas Park area – the more awkward Chris Barker's stint about police brutality and racism feels in retrospect. It's no wonder there's Douglas Park residents calling for the festival to be moved out of the area, I thought, as I watched the event gates disappear behind me.
Riot Fest is not the perfect amalgamation of punk ethics. Calling it problematic might be considered an understatement even, and in more than the "damn, why is there a VIP section at a punk show?" way. I can't pretend to know how to reconcile these things with the unfiltered joy I felt while there.
I left Riot Fest with only one firm conclusion: music was different for me now. It was most immediately felt as I listened to "Accident Prone" on the way back home, but it was also felt in the way I looked at punk rock as a whole concept. After years of viewing from the sidelines, I understood what the art of community in alternative culture was a little better now. Riot Fest 2019 was only a sliver in time, and it still pushed me out the other end feeling permanently altered in some way. I couldn't pinpoint exactly how, but when I returned home in the humming quiet of a Southern late summer night, all I knew was that something had manifested in me. I decided it didn't matter, at least not until morning.