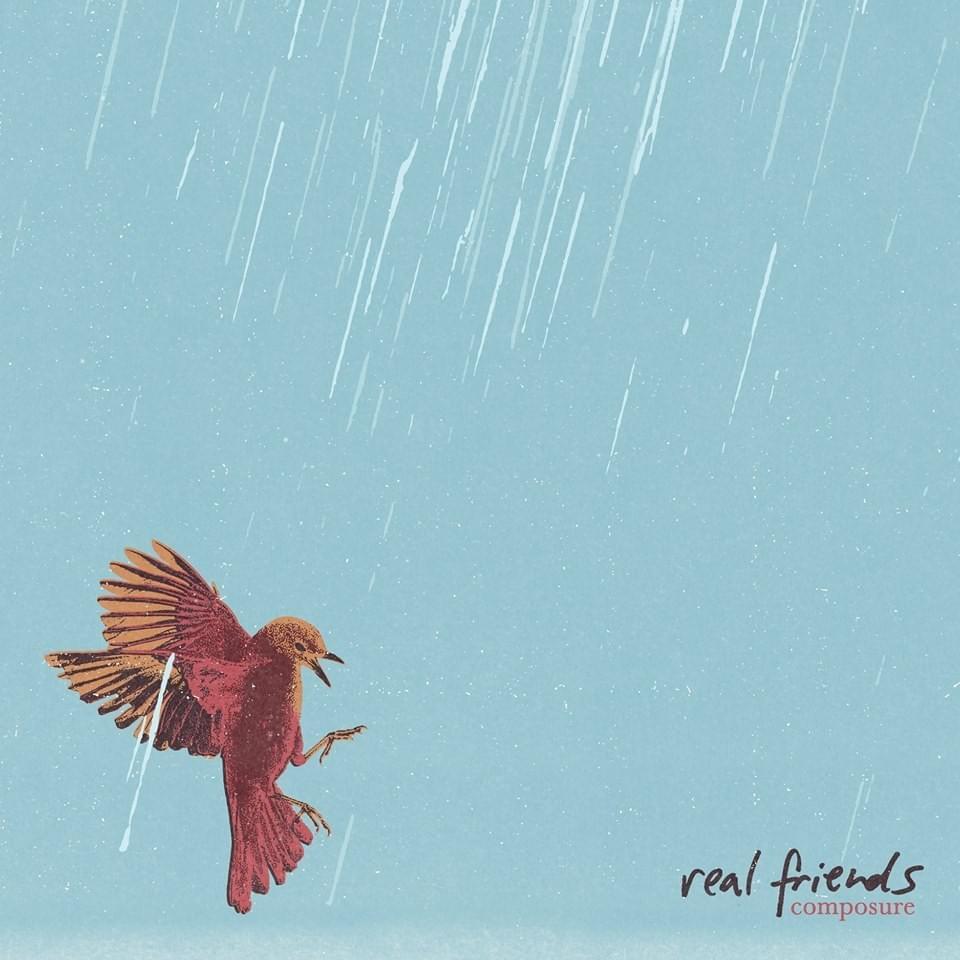 It's like they always say: when life gives you lemons, write pop-punk.
Okay, maybe they don't say that. But they should because it's a pretty standard modus operandi for pop-punk bands. When something bad happens, what better to do than to channel the experience into the biggest, catchiest hook you can think of? Pop-punk is very much a genre of emotions in the extreme, of screaming and shouting and dancing your feelings out, so loud they can hear you across town.
And on their third full-length studio album Composure, Illinois pop-punk five-piece Real Friends do just that. The album arrives after the band had a challenging year, during which lead singer Dan Lambton was diagnosed with bipolar disorder; the disorder, he's said, caused erratic behavior and made him difficult to work with. "I had way too much energy, way too many weird ideas that always needed to be spun around as soon as I thought of them," he told Forbes. "I was just kind of spiraling out of control and just not necessarily the best to be around." Lambton took time off to attend an intensive outpatient treatment program, and the band was on an extended hiatus for much of 2017.
But now Real Friends are back, and they're making lemonade out of their tough time. The everyday difficulties of living with a mental health diagnosis comprise a major theme of Composure, and the band discusses the issue with a frank and nuanced voice. But while the album's themes are serious, its sound is a fun one. There's a decidedly mid-2000s suburban emo streak at play here— an All-American Rejects, Jimmy Eat World kind of vibe, that makes every song feels like it would be right at home on the John Tucker Must Die soundtrack. It's sweet with a raw, edgy kick, and the band plays every hand for broke, scaling every melody and melancholic musing as large as possible. Restless, honest, and buzzing with kinetic energy, Composure is a pop-punk treat and some of Real Friends' finest work to date.
The album jolts to life with "Me First," a rousing look at a rocky relationship. With its staccato guitar riffs and rampaging chorus, the song has a toothy bite, and Lambton's no-holds-barred performance is a perfect combination of vulnerability and fire. Electric and instantly engaging, the song is a spark-plug of an opener that sets a vibrant stage for the album ahead.
"Stand Steady," "From The Outside," and "Smiling on The Surface" dig deep into the topic of mental health. Angsty "Stand Steady" is a miniature tempest, spinning and spilling its way through hurricane imagery and a rapidly changing tempo, while single "From The Outside" takes a more ironic approach. The song's melody is upbeat and fun, but the lyrics —"redefine rock bottom/with these empty orange bottles/never felt this paralyzed before "— depict depression, alcoholism, and medication in sharp detail. All tangled contrasts and sketched-in smiles, it's something of a thesis statement for the album, and it's also an absolute bop. The spunky, bouncy chorus is sure to be a huge crowd-pleaser at shows.
"Smiling On The Surface" has similar lyrical themes, but with a slighter heavier sound. Many songs on Composure employ a back-and-forth structure, alternating segments of gentle instrumentals with ones of head-banging rage, and on "Smiling On The Surface" this form takes center stage. I'm particularly struck by the bridge, which swings from mid-tempo melody to full-out breakdown to acoustic interlude and back to melody again, all in the span of about forty seconds. It's some really cool, really well-applied songwriting, and it nicely compliments the song's narrative of emotional turmoil.
"Unconditional Love" is the album's slowest, most intimate moment. With its massive chorus and steady melody, it's not a quite a full-fledged ballad, but there's a tenderness that frays its every edge. The song explores the minutiae of a relationship that's falling apart, and it's not afraid of letting that storyline be a messy one; singing confessional lyrics like "my temper's cutting through to call you out/it makes me sick inside to know," Lambton gracefully shoulders his share of both burden and blame. Arrangement-wise, the song reminds me a lot of Blink-182's "I Miss You;" it's drum-heavy, clear and sure-footed, and it wrings feeling out of every note. An elegant, poignant tearjerker, the song is one of Composure's artistic high points.
The album's back-half is mostly fast and rambunctious. "Composure" is another ironic piece, setting self-doubting lyrics against a bubbly tune, while "Ripcord" has a slow-burning bridge that provides one of the album's most cathartic moments.  They're both great, but it's lead single "Get By" that really leaves an impression. I first heard the song back in January, when Fearless Records used it as the background song for their 2018 preview video on Instagram, and it grabbed my attention immediately. I've had it on heavy rotation ever since, hotly anticipating its full-fledged release, and I'm delighted to see that it more than holds up. A roaring, triumphant anthem to escaping a bad situation, "Get By" is irrepressible in both tune and righteousness, a soundtrack for the moments when you feel ready to conquer the world. I think it's the best song Real Friends has ever released.
"Take A Hint" closes the album on a soul-searching note. The song's lyrics – "we'll say what we want/I'm learning to take a hint/stay convinced/we'll see the other side"—are hopeful ones, but the arrangement has a lot of grit, full of churning guitars and left-of-the-beat melodies. It's a fitting finale for an album that's such an exercise in contrasts; so much of Composure is a push-and-pull between happiness and hardship, and "Take A Hint" finally allows the two sides to coexist. The song's lessons are hard-won, and while there's a little too much screaming to call it a "happy ending" it's certainly an optimistic one, confident and light-filled as it takes a step towards the future.
It's been a busy summer for pop-punk, with standout releases from big-ticket bands including The Wonder Years, Mayday Parade and State Champs. Real Friends might be a bit of a smaller name, but that's no reason to turn away. Full of powerful emotions and stand-out songwriting, Composure is an excellent addition to this season's landscape. It'll have you smiling inside and out.