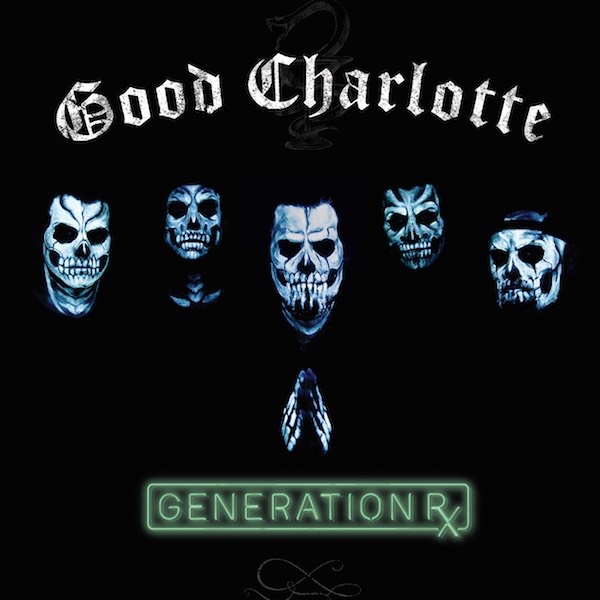 This one starts with a death and a rap song.
In July 2017, Pennsylvanian rapper Gustav "Lil Peep" Ahr released "Awful Things", the third single from his debut album Come Over When You're Sober Part 1. Though the album was best classified as hip-hop, Lil Peep was heavily influenced by a number of rock genres, including grunge, pop-punk, and emo. He was a fan of pop-punk band Good Charlotte — a veteran band well-known for taking younger musicians under their wing (they currently manage Sleeping With Sirens and Waterparks, to name a few). As his career grew, Lil Peep became friends with Good Charlotte, and the two acts discussed touring together.
Then, on November 15, 2017, Lil Peep died of a drug overdose. He was 21.
In response to this tragedy, Good Charlotte released a cover of "Awful Things," which they performed at Lil Peep's memorial. It was a difficult moment, and one that inspired a lot of discussion amongst the band's members — about drugs in the music scene, mental health in society, and if there was a way that they could make things better.
"These are hard things to talk about," lead guitarist Benji Madden told NPR. "It's hard to talk about childhood trauma. It's hard to talk about depression. It's hard to talk about anxiety, or things like bipolar, borderline personalities or all the things that have been in and around people's lives that are uncomfortable for people to talk about. We thought, 'I wonder if we just open up our subconscious and open up the things that we think about and hide from people everyday and just let them come out in some of these lyrics, what kind of record will we make?'"
The result of these discussions is Generation Rx, the Maryland pop-punk quintet's seventh album, and the second since their 2016 return from a six-year hiatus. Something of a concept album, each of its nine songs take on the struggles of living with and witnessing mental illness, addiction and pain. It's tough stuff, and the band has adapted their sound to fit the themes, with several songs showing clear metal and hardcore influences.
That said, this is still Good Charlotte. In their nearly twenty year career, the band has become well-known for their boisterous, youthful pop-punk sound, and they haven't abandoned that entirely. They might be in a serious mood, but they're still serving up plenty of hooks and fiery spirit, and it's sure to please both new and old fans. Confronting topical themes with the band's signature brash energy, Generation Rx is a hard-hitting and thought-provoking album from a veteran band that's still at the top of the pack.
Whisper-laden "Generation Rx" serves as the album's chilly, gothic prologue, before segueing neatly into the uptempo "Self Help." "Self Help" is the album's most traditional example of the pop-punk genre — an electric-tinged head-banger, it's built on bold instrumentals and a chorus as catchy as it is emotional. While much of the album approaches its mental health themes with a fairly dark outlook, "Self Help" is mostly optimistic, with its rising melody and call-to-action lyrics — "searching for the meaning/I'm living in these feelings/I'm ready for a reason to believe"— combining into a forceful fight song for those grappling with mental illness. Urgent, buzzy and confident, it's a powerhouse opener, and I think it has all the makings of a classic Good Charlotte anthem.
The album's two lead singles — "Shadowboxer" and "Actual Pain"— both touch on themes of internal distress. Both singles are good, but "Shadowboxer" is by far my favorite. One of the album's heaviest tracks, its explosive combination of churning guitars and crashing drums comprise a knockout arrangement well-worthy of its title. The song's lyrics — culled largely from lead singer Joel Madden's personal experiences — confront self-hate and suicidal thoughts with a no-holds-barred candor; it's the kind of powerful, empathetic honesty that forms the album's mission statement, and I think it will connect well with listeners who have also struggled. Bolstered further by a spectacular vocal performance form Madden, "Shadowboxer" is the album's gripping, courageous centerpiece.
Back-to-back ballads "Prayers" and "Cold Song" provide the album's most sensitive moments. "Prayers" is a tender tribute to both the victims and survivors of the opioid crisis; with its drifting melody and compassionate lyrics, it reminds me a lot of "We Believe" from Good Charlotte's 2004 The Chronicles of Life and Death. "Cold Song" is just as emotional, but with a more personal narrative. A piano-driven ballad about depression and the fight for recovery, the song wears its heart on its sleeve to tremendous effect. Its cries of "I want you to know that you're not alone" and "so I close my eyes and I say my prayers/maybe life will show me" resonate with cautious hope, and despite its title, the song is warm and cathartic. Like a good deep breath at the end of a long day, its presence is a deeply felt one.
"Leech" and "Better Demons" both explore harder rock genres and difficult family situations. "Better Demons" — an atmospheric hardcore piece about child abuse, which incorporates spoken-word audio clips of therapy sessions — contains some commendable ideas, but unfortunately, I think it falls a bit flat; the spoken-word portions don't relate comfortably to the song's other lyrics, and in the end, it feels too haphazard for such a serious topic. "Leech" is far more successful. Featuring a pulse-pounding instrumental arrangement and a rap bridge from guest vocalist Sam Carter of Architects, it has a nu-metal vibe that nicely compliments its exploration of childhood trauma. The song is heavy, raging and — with lyrics like "maybe it's obvious we were born to be in hell"— almost brutally pessimistic; it's the polar opposite of something like "Cold Song," but just as much of a standout. The song is proof that Good Charlotte boasts an impressive range, and I'd be excited to see the band continue playing with heavy metal genres in the future.
Finally, "California (The Way I Say I Love You)" finishes the album with a bittersweet coda. A melodic mid-tempo piece, the song finds Madden crooning words of encouragement for a faraway loved one; it's part wistful love letter, part uplifting affirmation. With its lightly-sung vocals and sweeps of strings, "California" ends the album on a hopeful note. It's a gentle reminder that no matter how hard life gets, better places, love, and light are "there waiting for you."
Over the last few years, mental illness and the opioid crisis have had wide-reaching consequences, and the music industry is no exception. From Lil Peep to Mac Miller, Linkin Park's Chester Bennington to We Came As Romans' Kyle Pavone, musicians from every corner of the industry have been lost to these problems. But while the music industry may not itself be a refuge, music is still a powerful tool — for change, for healing, for community. And with Generation Rx, Good Charlotte have risen to challenge of creating hope in the face of adversity. Full of powerful hooks and engaging arrangements, the album is an excellent listen, and its heartfelt mix of poignancy and strength prove a testament to the band's empathy. A compassionate soundtrack for difficult times, Generation Rx is a worthy addition to the Good Charlotte canon.