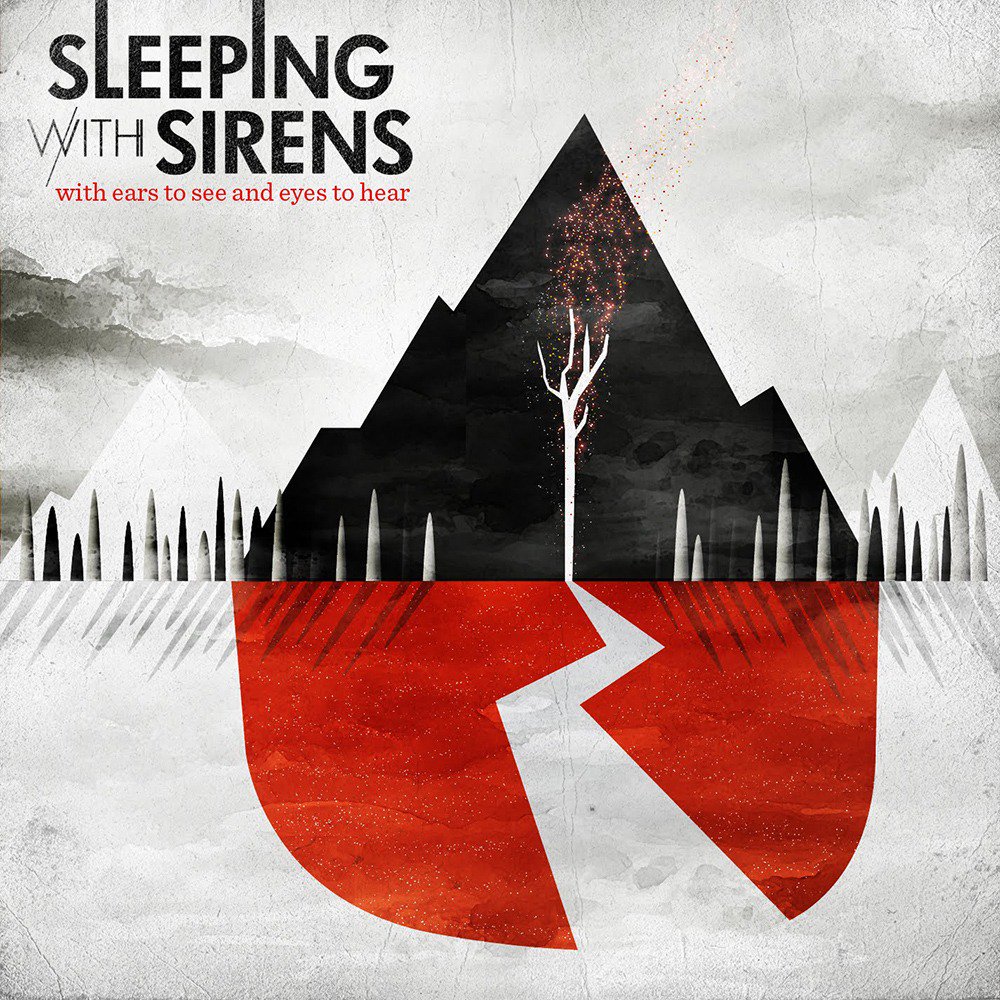 Warped Tour, 2012, New York City. My first Warped, and it was a great one. I was nineteen, between my first and second years of college, and I attended with my high-school best friend. Her tastes ran lighter than mine, so our setlist mostly veered towards pop-punk. We saw We The Kings, All Time Low, and Mayday Parade, and waited in long lines in the hot sun for merch and photo-ops with our respective band-crushes — Charles Trippy (hers) and Travis Clark (mine). But there was one heavier band that I insisted we make time for, and that band was Sleeping With Sirens.
It wound up being an easy sell. They played right after Mayday Parade on the Monster Energy Stage, and since we were already standing there, she had no excuse to not let me stay and listen. It was around eight when they came on, the last set of the night, and while I'm sure the reality was something like perfect, I remember it like this: the sun was just starting to set when they stepped onto the amphitheater, and the light grinned sharp-white and harsh overhead. As the set wore on, the sun kept going down, the sky dripping a gradient of color, and by the time the band got to their closing song— the breakout hit "If I'm James Dean, You're Audrey Hepburn"— they were playing against a blazing orange sky. They hit the final notes, and the dusk settled immediately over them like they'd snuffed out a candle and were basking in the smoke. It felt like magic.
It was my first time seeing Sleeping With Sirens live, although I'd been a fan for a while. The Orlando metalcore five-piece was promoting two releases that summer —second album Let's Cheers To This and acoustic EP If You Were A Movie This Would Be Your Soundtrack— and I knew every line to every song on both. But "James Dean" was a song from their 2010 debut With Ears To See And Eyes To Hear, and that album was the real reason I'd been so set on seeing them. It's an album that I was —and still am— enamored with. I played it on repeat that summer, letting that Warped Tour sunset burn on my tongue with every screamed word.
Despite being just 10 songs and 31 minutes long, With Ears To See And Eyes To Hear is a decidedly massive album. There is one ballad and one breather song, but otherwise, it just builds and builds. It's this torrential downpour of a thing, a summer storm all July heat and crashing drums and lighting-strike guitar solos. The album's biggest breakdown actually comes at the end of a song—there's no coda, no closing chorus, it just drops there— and then is followed immediately by a two-minute atmosphere interlude, as if to acknowledge that the previous track was such a room-trasher that even the band needed a moment to survey the damage.  It's an album so intense it can barely handle itself. This is not gentle music; it is violence you could drown in, thunder cracks, and impossible rains.
And yet, it's about love. Save for one angry piece —vicious title-song "With Ears To See And Eyes To Hear"— every single song is in some way a love song. Some of these loves are easy, straightforward; "James Dean" with its promises of forever, or "The Left Side Of Everywhere" as it tumbles headfirst into a love "there's no turning back" from. Others are more complicated; take "The Bomb Dot Com V2.0" where frontman Kellin Quinn plays a narrator so consumed with love he would kill for it, or "Let Love Bleed Red" and its tangle of dreams and self-doubt. But whether it comes simple or with its teeth in its hands, love is the dominant theme here. And it's a love forceful enough to shake the ground you stand on, the source of all the album's grandiosity.
One song that particularly stands out to me is "Captain Tyin' Knots Vs. Mr. Walkway (No Way)." It's the biggest track —the source of the aforementioned album-halting breakdown— and its structure is a relentless one. It starts off with the sound of door opening, before exploding into three minutes of heavy screaming and wailing guitars, the melody almost nauseating thanks to shocks of autotune and a lurching, uneven tempo. The refrain has a gunfire image —"there's no safety this time"— and it's easy to picture the song as a barrage of shots; it's an arrangement of fragments, a floor full of bullet casings and shattered glass. But buried somewhere in all that wreckage is the line "you'll put me back/all these pieces/these pieces of me."  It's a strong line, a bellowed, hard-vocal one. The soundscape is crumbling all around it, but that core of love —hopeful, healing, redemptive love— stays unwavering.
In the bridge, Quinn sings "my heart is with you/I'll love you to the very end," and somehow it is the loudest thing around. There are no gunshots, no drums or guitars, crashes or screams that could overpower that declaration of love.
Perfect Warped Tours aside, my first few years at college were difficult ones. I felt out-of-place at school and was struggling with a lot of depression. I'm not sure I could explain how I got through it all; honestly, I try not to think about it too much.
One thing I do remember, though, is staying up until four in the morning drawing and listening to Sleeping With Sirens. I was an art major, and in my classes, I would often try to compensate for my depression by making cheerful work, but at night I could draw what I really felt. I'd set up on my bedroom floor, with Kellin Quinn's shrieks and static loud in my headphones, and I'd fill my sketchbooks with monsters. I drew my nightmares in every shade of black that I had.
But I drew something else, too. I drew magic —butterflies and fairies, galaxies of glittering stars. And I did not separate my themes onto different pages. I let them bleed into each other, let my angels and demons stand side-by-side. With Ears To See was my perfect soundtrack, because it did exactly what I wanted my own art to do. It's a metalcore album that literally screams its love songs, a synthesis of hellscape and hope. It doesn't sacrifice the shadows for the light. It builds them out of each other.
With Ears To See is love in the pain, and it's love in the madness, it's love made of screaming and thunderstorms and noise. I was in a dark place, and I needed to forge something beautiful out of that darkness. With Ears To See showed me how.
With Ears To See And Eyes To Hear is not necessarily the album I listen to the most, but it is the album that lives in me the most. It's the album that has most shaped my art and my worldview, and if I am feeling lost, I turn to With Ears To See to remind me that there is light in unexpected places. This is my 2:00am album, my alone-in-my-room album, my end-of-a-long-night-and-waiting-for-dawn album. We've all got those albums that color our skies a little brighter. For me, this is one of them.
This one "lets love bleed red."