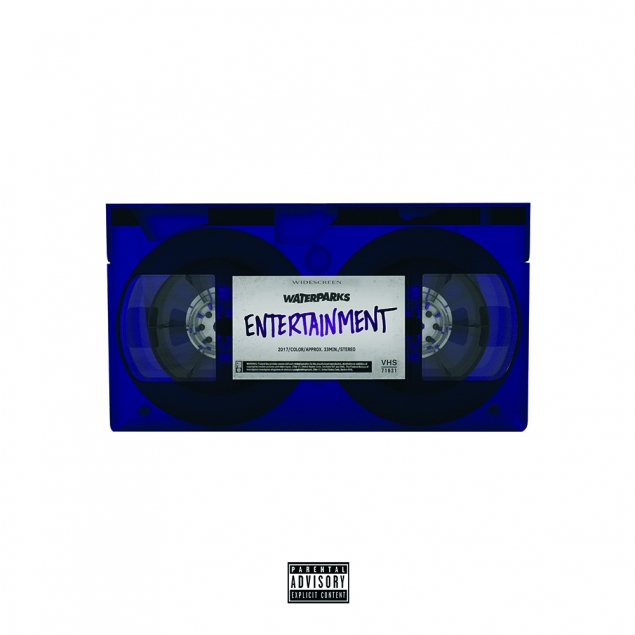 In addition to the usual acknowledgments— friends, families, record labels, other bands— the liner notes for Waterparks' album Entertainment include thank you's to the following: Fruit Loops with marshmallows, Satan, Santa, lemonade, "otters [because] cutest," peanut butter and jelly sandwiches, and "everyone who has purchased this album, [because you've] allowed [lead guitarist] Geoff [Wigington] to add a third shirt to his ever growing wardrobe."
There has been a lot of talk lately about whether Waterparks is "The Next Big Thing" – after all, the band is personally produced by a pop-punk legend (Good Charlotte's Benji Madden), spent the summer as a supporting act for another (All Time Low) and released their second full-length album Entertainment just weeks after finishing their first headlining tour. They have a lot of buzz to live up to, and it would be reasonable to try and understand that buzz by comparing them to bands that came before.
But if you really want to get to know Waterparks, it's those liner notes that say it all: Waterparks is a little weird, a little wacky, a little self-deprecating. and basically the musical equivalent of a hyperactive 10-year-old let loose in the grocery store. The Texas three-piece— singer/guitarist Awsten Knight, lead guitarist Geoff Wigington, and drummer Otto Wood— have a gleeful, zany,  everything-but-the-kitchen-sink attitude towards pop-punk, and it is in full force on Entertainment. The album's 10 songs display influences ranging from synth-pop to screamo, with recurring motifs including primary colors, lucky charms, long-distance phone calls, and sleeping both together and alone. The result is a boisterous album that is at once eclectic and tightly-knit, sparky and sensitive, and with hooks that'll stick in your head for days.
(An aside: I saw Waterparks on both the All Time Low tour and their headliner and will note that Geoff did, in fact, wear the same shirt both times.)
Entertainment starts strong with the lively "11:11" before promptly bursting into lead-single "Blonde." A riotous banger about burnout, bad relationships, and Knight's famously technicolor hair, "Blonde" is a definite standout. From its snarky hook ("at least it's all about you," Knight sings, his tongue a little in his cheek) to its acapella intro and roaring guitars, it reminds me a lot of Fall Out Boy's "Grand Theft Autumn." I think it deserves to be just as much of a classic, and with over 500,000 YouTube hits on the music video, it already seems to be on its way.
The album is at its most playful on "Peach (Lobotomy)," an up-tempo piece that incorporates a whistle solo, a thudding baseline, and a sing-song "la-la-la-lobotomy." Similarly clever is unlucky-in-love song "We Need To Talk," which draws on both indie-pop and Top 40; the slow-moving groove beneath the chorus would be right at home on a Glass Animals song, but the opening lyric is a giddy riff of Justin Bieber's "Love Yourself" ("Your mama likes me and she doesn't like anyone," Knight laughs, while Bieber lamented the opposite). Both songs are charmers and excellent showcases for the band's creativity and whimsy.
While most of the album veers towards pop, several songs on Entertainment experiment with heavier genres. The results, unfortunately, aren't as great. "TANTRUM" forays into post-hardcore, and while it's catchy enough, Knight just isn't much of an unclean vocalist, and several sections are over-autotuned to compensate. The lyrics fall flat, too; a diss track against the label, the scene, and Knight's ex-girlfriend's ex-boyfriends, the song is angry without depth or focus and comes across as a little immature. "Crybaby"— slow, glum and self-loathing — is a bit more successful, suggesting that the band can do dark, but they benefit from being more introspective about it.
In my opinion, Entertainment's best songs are its biggest and smallest. In the small corner is second single "Lucky People."  A cozy acoustic track, I've been humming this one since its video was released in December and was pleasantly surprised to discover that it was even more lovely in context. Variations on the phrase "we're lucky people" show up a number times throughout Entertainment, but it's here where it seems most sincere. Full of glittery imagery and shy professions of love — "Happy Birthday, Merry Christmas/to the one I call my missus/I'm leaving you love notes in the kitchen that say it all"— "Lucky People" is the album's gooey candy center.
On the other side of the scale, there are "Not Warriors" and "Rare." Built around a danceable electric keyboard melody and boasting the album's most massive, irrepressible chorus, "Not Warriors" is a technicolor 80's New Wave-style delight. "Rare," meanwhile, is classic emo, a confessional equal parts lovelorn ("I hope it's nicer where you are/'cause I only wanna lift you up/guess I never really said enough") and nostalgic ("we're not seventeen/but you're my teenage dream") and soaring.
It's songs like these two that bring me back the question of whether Waterparks is destined for the pop-punk pantheon, and judging from them, my answer is definitely yes. "Not Warriors" and "Rare" are the best kind of pop-punk, the kind of gushingly emotional anthems that make you want to shout to the rooftops and dance and cry all at the same time. Entertainment does have some missteps, but it has more powerhouse songs that say they "wanna lift you up" and really do. These are the songs that I think will make Waterparks a lasting scene presence. We're lucky people to have them.