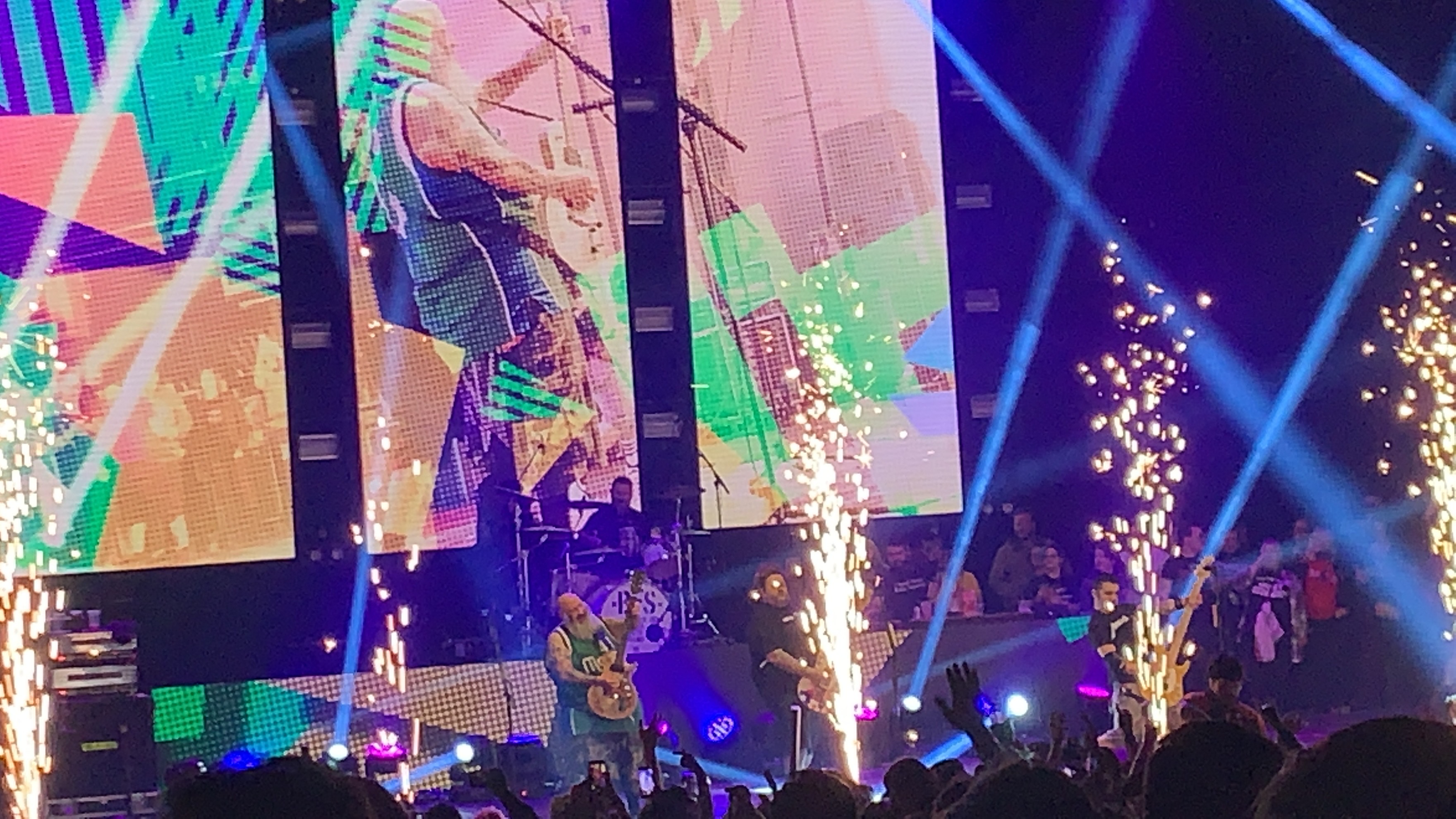 Bowling For Soup
February 14, 2020
O2 Academy Brixton
London, UK
There's a very rare chance to say "I'm having the time of my life" when it comes to watching a group of Texan dads tell old and fat jokes – but that's exactly what it's like seeing pop-punk jokesters Bowling For Soup.
Coming back to the UK for the first time since their appearance at Reading and Leeds Festival last year, it seemed that still, many many years on, nothing has truly changed about the guys. Except maybe that they have a new member, but even then, the humour is still there, and it's as childish as ever.
As expected from an act that reached their highest level of notoriety within the early to mid-2000s with tracks such as "Girl All The Bad Guys Want" and "No Hablo Ingles," they played mostly hit singles. Songs that every fan – old and young, long-term fans and new listeners – sing back with a big smile and maybe a giggle between lines. But that didn't stop them mixing in some newer material. Claiming themselves that it doesn't always go down well with fans when bands play new music, they still went ahead and performed their latest single "Alexa Bliss" – named after and written about the American wrestler herself. Then, after the huge round of applause following the performance, chalked it up to the fact there was a 5'2'' woman on the screen behind them. Maybe the applause is for both, they'll never know.
One of the most unique moments, a beautiful one, was where the show was stopped for a moment for a very happy couple. As frontman Jaret Reddick introduced the two, it became a truly unforgettable Valentine's Day for them: a very pop-punk proposal occurred, where a woman surprised her boyfriend with such a question to which he replies: "Fuck yes." How romantic.
Among the screams, the chants, and as Reddick says, his own "self-deprecating" humour, it was a fun night of drinking and one that won't be forgotten for a long time. And sometimes, that's the sort of Valentine's Day one needs.
The biggest laugh came from the band's competition of who gets the most cheers and least jeers for their individual jokes. From giraffes to being thrown into the ocean by PETA volunteers to talking frogs to restaurants on the moon… none of the jokes were truly that funny. But they were hilarious because they weren't funny. The winner overall is drummer Gary Wiseman for having the least terrible bad joke.
Of course, a Bowling For Soup show isn't complete without two songs: one being the fantastic and never-growing-tired hit "1985" and the other being the formerly unexpected and now highly anticipated theme for Disney Channel hit Phineas and Ferb. Reddick insisted on everyone filming this moment – and many did – as the band played the show's theme tune while playing the cartoon's intro behind them. It rivaled their support band Simple Plan's performance of their rendition of the Scooby Doo theme, which makes one wonder: why is it the pop-punk bands taking over the kids' channels?
But no one's complaining.
Bowling For Soup are one of those bands that put on a show where every song will hold a memory from that night. Whether it's a joke, or an interaction, or a touching speech, there will always be something to bring back that memory in a way where it's like, "Oh I remember that, because they performed this song." Every track on that setlist could be discussed because there was always a good time to be had.
Everyone should experience Bowling For Soup at least once in their lives. Just to say they were there.