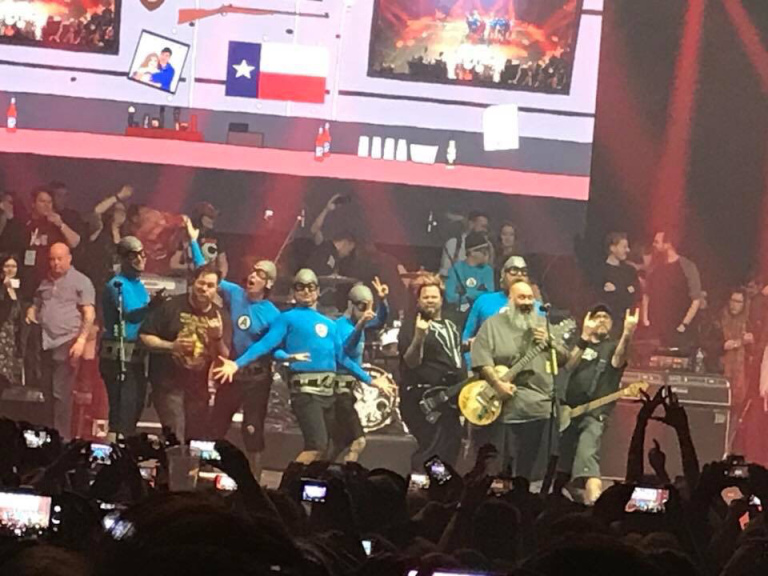 February 17, 2018
O2 Academy Brixton
London, UK
"A peacock that sits on its feathers is just another turkey." From then on, I knew this wasn't going to be an ordinary punk show. This was going to be an experience.
Bowling For Soup, one of the best things to come out of Texas (stated by myself, but possibly by others), are a rarity to see live outside of the US, due to many factors. In fact, all the way back in 2013, they were promoting a line of UK shows as "the farewell UK tour." When I heard that, I screamed "bullsh*t!" because that couldn't be it. That could not be it. And lo and behold, they returned in 2016 with a short string of shows, including playing at London's Camden Roundhouse – which I unfortunately could not attend. Still then, it was proven: the UK had not seen the last of Bowling For Soup.
That's when, after a solo stint with frontman Jaret Reddick in late 2017, the band returned with a tour celebrating 10 years since their Get Happy Tour, when they played in the UK in February 2007. And such as it did then, this tour ended in London. This year though, there was a little difference: this night's show was to be recorded for a live DVD release.
So, what's the rule for a live DVD? "If you see a camera, act like we're awesome," demanded Reddick. Like we had to act?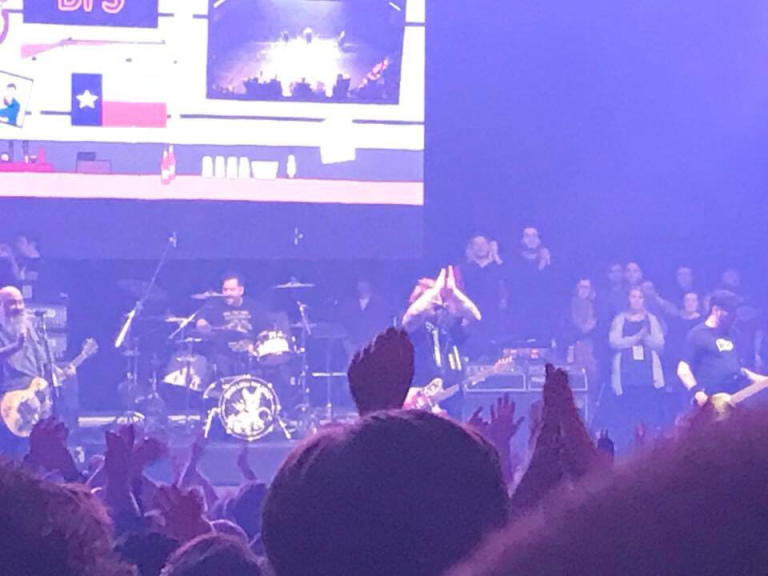 The promise for the tour was they were to play the entirety of their 2002 release Drunk Enough To Dance, and believe me, most of the crowd were living up to that statement. From mini-moshpits around the venue to one girl who threw off her shirt and cheered as it was being passed around the standing audience, the atmosphere was carefree and hilarious – much like the band themselves.
As memorable as it was, hearing them perform tracks such as "Emily," "Girl All The Bad Guys Want," and personal favourite "The Bitch Song," the banter between the band members was unforgettable. The greatest material came from short sessions between Reddick and guitarist Chris Burney, both of whom are overweight and incredibly proud of it. From Reddick praising Burney for "paving the way" for "newly fat" individuals like himself, to him warning the fans in front to not catch him if he falls forward accidentally, it was refreshing to see Reddick having a good sense of humour about his recent weight gain. In recent years, as I have seen myself, many BFS fans have been mocking the singer for his larger size, and the comments range from poking fun to full-on attacking him. The best way to combat bullying is laughing at yourself, which Reddick did so often with himself and with Burney beside him.
There was also a great lot of banter surrounding the fact that the band, who have been going on since 1994, are no longer the young lads they once were. Reddick described himself simply on the night as "45, overweight, bad knees." There was also a comment about Burney's "saggy old balls." The less said about that, the better!
One of the funniest moments came mid-"Punk Rock 101," where Reddick halted the song for a Bowling For Soup photograph opportunity. And it didn't stop there… they brought on musical superheroes (using that term loosely) The Aquabats, who were their tour support throughout their time in the UK, to join them in a few poses as the VIP guests at the bar behind them watched on (including one fan dressed as an Aquabat, and the Southampton trio The Lounge Kittens). I snapped my own, of course, I did; not every day you get a BFS photo op!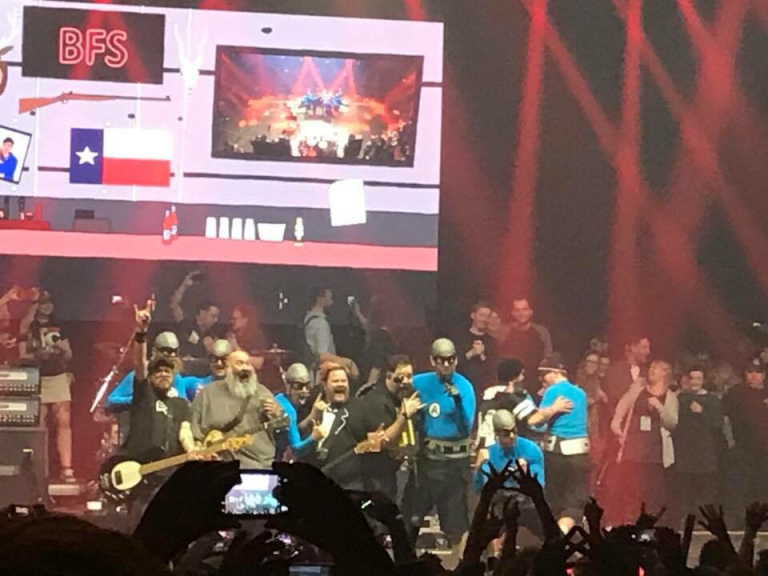 This is not your ordinary band. And this was not your ordinary gig. What set this particular gig apart from other bands? And from the others that came previously in BFS' tour? Three words: Phineas and Ferb.
After a short line of jokes about how Disney wasn't allowing them to play the theme, which was written and performed by the Texan band back when the show debuted just over a decade ago in February 2008. It seemed we were not going to witness this once-in-a-lifetime event until Reddick just went "ah f*ck it!" and went straight into it.
The guys stopped and restarted to give the crowd a chance to sing along. Shockingly enough, with a crowd of fans ranging from teenagers to those matching the ages of the band members, the entire venue shouted and sang along. Even I have to admit, as someone who isn't the biggest Phineas and Ferb fan, that is one catchy theme! It was stuck in my head for days after the gig. It was a wonderful moment between band and fan base; who knows when we'll hear this again, if ever.
I have discussed playing all tracks from Drunk Enough To Dance. I have discussed the impromptu photo-op with the Aquabats. I have even briefly discussed Chris Burney's saggy old balls (oh lord). But I have to talk about what we were all waiting for that night in the Academy. I'm talking about the band's 2004 hit – what was the first song for me and many BFS fans – the forever-famous "1985."
Here's some personal background: I first heard "1985" on a YouTube video, specifically an anime music video (AMV) someone randomly made and posted. Eventually, I would find and play the video over again just to hear that song. This is going back to around 10+ years ago, when I was only a child myself. It is a dear memory of mine…so it was quite the experience when I saw the band broadcast a massive countdown halfway through the show, dubbed "the countdown to "1985.". It was the last song of the night and to be played just before 11pm. It felt like an eternity just for this one track – but it was worth it!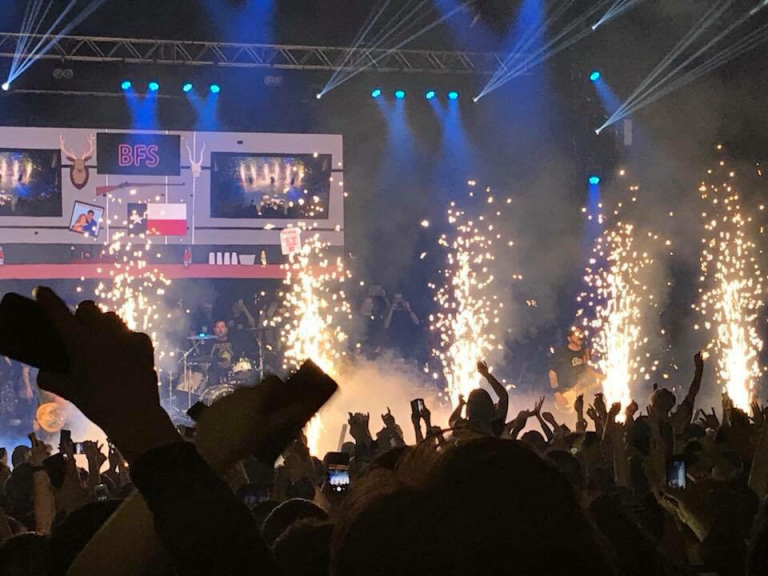 I would argue it was the best song all night – tied with "Girls All The Bad Guys Want" – because it was performed with such passion. After all these years, this band still has all the energy from when they were in their 20s. They may be older, and a couple may have gained weight, but in the end, the heart and soul are still there. Every member appreciates the fan base they have built up over the years, and it shows.
So, overall, what else can I say about the band that always waves back?
They are crazy, they are funny, they are crude and rude, and really, they are punk. Would I have preferred less talking and more playing? Honestly, yes and no. Yes because they were on fire (almost literally!) when they performed, but no because their talking with fans and each other and pulling silly jokes is exactly who Bowling For Soup are. Is it really BFS if phrases like "roasting our wieners," "I smoke a lot of f*cking weed," or "give it up to Chris for doing his best" weren't said? In my opinion, no.
Let a band banter around. Because THAT made this show a full 100%.
When available, purchase and watch this show on the Get Happy Tour live DVD. You will not regret it! The show is scheduled for release on DVD, CD, vinyl and as a digital download in early Summer, and you can find these formats available on the pre-order store here.
(I'll be watching it repeatedly, reliving every moment)