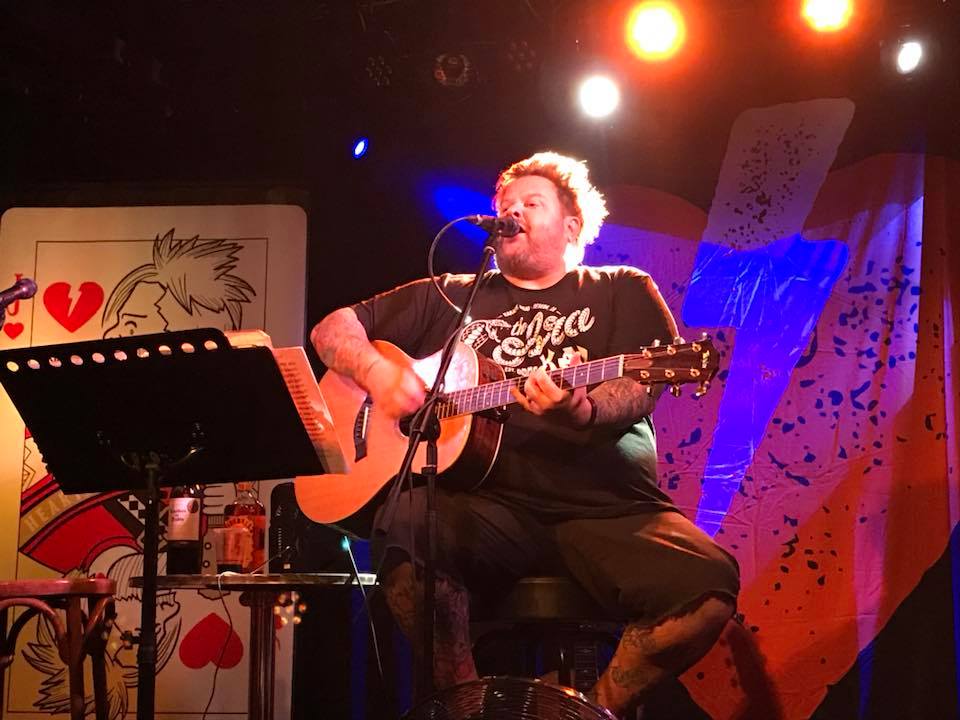 Jaret Reddick
September 19, 2018
Dingwalls
London, UK
During his second run around the world solo, Bowling For Soup frontman Jaret Reddick returned to the UK with just a guitar, a few friends, and a great handful of stories. Happy and unhappy, ridiculous and personal; it was truly a night of heartache and hilarity.
Witnessing the Texan musician from the front row of the intimate gig was a first for me. Being a part of the VIP crowd, I had some extra time with Reddick as he described the UK tour thus far, coming from what I hope was a genuinely fun and all-around sage night in Cardiff (which Reddick needs to remember is in Wales, not Scotland). This experience was accompanied by a small selection of tracks followed by a photo opportunity, for which London showed the native Texan that we are not always the best at queueing up.
Throughout the night, Reddick used his acoustic renditions of old and new Bowling For Soup hits to highlight points in his life stories, from filming trademark humorous music videos, to playing in different cities around the UK, to more tragic and deeply personal stories such as going through a messy divorce with his first wife (of whom he went on to call a bitch but defended with calling her "a good mom to my kids"), and going through a journey of finding his biological father and his family. The most powerful track of the night was highlighted by Reddick's description of his depressive spiral in 2013, which was the overly-emotional Fishin' For Woos single "Turbulence." Claiming that his mental health struggles were what led to the Farewell UK tour around the time, the crowd were quiet, stunned, yet in awe of the frontman's honesty of his mental wellbeing. This, however, would be later concluded as Reddick claims that he is the happiest he has been for a while – and now I await the Heartache & Hilarity Tour next year.
The support line-up of Nottingham band Lacey and Reddick's regulars The Dollyrots was nothing short of stunning. I personally had not listened to either band's music before and now I cannot stop – especially The Dollyrots. The mid-show surprise of singer and bassist Kelly Ogden joining Reddick for a couple tunes off their latest collaborative project Jaret & Kelly: Sittin' In A Tree helped further introduce The Dollyrots to fans who may have been unaware of the band before this show. The onstage chemistry between Ogden and Reddick was also strong; the two have a great friendship and an even greater professional relationship; they could crack jokes together and entertain the crowd throughout. The two of them even joked about a Jaret & Kelly tour and in all honesty, I know the audience would pay for a ticket and so would I.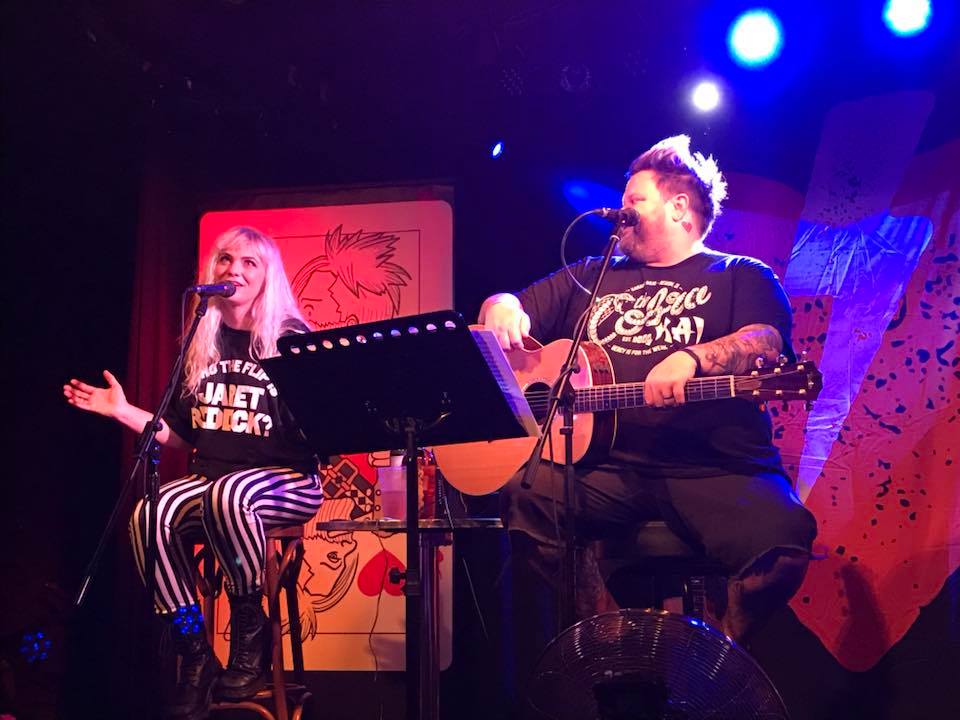 As the show neared its conclusion, Reddick's last number was one that he built up to throughout the entirety of the night. In most of his tales of the history of BFS, Reddick would discuss the band's progress throughout 2001-2002, around the conception and release of album Drunk Enough To Dance and said album's biggest hit "Girl All The Bad Guys Want." Throughout the night, he performed old and new songs dedicated to different people – such as the previously mentioned "Turbulence" going out to everyone who is suffering with mental illness, "I'm Gay" to everyone who is and trying to be happy in life, and "Catalyst" to his wife – who watched on from the side of the stage – but when it came to the closer of "Girl All The Bad Guys Want," it was dedicated to everyone in that room. Every fan around the world, along with the other three members of BFS, played a role in that song's popularity, and when Reddick played the tune, every single person present felt that dedication.
The night personally ended on a high as Reddick handed over his pick to me before exiting the stage for the night. As we all left the venue, I am sure everyone felt inspired and uplifted. The evening was a night to smile, not to frown, and not feel guilty for believing in yourself. In the words of Jaret Reddick himself: "It's perfectly fine to be a happy individual."
And if you want to criticise him for not playing "1985" during his set, I can assure you he did. He really did.