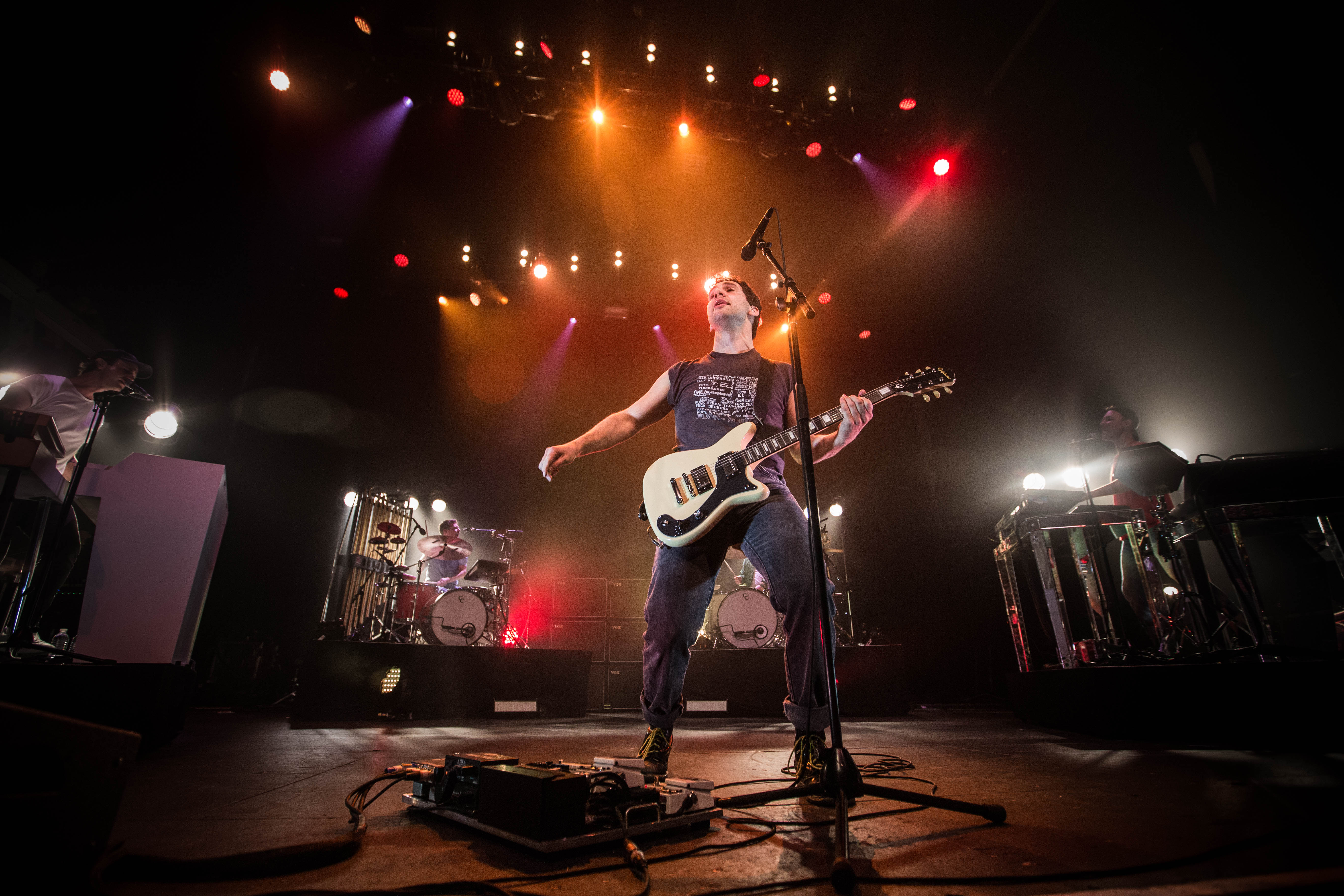 November 20, 2017
Terminal 5
New York City, NY
Jack Antonoff, also known as Bleachers
, is here to save rock and roll for the next generation. Bleachers took the stage at Terminal 5 in NYC on a Monday night and proved to all that you can party just as hard on Monday as you do on Friday. I am not new to Jack Antonoff's work, first hearing it when he was with the band Fun and later with Bleachers. Jack is one of those people you know is awesome at what he does because it is his life. I would guess he is an artist that spends just about every minute of the day thinking about music. He doesn't perform because he wants to be rich or famous; he performs because it's his calling and he is damn good at it.
Months ago, I bought tickets for this show. My wife and I knew at that time that it would most likely be the last concert we see at Terminal 5 before we leave New York. Terminal 5 has been the location of some of the greatest performances she and I have seen in the city. I also wanted to photograph the show to book end my experiences with the venue having shot Matt and Kim there a few years ago.
My wife and I have seen Bleachers a few times now, and each time, we were left wanting more. This evening exceeded our expectations beyond imagination and catapulted Bleachers to the top of our "You can't miss their show" list. Bleachers shared the stage with two amazing opening acts – artists that point to the fact that Jack Antonoff is a true music lover. Amy Shark and Bishop Briggs set an energy level that had me thinking it would be imposable for any band to top. Bleachers did more than top it; they played what had to be the best live performance I have seen all year.
I am a rock and roll fan through and through. I want the beat it brings, the energy, and the desire to just let go and live in the moment. I want the memories it stirs up from years past. But the world in my opinion is missing that pure, for-the-love-of-rock band these days. Bleachers is that band, and they are here to save rock and roll for the future. Their music is hard-hitting with beats that welcome you into the experience. Part of rock and roll is being vulnerable, and you feel Bleachers' vulnerability in the performance, making you feel more comfortable with exposed emotions. Jack Antonoff has never hidden struggles in life – instead he builds on them and owns them. Because of that, his music is relatable. Bleachers helps you forget about all the bull shit in life and reminds you that happiness can be found where music intercepts reality.
My very first concert was Bruce Springsteen over 25 years ago. During Bleachers' performance, I felt I was watching Bruce Springsteen again. But not the Bruce I saw or the Bruce you see now. I'm talking the mid-70s Born to Run, raw Bruce taking the stage in some shit hole Jersey shore venue. Hungry Bruce who is leaving it all on stage for the love of the music. The similarities between the two are striking. The mannerisms, the appearance, the sound, the guitar, even the saxophone. But mostly the performance.
Bleachers is keeping music alive and presenting it to the next generation in a fashion that is relatable to all generations. You can argue and say it's pop, and most stations list Bleachers as pop. I think it's because they are scared to call it rock and roll. In an era that has to be politically correct, where the proper category will determine success or failure (and indie is the "in" thing to be), labels and stations want to make sure not to scare people off by using the wrong title. Let me tell you – Bleachers is rock and roll! We should call it what it is because we as music lovers need this music. I know I sure as fuck do. I need that band that says, "This is how we are going to do it. We are going to toss two drum kits and two keyboardists on the stage. We are going to stand on speakers and sing words that make sense."
In a cookie cutter music world, Bleachers puts a middle finger up and made 3,000 peoples' lives better on a cold Monday night in Midtown. Not just from their music but also because they had the balls to bring with them two powerful opening acts that would have overshadowed a less confident and determined band. Bleachers brought a whole show and made the price of admission well worth it.