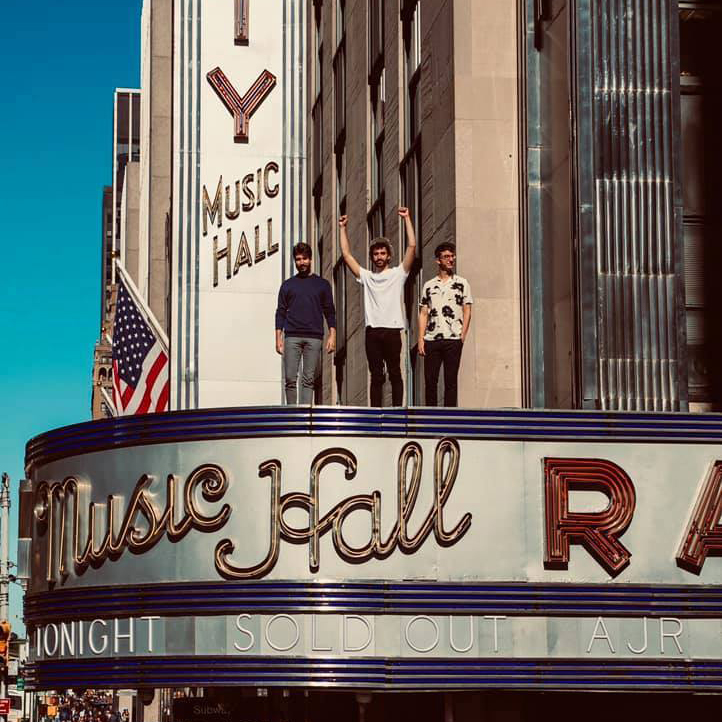 AJR
October 10, 2019
Radio City Music Hall
New York City, NY
What a night it was for AJR. For the first time in their young career, these New York City-born brothers finally got to perform at Radio City Music Hall. It was evident they were grateful. This up and coming band has definitely found success in recent years, and this show proved that. Leading up to The Neotheater World Tour, they hyped the various elements that were planned, claiming it would be a unique and immersive experience. They weren't wrong.
It's clear that a lot of hard work went into production. Between the graphics that flashed behind the band and the various stage tricks, this show was technologically 1,000 times more advanced than when I saw them during The Click era. Maybe it's because they finally have money to put on the show they want or just had crazier ideas this go-around, but there wasn't a moment that my eyes didn't know where to look. However, that wasn't always a good thing.
Of course, a lot of the effects were cool, especially during "The Entertainment's Here" when Jack walked on a treadmill-like platform while graphics of a neighborhood passed behind him. Sometimes though, everything was a bit too much. Between the flashing lights, 3D looking graphics, and obviously the brothers performing, it was almost impossible to take it all in. I think there were instances where AJR underestimated their own abilities. They're such a phenomenal live band that they don't need all the extra pizazz to put on a good show. I feel like they could take some notes from Twenty One Pilots who use graphics to enhance the concert experience rather than distracting from it.
One song AJR got right was "Wow, I'm Not Crazy." First, they prefaced the performance with the fact that this track was inspired by their New York City street performing days. The whole band then sat close together, playing their instruments as passersby dropped a dollar in an open guitar case. A graphic of a park sat on screen as the song progressed. Jack would literally pause for a second to say "thanks" to those giving money. It felt authentic, but witty which is exactly how I'd describe AJR to somebody who didn't know who they were. When the song got faster, they broke from their positions and performed like the talented band they are.
I must also give a special shoutout to their trumpet player Jimmie (JJ) Kirkpatrick because he is beyond gifted. At about the midway point, he solely performed choruses from some of AJR's older songs using just his trumpet. It was one of my favorite parts of the show and such a good way to incorporate AJR's older work. (I nearly screamed when he played the chorus of "Growing Old on Bleecker Street.")
Other standout performances included "Birthday Party," "Karma," "Don't Throw Out my Legos," "100 Bad Days," and Finale ("Can't Wait To See What You Do Next.)" "Birthday Party" was the second song of the set, and the energy in the room was already at max capacity. I could feel the balcony of Radio City shaking as we all sang in unison.
AJR's signature stage gig is to show the audience how they produce one of their songs off the new record. This time it was "Don't Throw Out my Legos," and the accompanying performance felt like a literal anthem. Later in the show, Jack explained that instead of putting on a show so people could forget about their problems, AJR set out to put on a show that embraced problems. That's the only way I can really describe the emotional yet enthusiastic performance of this specific song.
While on stage, Jack mentioned that it's gotten to the point where AJR now has so many songs that it's hard to pick what makes the setlist. In addition to all the tracks off Neotheater, they also played the most popular songs from The Click. It was probably the right choice since that's what people know the best, however, the set felt kind of off. It just felt odd to interweave other songs with different themes throughout. From a positive standpoint though, it shows just how good of an album Neotheater is.
On that subject, there were a few performances I was actually let down by due to the fact that the album versions are better. "Next Up Forever," "Turning Out Pt. II," and "Dear Winter" come to my mind. "Next Up Forever" is probably my favorite song off the album because of how many moving parts there are to it. This is the song AJR opened with, and I thought they would do a better job at making a spectacular entrance. However, it fell a bit flat for me. I personally think it's because the recorded version contains practically an entire opera. Of course, they had those parts of the track playing, but it didn't feel as dramatic as the record version does.
I had high hopes for "Turning Out Pt. II," but unfortunately was disappointed. For some reason, Ryan seemed to sing it a bit faster than the recorded version (maybe for time purposes?), which made the song feel rushed. It felt like a lot of the original emotion was lost in the performance which quite honestly sucks because he nailed it on the recording. I will admit, I liked how he interwove the ending of the original "Turning Out" and closed with the final line from "Turning Out Pt II." That was a nice way to incorporate the old with the new.
Like "Turning Out Pt. II," "Dear Winter" felt a bit faster than the original version. I find that interesting to note because I've watched plenty of videos where Jack performs it live, and it's even better than the recorded version. Maybe it was an off day. Ironically, my absolute favorite part of the concert happened during this performance. After Jack sang, "Dear Winter, I'm looking for your mom," the entire room went silent. I've never quite experienced something so beautifully chilling. Especially since this is one of AJR's more emotional songs, it was nice to know an entire crowd felt the same way.
The finale was the complete opposite of the opening. During "100 Bad Days," they performed part of the song in costumes that lit up and made them look like stick figures. It sounds weird, but it was definitely cool. Of course, they finished off the concert with the final part of "Finale (Can't Wait To See What You Do Next)" in the most spectacular way possible. Faux fireworks shot in the background as Jack sang his heart out, and the three brothers bowed on stage. An extravagant finish that matched the album's closing was all I could have asked for.
Although the show wasn't flawless, I definitely do not regret going. It's still very early for this young band, and I truly believe as time goes on, they will continue to create a better live performance. As for the music, they seem to have that part already mastered.