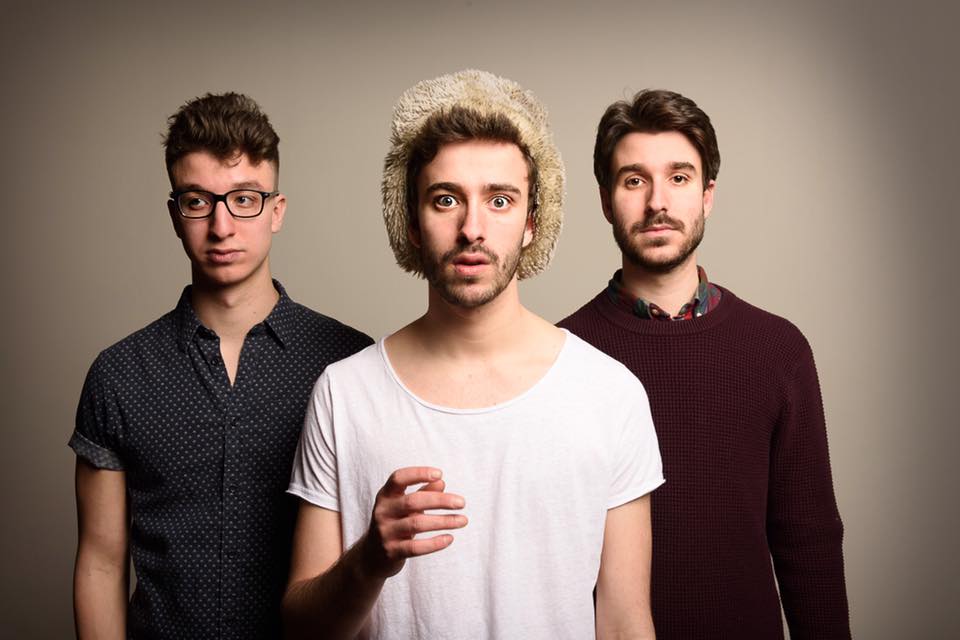 April 21, 2018
Terminal 5
New York City, NY
Cruising down the highway with the windows down and the warm summer breeze blowing through the car, a song called "Netflix Trip" played via my friend's recommended songs. To be honest, I was too enveloped in a conversation to really pay attention to the music. Then by chance, I thought I heard the lead singer saying something about Dwight and Jim to which my ears perked up. Could this be The Office referenced in a song? I kind of brushed it off, and a few songs later, a really catchy track called "No Grass Today" came on. It sounded like one of those songs that everybody knows and just has to sing the words to. I was immediately hooked and knew I had to find out more about this band.
AJR is a group of brothers, Adam, Jack, and Ryan, that are extremely difficult to put a label on. Their sound varies from track to track, covering a wide variety of genres. Alternative, Pop, Rock, EDM: you name it, and AJR has probably covered it. Their single, "I'm Ready," an extremely upbeat party track with a sampling from the Spongebob Squarepants theme song, was their first break a few years back. They were rumored to be a one hit wonder, and their first full length album called Living Room (which is completely underrated in my opinion) gained little traction. However, just last summer, their new album The Click premiered and their song "Weak" climbed up the charts and made its way to the radio. Throughout last summer, I studied their discography, finding few songs I disliked. I knew once the opportunity to see them came around, I had to go.
This past weekend was that opportunity. The band Hundred Handed and a solo performer named MAX opened the show, and both acts were phenomenal. I can't remember the last time I thoroughly enjoyed the pre-show as much as I did this night. Each member of Hundred Handed walked out on stage to a different theme song similarly to the way baseball players have a walk-up song when they come to bat. I thought that was unique and really gave a sense of the band's personality before they even began playing. And when they did perform, each song was better than the next. By far my favorite was a song called "Too Good." It sounds like a seventies song with a modern twist and is ridiculously catchy. They brought a great energy to the stage and were the perfect first act in my opinion. I would highly recommend checking out their music especially their latest EP OO WHOA which just released earlier this year.
MAX performed next, and it's hard to formulate just how good of a performer he is with mere words. He brings a new level of charisma to the stage and somehow never seems to be out of breath despite running back and forth tirelessly across the floor. Before this show, I only knew MAX as the star of an old Nickelodeon movie called Rags and was somewhat familiar with his most popular song "Lights Down Low." However, I have a new-found respect for him and his spectacular stage presence that literally brings the audience alive. My two favorites from the show were "Savage" and "Basement Party" which are both very fast paced and upbeat. However, I will admit that listening to the recording of these songs is nothing like the live performance. MAX's vocal range is quite similar to Brendon Urie's, and he doesn't hesitate to show it off. He is all about getting the crowd involved, and his entire performance felt like two minutes due to how fun it was to watch him be completely immersed in the music.
Finally, AJR took the stage, and their hour and a half performance was everything I wanted and more. First, hats off to them for playing every single song off their newest album as well as their newest single that was released while they were touring. Of course, I would have loved to hear some of their older songs, but the variety of tracks off The Click definitely provided the audience with a bit of everything. One of the coolest signature aspects of AJR is the fact they like to make tracks that combine bits of each song off their albums, to wean the listener into the album itself. They did this with Living Room and The Click and both "Overtures" are extremely unique in their own way (If you want a quick taste of AJR's incredible talent and versatility without going through all their songs, definitely listen to both "Overtures"). They started off the show with the recording of "Overture" from The Click and appeared energetically onstage once it finished. That energy would continue throughout the rest of their performance with Jack sporadically jumping around stage despite breaking his foot on the beginning of tour, and Ryan and Adam simultaneously jamming out on their own instruments. Combined with flashing lights and some weird boxes that created distinctive graphics, there was never a dull moment. Even when they performed slower songs like "Call My Dad" and "Turning Out," there was a quiet buzz that made it feel like the audience was always connected.
AJR not only writes but also produces their own music, so they are extremely invested in experimentation, creating interesting sounds, and the process in which a song comes together. For one portion of the performance, they took the song "Chim Chim Cheree" from Mary Poppins, and Jack remixed it into a song that sounded like it should be played in a club rather than a Disney movie. It was so cool to see the track be flipped on its head and change into something almost unrecognizable from the original. Later in the show, they took breaking down songs to the next level when Ryan explained how they created their song "Drama." Ryan said they started off with one instrument and then added another and another until the bassline was created. As he told the story, each of the instruments he mentioned would play in the background, demonstrating the physical process of the song formulating. Then, he finally explained that Jack recorded a vocal, and they pitched it to the point where it barely sounded human. Once that aspect was added, Jack pointed to various part of the screen blocks behind them and orchestrated the pitches which eventually transitioned them into the actual song. This was easily my favorite part of the concert because the audience got to feel like they were part of the development process. It also showed how multi-talented AJR is and how much work they have put in behind the scenes of their albums.
My other favorite parts of the show included their performance of "Netflix Trip" and "Bud Like You." I already loved "Netflix Trip" before hearing it live but, there was something so different about hearing it in person. It sounded like a marching song or even better, an anthem of some sort. "Bud Like You" was also transformative live. The background of this song sounds similar to the iconic "Irish Drinking Song" with a twist and it really comes alive in person. AJR split the crowd into three sections and gave each a different action that would inherently form the beat of the song. One section stomped, another section clapped, and the last section said "hey" consecutively. After some practice, the song's beat formed, and they went into the full-fledged song. But to be a part of the actual music was fun, and to see it transition was even better.
Of course, their most notable song, "Weak," was the finale, and the crowd went wild which was nothing new. AJR successfully put on one of the most intense yet intimate shows I have ever witnessed. This trio is almost too talented for words. I would without a doubt recommend listening to their music and seeing them perform live. I cannot wait to see where the future takes them because I feel like they'll only get more popular despite their song claiming, "they're not famous."