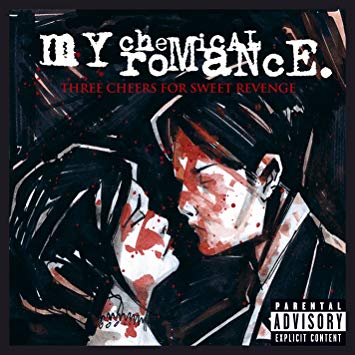 A lot of people would say that The Black Parade is My Chemical Romance's magnum opus.
Certainly, I won't deny the importance of the album or its lead track. The Black Parade is important. It's a musical evolution for the band both musically and lyrically. It's where Gerard Way really came into his own as a storyteller, and it's the album that launched My Chemical Romance past just being "mainstream" and into being "legendary."
It's an important album, no doubt. It's a great album, even. It's just not My Chemical Romance's best work.
Controversial statement, I know.
But really, Three Cheers for Sweet Revenge is the My Chemical Romance album. With just enough experience to make a real, cohesive concept album, but not enough polish (or money) to make an album that was too sterile or perfect, Three Cheers for Sweet Revenge is the piece that should go down in emo canon forevermore.
This album is the quintessential mid-2000's emo album. It perfectly encapsulates what young angst feels like — powerful enough to destroy worlds, and yet so miserably out of control of everything that the best you can do is self-destruct.
This album marks a lot of firsts for My Chemical Romance as well, and most of what people love about The Black Parade wouldn't exist if Three Cheers hadn't laid the foundation first.
This album is the first time My Chemical Romance would bring a cohesive theme and branding to their album cycles (yes, I Brought You My Bullets, You Brought Me Your Love was also technically a concept album, but the band didn't start considering their image until later), the first time they would really get to experiment with true theatricality (like their MTV Video Music Awards performance), and the first time they would have a brush with fame, with radio-friendly singles like "Helena" and "I'm Not Okay (I Promise)" getting healthy amounts of airplay on radio and later, MTV.
And while this album introduced pop-sensibility to My Chemical Romance, there's still something wonderfully misfit about it. Whereas The Black Parade feels a little bit like the most popular girl in school being upset she doesn't have a date to the dance, Three Cheers for Sweet Revenge is the weird goth kid who actually doesn't have any friends.
With its imagery heavily lifted from horror movies, comic books, and goth culture, this album didn't have the most accessible point of entry, especially when compared to the quirkier and more video-friendly bands like Fall Out Boy and The All-American Rejects.
But, much like the fanbase it catered to, its macabre exterior hid a much softer center. It was a tender album, and an emotionally vulnerable one, which is likely why it resonated with so many people, especially in a post-9/11 America.
At its core, this is, to quote Gerard Way, "an album about two little boys losing their grandma."
While listening to Three Cheers, one gets the sense that the only thing keeping this band together is the sheer tension of it all — and God, if that doesn't describe being a teenager, I don't know what does.
The fact that this album so tenuously balances everything is likely what makes it such an iconic work of art, and what makes it so important to me, and kids like me. Just one more track would have ruined the whole thing, honestly, but My Chemical Romance got lucky, and so did we.
Three Cheers For Sweet Revenge is one of those albums that you're probably afraid to admit is a favorite, but you shouldn't be. People only make fun of it because it's trendy to hate raw emotion. Musically, it's an excellent album, drawing from emo, hardcore, and metal influences, and blending them very well to make a fairly unique sound. Lyrically, it's a little overdramatic but still an excellent and honest work of art that time and time again manages to become the most important album of somebody's adolescence.
For me, it's the musical equivalent of a security blanket. Three Cheers was there for me when I started middle school, and again when I started high school, and again when I started college. The fact that I related to it at three very different points in my life is a testament to the longevity of the album — especially since, by the time I started college, the album was over a decade old, and My Chemical Romance had been broken up for more than a few years.
(To further prove my point, a letter I wrote to myself in eighth grade keenly asks if My Chemical Romance is still my favorite band. When I finally received that letter after graduating high school, My Chemical Romance was, indeed, still my favorite band.)
Admittedly, it is wildly impressive that 15 years later, scores of 14-year-olds with maybe-too-much eyeliner still know all the words to a song like "I'm Not Okay" and still rep Newark, New Jersey no matter where they actually are in the world. This album is sonic courage — sonic armor for a lot of people.
I honestly can't say why Three Cheers has aged so well, other than this: the message of the album is enduring. This album says "be afraid, but conquer anyways." This album says "it's okay to not be okay." This album tells you that you're not alone.
And no matter who you are, you probably needed to hear that when you were a teenager.