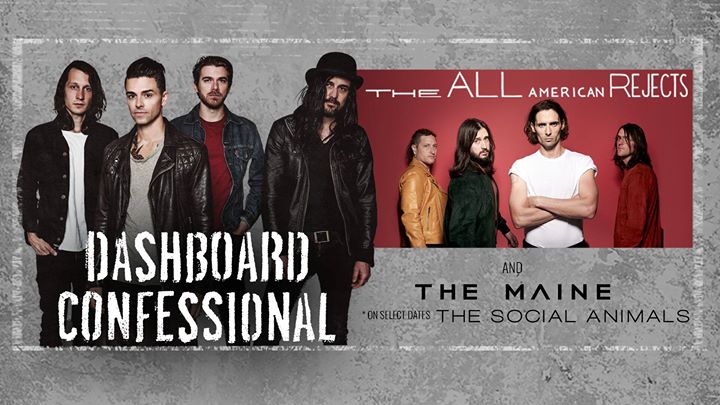 August 3, 2017
Central Park
New York, NY
A Stars and Scars first, this is a joint review written by Elyse Lijoi and Jen Morey.
Elyse –
After seeing The Maine live for the first time in April, I was determined to see them at least once more before the year was over. When I heard they were playing in Central Park for a summer concert, I knew this was my chance. I was barely concerned with the fact that I had never heard a Dashboard Confessional song in my life or that I hadn't listened to The All-American Rejects in five years. My friend and I bought tickets without practically thinking and eagerly waited for the day to come.
Being the anxious people we are, my friend and I arrived about two hours early to the venue. However, to our benefit, we got to say hi to two members of The Maine, Pat and Kennedy. We even got to take a picture with Ken after his girlfriend volunteered to be the photographer (she was so sweet). After that, we attempted to patiently wait for the start of the concert.
When The Maine ran out on stage, it was like a sigh of relief for me. Even though it had only been around three months since I saw them last, it was so satisfying to see their positive energy spread throughout Central Park. They opened with "Black Butterflies and Déjà Vu" which immediately got the crowd excited. The band played a semi similar setlist to the concert in April. Even though the summer sun was roaring that night, The Maine pranced around the stage as if the heat had nothing on them. John continuously repeated the idea of being alive and enjoying life, which of course made my sappy heart explode with joy.
Near the end of their set, the boys played their iconic song "Girls Do What They Want" and brought a lucky audience member up on stage to help sing along. This act is always hysterical, especially when the concert goer gets really into it like Zacky Poo (John's nickname for him, not mine) did. For the final song, The Maine switched it up a little bit and played a bonus track from their album Forever Halloween called "Ice Cave." Even though this song is not one of my favorites, it was surprisingly great live. Every member seemed to have the most fun performing the number, which in turn made me ridiculously happy. As they said their goodbyes after their too short set list, it was The All-American Rejects turn to take the stage.
Like I previously mentioned, I hadn't listened to The All-American Rejects in a number of years. However, "Move Along" and "Gives You Hell" were bangers when they came out, and I remember having posters of the band taped to my mirror when little Elyse first entered her emo phase. As I got older, this band seemed to fade from my playlists, and I just kind of forgot they existed. However, as soon as they performed their first song, I knew that was about to change. I never thought anybody could outdo John O'Callaghan's stage presence, but Tyson Ritter, the lead singer of The All-American Rejects, now rightfully owns that title. Ritter is basically the emo version of Beyonce, strutting around the stage while keeping the crowd energized and expressing the utmost confidence. His long locks bounced up and down as he ran from side to side, singing his heart out and saying ridiculous things to the crowd. The other members were just as lively, headbanging and jumping up and down to every tune they played. And despite all the movement, they sounded exactly the same live as they do recorded. If anything, they sound even better live than on their albums which is beyond impressive.
Jen –
Central Park is an activity hub in NYC for numerous reasons; there's hiking, playgrounds, animals, and of course, concerts! The Central Park Summer Stage hosts scores of artists, Dashboard Confessional being among them on August 3rd. With The Maine and The All-American Rejects opening for Dash, for a night, we were all emo kids in the early 2000s again.The audience was very excited to hear the set begin with "Vindicated," or as I like to affectionately refer to it, "Spider-Man." Their set spanned about an hour and a half, playing hits off of each of their albums, with the crowd going crazy as they finished with "Hands Down."
Chris Carrabba engaged the crowd, encouraging them to sing verses, choruses, whole damned songs as everyone enthusiastically knew the words. In the middle of the set, Carrabba exclaimed he wanted to "Slow things down," and played a few acoustic songs. It's an incredibly intimate and heart swelling moment, singing a song with them that gave life to your lungs the first time you heard it. Side note about the Summer Stage… they only have porta potties, and bring your own sanitizer, as there is neither a sink nor sanitizing stations to wash away those gross germs. Aside from the venue's poor sanitation issue, it was "hands down" a great night. Get it? Hahaha.
Join Dashboard's mailing list, and get a free download of their cover of The All-American Rejects' "Move Along." One day, a new album may follow. Last year, Carrabba admitted to Billboard that the band has tons of unreleased music. Since playing new tunes "We Fight" and "Heart Beat Here" live, which were both very well received by the audience, we may see a new album sooner than later.
Setlist:
Vindicated
The Sharp Hint of New Tears
The Good Fight
Saints and Sailors
Remember to Breathe
Love Yourself (Justin Bieber cover)
Just Like Heaven (The Cure cover)
Stolen
We Fight
The Places You Have Come to Fear the Most
Ghost of a Good Thing
Heart Beat Here
Don't Wait
Again I Go Unnoticed
Screaming Infidelities
Encore:
Hands Down