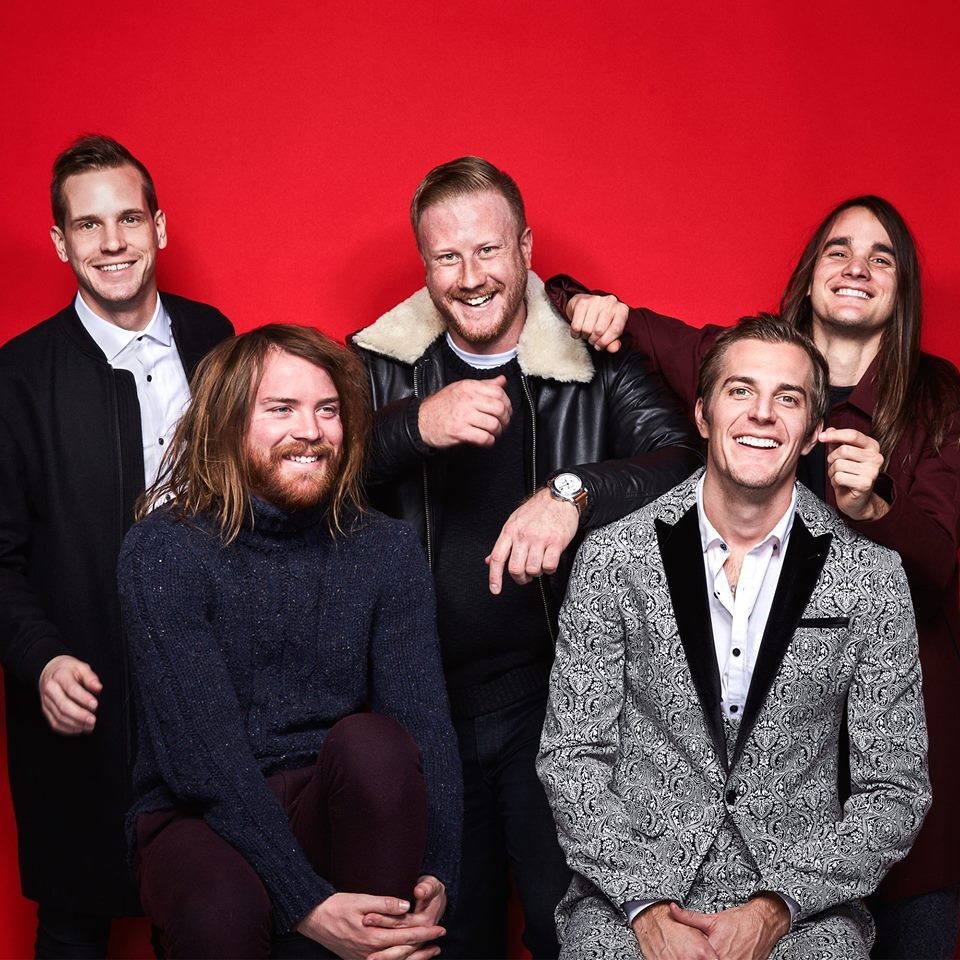 April 30, 2017
The Stone Pony
Asbury Park, NJ
I have been a huge fan of The Maine since I discovered them six years ago, so why I had never been to one of their concerts before didn't make sense. Finally, on the last day of April in the freezing cold, I got to see them perform. Let me just say, I was not let down.
Months prior, The Maine had released a Spotify playlist with songs from Beach Weather and The Mowgli's so fans would be prepared to jam to the opening bands. I was a pretty big fan of "Someone's Disaster" by Beach Weather and "4 a.m." by The Mowgli's, but other than that, I didn't really know what to expect. Beach Weather performed first and opened with "Someone's Disaster" which was the perfect song to set the mood. Three songs into their setlist, I was beyond impressed. They had an overall great vibe, and every song sounded like the definition of summer. A little fun fact: Beach Weather lead singer Nick Santino used to be the lead singer for A Rocket to the Moon whose album On Your Side I still jam to. After realizing that, I was super happy I got to see Nick Santino along with the rest of Beach Weather perform.
The Mowgli's were next, and even though they didn't impress me as much as Beach Weather, they were still really good. One of the lead singers performed with the flu, and I have to give major credit to that guy because he sounded amazing. They had a couple of good songs to sing along to like "Bad Thing" and "I'm Good," but sometimes, I felt like their music all blended together. I can't deny the fact that they are extremely talented though, because even with a few technical difficulties, they played as if nothing was wrong.
As soon as The Mowgli's left the stage, I felt excitement rush through my body. Ironically enough, I had met and talked to The Maine before but had never seen them play live. As the lights dimmed and they took the stage, the moment I had waited too long for had finally come. They opened with the intro "Lovely" and went straight into "Black Butterflies and Déjà Vu" which started the night off perfectly. They performed so unbelievably well live – better than I could have ever imagined. I could hear each instrument individually while they also flowed together seamlessly with the lyrics. Besides that, John O'Callaghan's stage presence is something everybody should witness at least once in their lives. Halfway through the show, he pointed to a guy in the audience and said, "If you don't like our music that's fine. I didn't make songs for you, I made them for your girlfriend."
It's moments like that which make this band so undeniably hysterical and fun to be around. Of course, the other band members look like they're having just as much fun without vocally expressing it. Garrett Nickelsen, the bass player, is notorious for dancing around the stage pretty recklessly. Kennedy Brock and Jared Monaco, both on guitar, seem to be more reserved but still dance around, obviously into the tunes they're playing. And of course, Patrick Kirch on drums always seems to be having a blast as his long hair flops around in the background. It's a combination of The Maine's amazing songs along with their positive energy that really radiates into the crowd and makes the show spectacular.
Another impressive aspect was the multidimensional setlist for this tour. According to my Spotify, I have 106 songs by The Maine saved, whether that be their songs or covers. With countless songs from various records to choose from, the task of making a complete setlist had to be daunting. However, the setlist had such a wonderful balance of old and new. They performed older numbers like "The Way We Talk," "We All Roll Along," and the infamous "Girls Do What They Want." Plenty of songs from Lovely, Little, Lonely and American Candy were played including "Bad Behavior," "Lost in Nostalgia," "Do You Remember," "Unlost," "Diet Soda Society" (one of my personal favorites), and "English Girls." The entire vibe of the setlist was basically "go hard or go home" minus one song right in the middle. Some people may not have appreciated the break in upbeat tracks, but the song they played, "Raining in Paris," happens to be one of their most underrated songs in my opinion. I was so ecstatic they decided to perform it that I recorded the entire three minutes and forty-seven seconds of it. They ended the concert with "Another Night on Mars," which is the perfect song to wrap up a wonderful night. "What's another night on Mars? With friends like ours, anywhere is home." The crowd belted these lyrics joyously as the small venue really started to feel like home.
The Maine's performance went by quicker than any other concert I had been to, and for that, I must give them a huge amount of credit. The atmosphere was filled with nothing but positive emo vibes, which is my ideal kind of night. All five of those guys gave it everything they had on stage which was so apparent and not overlooked by fans like me. Although this was my first show with The Maine, the band's evolution over the past six years has been revolutionary. I cannot wait to see what they do next and support them 100%.