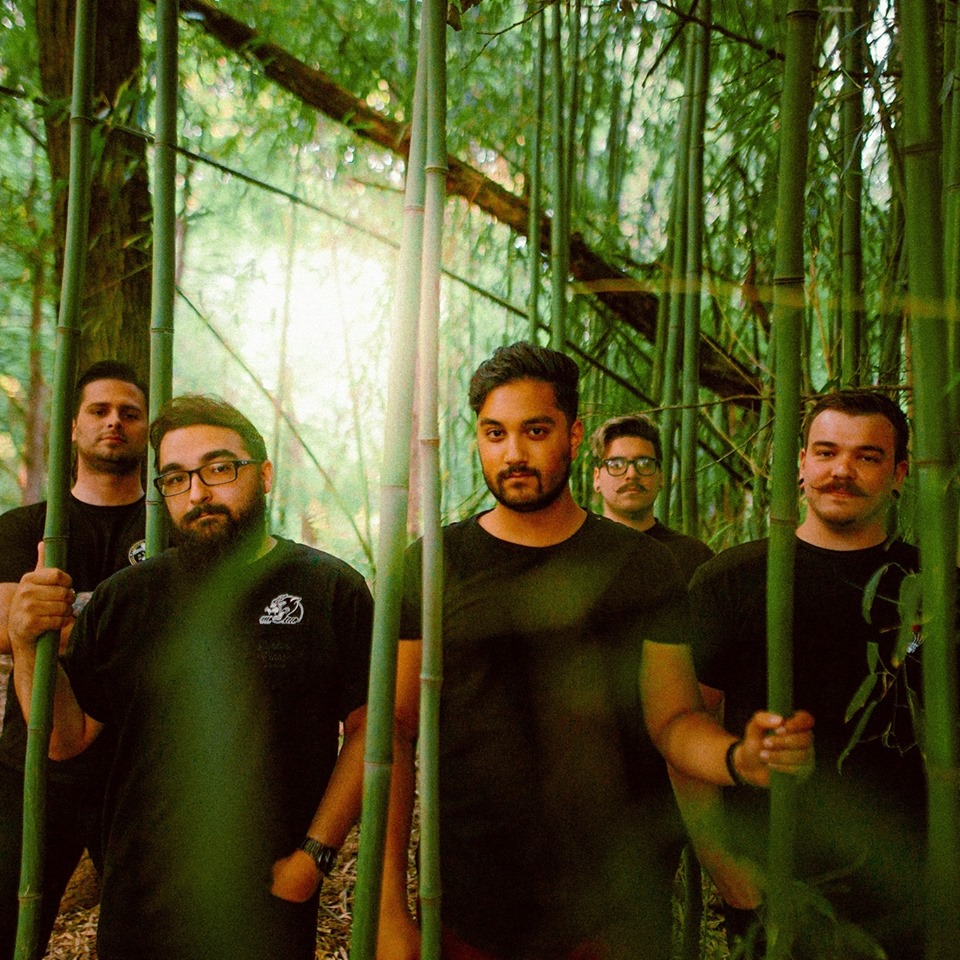 The View from Here is an insanely talented rock group with strong instrumentals in their music. Based in Central New Jersey the band has made some serious strides since forming in 2016. Their debut EP, New Perspective, is out now featuring hits "Chill" and "Whatever Happened, Happened." If you like bands like Taking Back Sunday and Dance Gavin Dance, you'll love these guys.
S&S: Your debut EP, New Perspective, is out now. What can you tell us about it?
Dan: New Perspective was written with the idea that each song would be seen through a different person's eyes in different situations. It pays homage to all the great music we grew up on, mixed in with some modern influences as well. We were all very big fans of "emo" bands back in the day. Taking Back Sunday, Brand New, Senses Fail. The lyrical content we grew up on allowed us to express what we think and feel in our debut EP. The music itself stems from bands such as Dance Gavin Dance and Chon. It's very techy and aggressive but is also matched with some beautiful voicings. We all feel that there's a little something for everyone. So, if you haven't had a chance to check it out, please do! You might find your new summer jam on there!
S&S: How long did it take to finish the EP?
Dan: Ooof.  We started writing music for the EP in mid-2016.  A Lot of ideas were changed around, scrapped, brought back, and rewritten again. We began pre-production on the EP in November/December of 2017 and finished tracking in February of 2018. Final mixes were in our hands shortly after that for the June 2018 release.
S&S: What was the most difficult part about creating New Perspective? What was the easiest?
Dan: One of the most difficult parts was actually getting everyone in a room long enough to work on the songs and concepts.  Unfortunately, when you have five dudes who are all adulting, it's not easy to find time to get together and write. Another thing that we struggled with was the lyrics. I think we all had different ideas on the direction that we wanted the lyrics to take. Again, it took all of us making the time to sit down and literally just read the lyrics out loud to each other to finally start to get them into their final form.
I think the easiest thing to do was finally get into the studio and start analyzing everything we had created.  Pre-production is almost like writing your rough draft down on paper. It's a lot easier to see what you've got and adjust from there.
S&S: The new EP features five terrific songs including my favorite, "Chill." Were there any songs you wanted to include but didn't make the final cut? 
Dan: We had three songs that didn't make the cut for the EP, and none of those three songs are even played anymore. Sometimes, you just know when a song isn't going to cut it.
S&S: How did you guys come up with the band name: The View from Here?

Dan: The funny thing about that is it just came from pretty much spitballing a bunch of different band names. Mike texted us a list of like five or six, and that's the name that happened to really resonate and stick for us.
S&S: Who's the silliest member of the group? Who's the most serious?
Dan: I think we all have both our silly and our serious moments. Vince is likely the most serious out of us, and as of late, our boy Ben is probably the silliest. As much as we get frustrated with each other, we really do try to balance the business/serious end of things and the goofing around end of things.  The "douchebag jar" in our practice space is a big help in keeping us focused.
S&S: Are you guy's comic books fans and if so are you team Marvel or DC?

Dan: Hmm that's very tough being as I haven't seen a DC movie recently, and the Avengers was sick as well as Daredevil on Netflix, but I can't take anything away from Christopher Nolan's Dark Knight trilogy because those were some top-notch movies, and I had read the graphic novel back in the day so I'm gonna have to give it to DC.
Justin: Marvel literally any day of the week. That's all I have to say.
S&S: If you had to go head to head in a rock battle against Blink-182 or Taking Back Sunday, which would you choose? (You can only pick one)

Dan: That's an extremely hard question because both of those bands are two of our favorites. We're gonna have to go with Taking Back Sunday just because they had four albums which rank on some of our favorite albums of all time, whereas we have two, maybe three of Blink's albums on our list. Also, vocally, Adam Lazzara is a huge influence on me, so that's more brownie points towards TBS for me.
S&S: What's a typical day in the life of The View from Here as a band?

Dan: Typically, we head right down to the basement we practice at, and the first thing we do is play the set. After that, we have a little room in the basement that we have a small studio setup where we write music and demo out our ideas. Sprinkled into that is a lot of beer, goofing around, and making fun of each other.
S&S: How often do you guys rehearse leading up to a show?

Dan: We always practice once a week, usually every Tuesday, for several hours. We do our best to get a second practice in if everyone can coordinate the time between work.
S&S: Where can people expect to see you perform next?
Dan: We have a show set up on July 20th for the anniversary of our EP release at Roxy and Duke's in Dunellen, NJ. Tell your friends!
S&S: I understand you guys collaborated with audio engineer Mike Lisa, who worked with the band Hidden in Plain View. How did that come about?
Dan: We've all known Mike for years, and a few of us have played in bands with him. He's got a great studio located right in Montville, NJ. So, it just kind of made sense to go and work with him to get that comfortable, friendly environment, while still being there for one main purpose – to make something we all love.
S&S: Do you guys have any daily rituals you do before a performance?
Dan: Other than drink a few beers, which is probably not beneficial, I wouldn't say we have any particular rituals that we do aside from any small warmups some of us do before getting on stage.
S&S: When you guys aren't recording cool tracks or on the road, what do you like to do for fun?
Dan: Justin and I are huge video game nerds, so that's something that fills a lot of our free time. I'd say Vince used to be a car guy when he had his WRX. Michael is big into collecting vinyl, and Ben is still an enigma to us, so we don't really know what he does in his spare time. Other than that, we just kind of hang out and drink beer
S&S: When can we expect your first full-length album?

Dan: As far as our first full-length album, we suppose that's yet to be determined. We're well underway with our second EP and are planning to be in the studio tracking this winter another six songs with some new singles spread out along the way.
S&S: What advice would you like to give to any inspiring artist looking to start their own band?
Dan: Just do it. Kinda like Nike. Whether it's a passion project you want to take seriously or just a jam band with some friends. There is nothing bad that can come out of making music. Do it for the experience – you never know what can happen.