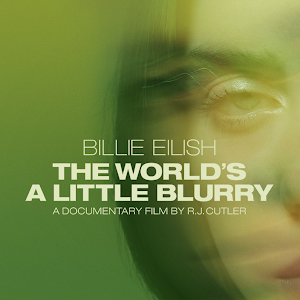 Trying to navigate your life at 17 can be a difficult task. When you're a 17-year-old megastar and have won a Grammy in all four major categories including Album of the Year, it's even harder. In Billie Eilish: The World's a Little Blurry, writer/director R.J. Cutler gives us an unscripted look at the family life and rise to stardom of Billie Eilish.  It's a fun and inspiring two hours and 20 minutes of a young artist who could be one of the greatest of all-time.
Everyone for the most part wants to be famous. But the bigger question this documentary makes you think about is what are you willing to sacrifice to get it? That's part of the dynamic that Cutler explores through this candid documentary. The film gives a great insight into Billie Eilish the person – the woman excited to get her driver's license and hang out with her friends and family.
The film does a magnificent job of showing that stardom can be an emotionally draining rollercoaster ride that you didn't ask to get on – a constant reminder to bask in the glory of every minute instead of rushing through life. We watch Billie try to balance a paper-thin social life against interviews, shows, meet and greets, and record deadlines. Part of what keeps Billie focused we see throughout the film is her parents and singer-songwriter brother, Finneas O'Connell.
The love and musical bond between Billie and her brother Finneas can't be replicated. It's a uniqueness that's paid off tremendously for both of them. It's almost hard to believe that they recorded her album in a bedroom – a testament that you don't need fancy things in life to make something magical happen.
If you're wondering if there are any performances in the film, there are plenty. The narrative flips back and forth between Billie's concerts and home/celeb life. We get a glimpse at Billie's songwriting book, where the interior is filled with weird creatures and drawings of genitalia. We're even treated to a funny story about her love for Justin Bieber and later in the movie, their first interaction.
In terms of engagement, the movie never feels boring. Whether you're a fan of Billie Eilish or have no clue who she is, there's still something that anyone can take away from this film. One of the biggest messages: hard work and consistency pays off. There are times we see Billie frustrated with herself, not wanting to work, and even at one point saying her body is broken. The last point is emphasized during the opening of a show she does in Miami where she sprains her ankle.
Billie Eilish: The World's a Little Blurry is a raw intimate look at the life of a teenager who was thrust into the limelight. It's an unscripted journey of being a human being first before a music artist. By the end of it, we can tell that Billie has control of her career and destiny. What she does next musically, the skies the limit.