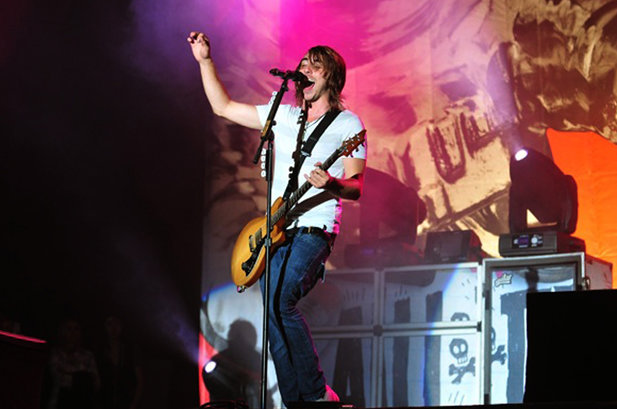 All Time Low
Justin Bieber
August 28, 2009
Six Flags Great Adventure
Jackson, NJ
Crazy combo – I know. Why would Justin Bieber and All Time Low ever perform together? Well, let me take you back to a weird time in music and life. The year was 2009. The season was summer. And Six Flags in Jackson, New Jersey was hosting their Summer Concert Series, included with the purchase of park admission. It was a promotion sponsored by the MTVU Video Music Awards Tour. From what I remember, as this was a decade ago, I was well immersed in the "scene" scene. Myspace was thriving, and studded belts were a staple.
My friends and I planned on going into the park for a fun-filled, thrilling experience of rides. We hacked the system by using one of our friend's season passes. At that time, they hardly looked at the photo ID. On top of that, the technology and budgeting Six Flags had for photo IDs was horrid. It was very pixelated, and since we were all Asian with dark hair, we all passed through! Security didn't care that much back then but have since evolved their season pass technology – wouldn't try it these days.
Anyway, we noticed there were a lot of All Time Low fans at Six Flags, wearing their merch along with Kristinia DeBarge (whatever happened to her?) and Justin Bieber (wow). We saw that there was a concert planned, so we decided after a day full of going on rides, we would stick around for the free show later that night. I mean, we already got free admission and now a free concert?
I loved All Time Low, and at the time "Dear Maria Count Me In" and "Weightless" were one of my most played songs. I was crazy for their newly released album Nothing Personal (July 2009). My friends weren't into the alternative music scene, so they were sitting in the bleachers. That wasn't going to work for me, so I went down to dance around, staying there for the remainder of the concert. The rest of them finally made their way down once All Time Low came on. The band's energy was captivating; even if you didn't know their music, they were great performers. To be honest, though, I don't remember Justin Bieber's performance. I may have written him off because I saw he was just a poppy-looking kid, and I was completely uninterested. For my first show to be free and feature one of my favorite bands at that point in time, I can say that was a pretty epic intro into the live music scene. And I guess I could say I saw Justin Bieber?