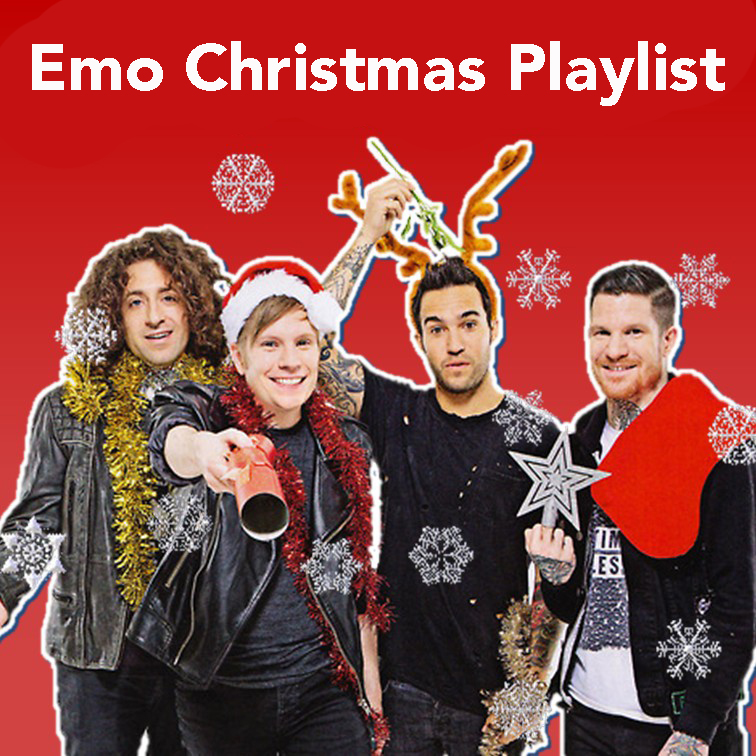 Top 16 Emo Christmas Songs
1-2. "Merry Christmas, Kiss My Ass/Fool's Holiday" – All Time Low
All Time Low have released two Christmas songs: "Merry Christmas, Kiss My Ass: and "Fool's Holiday." Both songs are phenomenal but the complete opposites of each other. If you want a revenge-seeking, badass anthem for the heartbroken, definitely go with "Merry Christmas, Kiss My Ass." However, if you want a mellow yet edgy song about breaking up with somebody when you shouldn't have, "Fool's Holiday" is the better option. Don't get me wrong – I love both, but I'm partial to "Fool's Holiday" because it's a much more mature sound and concept for one of my favorite bands.
3. "Christmas Lights" – Yellowcard
This may be an unpopular opinion, but I think Yellowcard's cover of "Christmas Lights" is better than the original version by Coldplay. Ok, don't hate me emo world. There's no doubt Coldplay created something special when they wrote this song (and you should check out the music video because it's cool), but the Yellowcard cover has so much more dimension. It starts out relatively slow with a bit of edginess but transitions into a full out punk-rock feel after the middle of the song. By the end, you'll be jamming out hardcore with the intense electric guitar and pounding of the drums.
4. "Merry Christmas, Happy Holidays" – Issues
There's no doubt the original *NSYNC version is a bop, but Issues' cover is sure to get you off your feet and headbanging. This fast-paced song is complete with intense electric guitar, equally thrilling drums, and pretty impressive vocals. I love this cover because it gives such a different vibe compared to the original. How Issues perfectly captured the essence of Christmas while creating such a banger is honestly a mystery.
5. "This Christmas (I'll Burn it to the Ground)" – Set It Off
If you want a mildly disturbing, grinch-esque vibe, then you've come across the perfect song. When I first discovered this a few years ago, it honestly scared me. Between the eerie and orchestra-like instruments as the background music, the lead singer's extremely unique voice, and the obvious creepy lyrics, this has to be the most creative song on the entire playlist. I've never heard any other band take such a different approach to Christmas music, but I've grown to love it. I highly recommend checking this out – just not when kids are around.
6-8. "Santa Stole My Girlfriend/Mr. Winter/Ho Ho Hopefully" – The Maine
In 2008, The Maine released a Christmas EP with four songs, one being a cover of "Last Christmas" by Wham! and three original songs. While the cover is great, the other three songs are really what I want to talk about. "Mr. Winter" personifies the season as it tell sthe story of a man who left a woman and the resulting effects. It's a catchy song that WILL get stuck in your head. However, "Ho, Ho, Hopefully" and "Santa Stole My Girlfriend" are the standouts for me. "Ho, Ho, Hopefully" shows a sweeter and softer side of The Maine which I of course appreciate. They have a fully recorded version and an acoustic version, but I highly suggest listening to the acoustic version which can only be found on YouTube. Also, while you're there, click on the music video because it's the definition of "2008 emo." Lastly, "Santa Stole My Girlfriend" is iconic because what other band would have the audacity to call Santa a bitch? Seriously, only The Maine.
9. "The Only Thing That Glistens" – For The Foxes
This song is interesting because I'm not entirely sure how to describe it. It has such a unique sound, from the instruments in the background to the lead singer's airy voice. It somehow all meshes together though, creating a very wintery vibe if that makes any sense at all. Think of this as a truly alternative Christmas song, because there's no other way to describe it.
10. "All I Want for Christmas is You" – My Chemical Romance
This list would not be complete without the emo kings themselves: My Chemical Romance. This song starts off almost identical to Mariah Carey's version (I mean minus Gerard Way's VERY different voice) but quickly transitions into a heavy rock song. I love this version so much because MCR took their very specific sound and translated it into a cover. When bands cover songs, sometimes it's hard to make it their own, but this is the exception. If you love MCR's dark revenge era sound, I guarantee you will be blown away by this cover.
11. "West Coast Christmas" – Anarbor
This song is so unique because it doesn't sound anything like a typical Christmas song. It actually sounds like something you'd listen to on a warm summer night. The gentle guitar and soothing vocals really complement each other, and I personally think the lyrics are genius. Talking about how Christmas on the West Coast involves cacti and deserts rather than pine trees and snow? You definitely don't hear that every day.
12. "X-mas in Texas" – Driver Friendly
First of all, can we talk about how catchy the title of this song is? "X-mas in Texas" has an extremely upbeat sound but lyrics of longing and sadness. Pretty emo if you ask me. What really makes this song are the different instruments that comprise the background tunes. I feel like alternative music is a lot of guitars, drums, and bass, so it's refreshing to hear horns in a song like this. Also, the sampling of lyrics from the iconic Christmas song "Do They Know It's Christmas?" by Band Aid is done astoundingly well.
13. "30 Days" – Never Shout Never
This may be the saddest song (sound and lyrics wise) on this entire playlist. Never Shout Never sings about longing to be with somebody on Christmas, and if that doesn't hit you in the emo feels, are you even emo? The music is beautiful and simple with the only two instruments – bells and an acoustic guitar. Christopher Drew's voice is hauntingly eerie but lovely at the same time which helps to push the message forward.
14. "Blue Christmas" – The Lumineers
The Lumineers' cover of "Blue Christmas" was released just last year, and I won't even hesitate to admit I listened to it on repeat for four days straight. Wesley's raspy voice and the mellow pace really reflect the sad lyrics. Other popular versions of this song sound more upbeat, but the Lumineers' simple background music helps emphasize the actual meaning. Despite the depressing theme, this song is so calming that you could fall asleep to it.
15. "Christmas Every Day" – Simple Plan
If you want a more traditional sounding Christmas song with a slight punk rock vibe, then this is the perfect track. "Christmas Every Day" is upbeat, fast-paced, and poses the question of what life would be like if Christmas was, well…every day. This feel-good song is sure to put you in a good mood and maybe even get you off your feet and dancing.
16. "Yule Shoot Your Eye Out" – Fall Out Boy
Last but certainly not least, this band and emo go hand in hand, so it's fitting they finish off this playlist. Despite being released in 2003 and sounding like a very early Fall Out Boy, I just discovered this song this year. Unlike more of their recent songs, this track has very few instruments or electronic sounds that distract from Patrick Stump's amazing voice. It just brings me back to a simpler time which in my opinion, all good Christmas music should do!