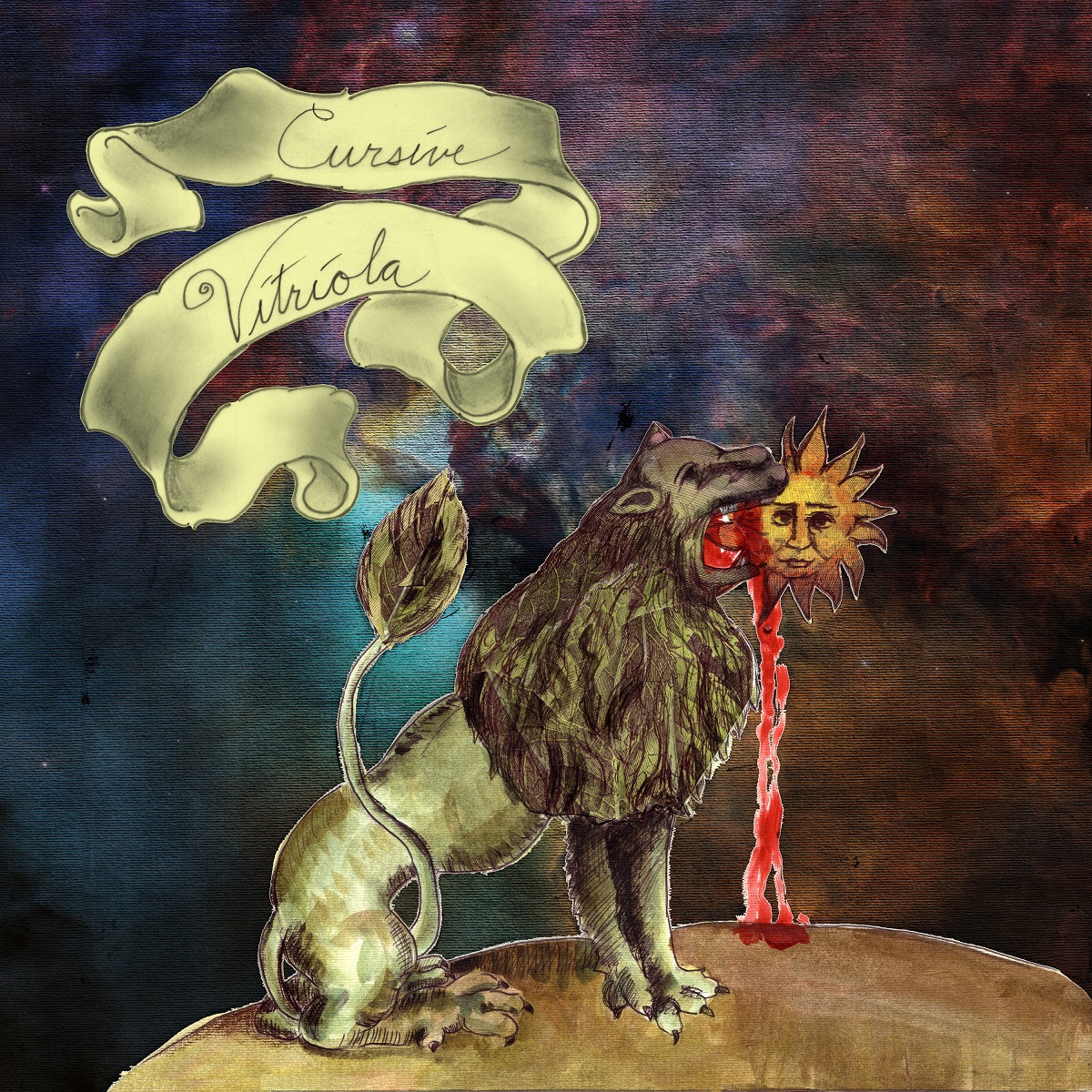 Cursive are no stranger to concept albums. In fact, over the course of their impressive two-decade-long career, it's something they've been fairly well known for. From organised religion on 2006's Happy Hollow, to good vs evil on 2012's I Am Gemini, their albums have generally dealt with specific overarching themes, using music and lyrics to pose sometimes difficult questions for their listeners and society as a whole. Latest album Vitriola is no break from that mold and further adds to their intriguing collection, this time dealing with "existentialism veering towards nihilism and despair."
The album opens with the dramatic, discordant chords of "Free To Be Or Not To Be You And Me" and almost sounds like the beginning of a musical, albeit one composed by David Bowie. It's definitely not your standard pop or rock song. There's no chorus, no hook; just sneering, questioning vocals from Tim Kasher, a haunting tilt in the melody line, and slightly off-kilter sounding guitars. It's unusual and it's exciting, hooking you in immediately as something different and out there.
This vibe continues with the second track's eerie and space-like guitar sounds and thumping drums. Like Mark Bolan and Sid Barrett got high listening to The Coral's debut album, songs like "Ouroboros" and "Pick Up The Pieces" combine dissonance with spooky sound effects, the latter with vocals almost so buried in the mix you can't hear them – yet somehow they still manage to make an impact – and a guitar solo so freaky it's like a snake charm or a ritual to raise the dead. "Remorse" is dreamy and airy too, with tinkling pianos and haunting vocals in a track which both lingers and builds, with clunky effects coming in at the end, giving the impression that the piano itself fell down a set of stairs and got broken into pieces.
A lot of the songs have a really retro sound to them, transporting the listener back in time on a number of occasions, yet are delivered under the sheen of modern production with slick, tight rhythms and warm sounding guitars. Check out "Under The Rainbow," which has a late 70s punk vibe at times crossed with early 90s emo guitar licks. It's a great track and one of the more commercial of the collection. "Ghost Writer" has that early emo sound too, almost like a cross between Jawbreaker and TBS but with added amounts of spooky vibes and haunting melodies.
To describe the album as psychedelic rock would probably be close to the mark, but that almost doesn't do it justice. It's much cooler and unnerving than that and, as previously mentioned, the songs tell a bit of a story too, forcing us to question ourselves and the world around us. There are also many varying styles and genres under the knife here, given a professional and self-assured treatment. These guys know what they're doing, and they do it well. Vitriola is an intricate and interesting album, showcasing some first-class songwriting and construction. It doesn't always make for an easy listen, and there are not many songs that come across as obvious singalong stadium anthems, but it certainly stands up to repeated with more in-depth listens and will sit well amongst the rest of Cursive's impressive back catalogue.