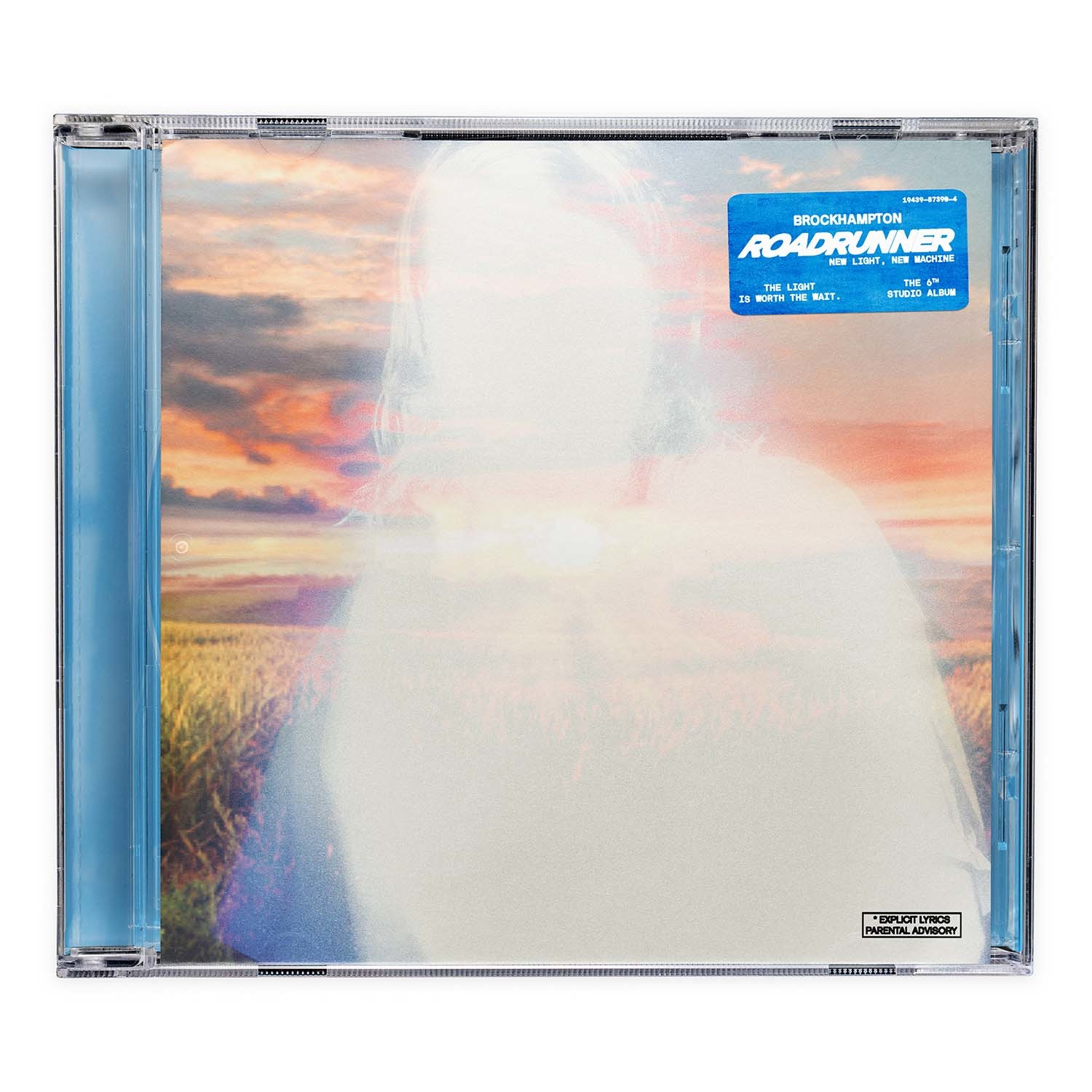 For collectives and supergroups sometimes referred to as "boy bands," there's always a great deal of conversation regarding legacy and maintaining one's own longevity. For hip-hop collective Brockhampton, their artistic journey has been quite the arc. Starting as internet sensations with a devoted cult following after the impact of their Saturation mixtape trilogy, the group found themselves receiving mass attention from audiences and critics alike. However, personal conflict and expectations soon confounded them.
Now, after releasing two records via major label RCA, Iridescence and Ginger, the group have reconvened after their longest absence of music with Roadrunner: New Light New Machine. The album announces itself as their most expansive and diverse offering yet, with a musical palette ranging from psychedelic rock to ambient, along with elements of classic hip-hop and R&B, all filtered through the group's dynamic and eclectic perspective. The record also finds the group maturing and perfecting their sound all while setting the stage for what's been announced as the first of two records to be released this year which reportedly will be their last.
The musical and lyrical scope of Roadrunner is firmly established in its opening moments as lead single and opener "Buzzcut" takes on a bombastic electronic soundscape with group leader Kevin Abstract delivering some of his sharpest hooks and lyricism along with an equally electrifying guest verse by alt-rap sensation Danny Brown. Other tracks point to the group's rich sense of experimentation and texture such as the achingly confessional gospel rock number "The Light," the lush soulful anthem "I'll Take You On," and the exuberant throwback stylings of "Chain On." All these tracks broaden the group's influence while utilizing space for each member to showcase their distinct style as well; members such as Joba contribute some of their most personal and introspective lyricism yet and lyricists Dom McLennon and Merlyn Wood deliver some of their most consistently engaging work. Other tracks demonstrate the groups innate chemistry with one another such as joint cut "Windows," an orchestral epic with truly committed verses from each member – all shot with their signature levels of depth and artistry. "When I Ball" and "The Light Pt. 2" also see the group playing off one another while also revealing new layers to their individual strengths. This developed sense of collaboration is even evident during the record's guest appearances.
 JPEGMAFIA seamlessly adheres to BH's sensibility on "Chain On," ASAP Ferg and Rocky play expertly off of Merlyn Wood on "Bankroll," and soul veteran Charlie Wilson helps to anchor the R&B sheen of "Take You On." It's a credit to the band's vision and command of their medium that none of these appearances upend or distract from the themes and ideas presented. This sense of balance extends to the production as well; the record manages to incorporate their unique sense of influences. From gospel and arena rock on tracks "The Light" and "What's The Occasion," early 2000's pop and R&B on "Count On Me" and "Old News," and G-funk on "Don't Shoot The Party" and "When I Ball." The band also finds time to indulge their more experimental side with ambient and psychedelic elements woven throughout such as on "Buzzcut" and "Windows." What's truly significant here is how cohesive each of these elements is together, allowing each track to feel multi-faceted and well-rounded in execution and impact.
What's truly most exhilarating about Roadrunner is the genuine progression on display. Each member of Brockhampton's artistry has grown tremendously here. Group leader Kevin Abstract delivers some of his most concise production and most personal lyricism yet and fan favorites Matt Champion and Dom McLennon once again demonstrate their ever-reliable storytelling abilities. Joba contributes his most personal and dynamic hooks and verses to date, Merlyn Wood is at his most commanding and spontaneous, and vocalist Bearface adds a layer of soul to the proceedings. The cohesion each member shares with one another feels as singular as ever, and the beauty of Roadrunner lies in how seamlessly Brockhampton adapt to each stylistic shift together. Credit also to Brockhampton for exploring themes such as racism, grief, our current social climate, and identity with the right mixture of sensitivity, humanity, and imagination, furthering their progressive yet artful insights.
For many groups and artists, the nature of progressing and maintaining one's own momentum is a constant conversation. With Roadrunner, Brockhampton have solidified their place as one of this generation's most singular, diverse, and resonant talents while both paying tribute to their past and paving a lane for their future as well. It was announced earlier by founder Kevin Abstract that Roadrunner is the second to last Brockhampton record. While there's speculation as to whether this claim is true, either way, Brockhampton have released some of their most vital, personal, and accomplished work to date.  Contrary to its title, this Roadrunner isn't in danger of hitting a wall anytime soon.
Songs to Spin: "The Light," "Don't Shoot Up The Party," "Chain On," "Windows," "Take You On," "When I Ball," "Buzzcut," "What's The Occasion"