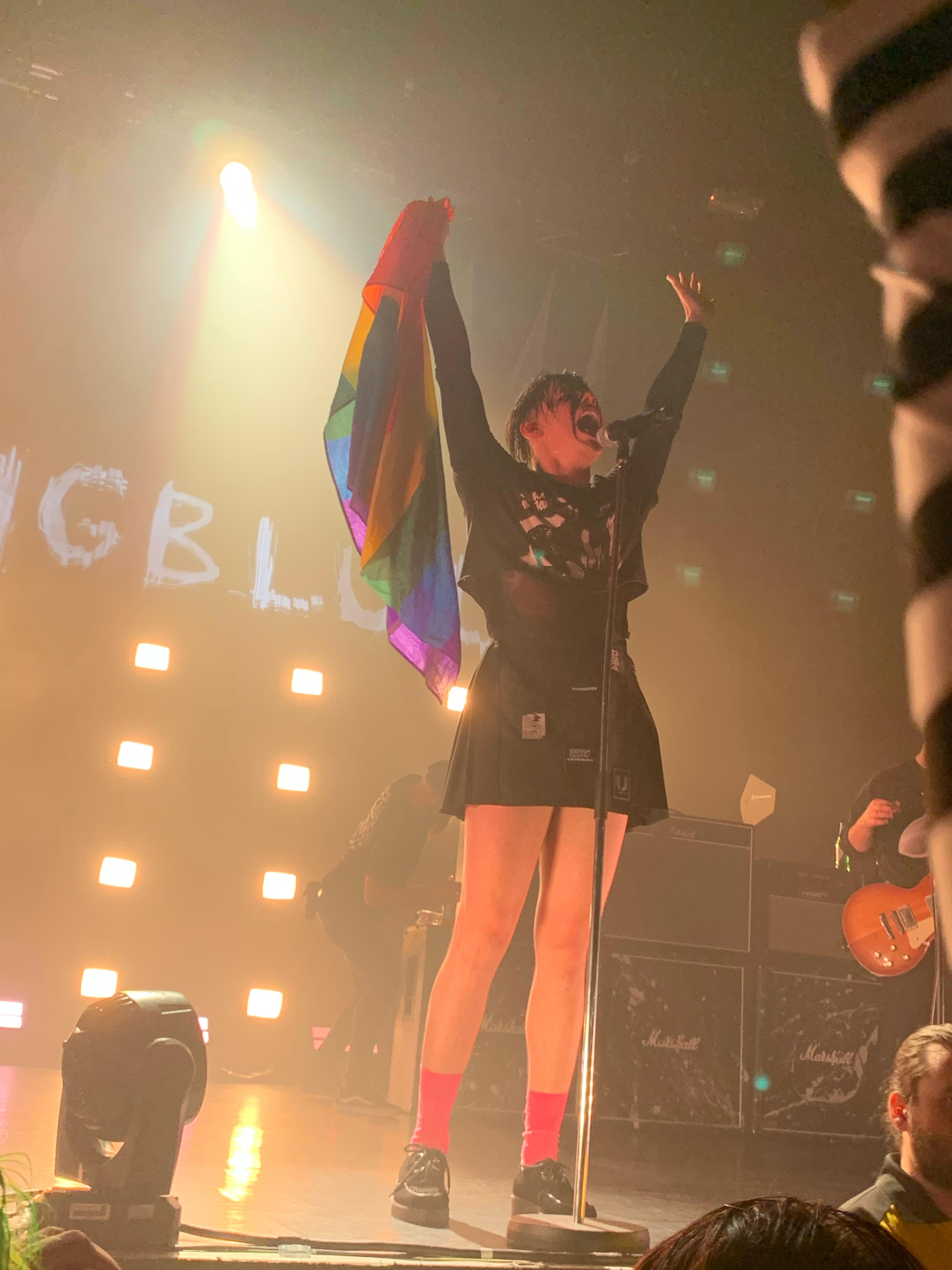 Yungblud
November 20, 2019
O2 Ritz Manchester
Manchester, UK
Review and photos by Jo Cosgrove
There's no better feeling for a music fan than being right in front of their idol for a show. A whole night of looking up at this real, talented person and taking in every moment. Every word and every movement, in front of your very eyes. For many young music lovers, Yungblud is their latest fascination. Just two nights into his UK tour, he showed no signs of stopping and me being right by the front barrier in the venue, the sight was a special one to behold for the night.
From the very start of the show, as Dom burst into "21st Century Liability," the crowd began to move, jump, and mosh. It was fun but eventually, the crowd got out of control by the front. Pushing, shoving, elbowing, even kicking – it wasn't always the friendliest environment. Especially for an audience of teenagers and young adults, most of whom had never even taken part in that intense of a gig before. Dom took the time to remind everyone of pit etiquette, however: "If you see someone fall in the pit, you pick them up!"
Jumping from side to side, screaming to the crowd, waving to everyone, and even taking the time to say how much he loves his fans – individually. Pointing around just saying, "I love you and you and you, you, you, you, you, you…" and so on. He makes a great deal of his fan following and never takes their love and dedication for granted. Dom is known for cheering them on, blowing them kisses, and going into the crowd whenever he has the chance to (despite the safety risks).
Comprised of mostly of newer tracks, the setlist still included songs from Dom's debut album 21st Century Liability and even further back than that. Dedicated to UK prime minister Boris Johnson, he performed one of the first singles he ever released, "King Charles." A song about greed, money, taxes and the leadership of the government, it was more than fitting for current events within British politics. It's more important than ever to keep young people up to date with what's going on in politics right now, and famous people with a platform like Dom can use it to encourage young people to get involved and make a difference as a collective.
From political issues to personal issues, he took a moment near the end of the night to turn down the crazy. He grabbed a stool and an acoustic guitar, took a seat, and asked the crowd if he could be "fucking sad" for a couple of songs. With his band off stage, it was just him and the guitar, playing to the hundreds of faces before him some of the most personal music he's ever written. Newly released gig favourite "Casual Sabotage" was included in this. The song isn't new to Dom's live performances, but it's recently found new popularity in the fandom as it was included in The Underrated Youth EP earlier this year. A song about Dom's own downfall of mental health and living through depression and anxiety as a teenager, it was one that touched every single heart in that room. Not a dry eye in the house – including Dom's. This is the reason many people can look up to him, and the beauty in hearing everyone sings the words together… it reignited faith in oneself and one another.
The most thrilling part of the entire night was the final song, "Machine Gun (Fuck the NRA)." Alone, it remains violent and energetic and mad beyond all reason; pairing it with an ever-growing mosh pit, you have the most fun and most dangerous combination within live music. The injuries were still steadily on the rise in concert-goers; many people were having to move back or to the side – or even be lifted out of the pit altogether. It was nearing the end, and everyone was having one final blow-out before it was over. The joy, the smiles, the hollering, and the "fuck Brexit" chant completed it all!
There should always be a warning when it comes to seeing Yungblud live. Be prepared for bumps and bruises, and stay as safe as you can.