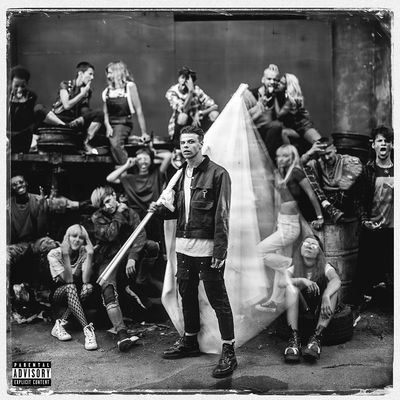 He's become a voice for his generation and the next over the last couple of years, and now Yungblud is bringing out messages of strength and individuality through his EP, the underrated youth.
Being his usual unpredictable self when it comes to his sound and style, the EP jumps around with a mix of fast and slow, hyperactivity and melancholia – two ends of the spectrum that Yungblud can easily reach within mere minutes. Beginning with "braindead!," a bouncy hit with a deeper and more depressing meaning in the lyrics, is trademark. Coming straight from the beating heart of the young singer, it repeats his apathy and loss of faith in the world – something many young people around his age can relate to. With how the world changes and both improves and declines, long-lasting faith becomes scarcer. Yungblud has always been open with his view of the world, and it shows in his music; he's found a style that works best with him and with his peers. Clever, yet it isn't deceptive.
The main track to discuss is the title single, "hope for the underrated youth." Released earlier this year, many have praised the emotional and inspirational lyrical content and how he's sparking a light of awareness and protest in youth who may have lost their fight due to the injustice taking place before them. It also stands as a testament to what the fanbase means to him: from inviting fans into London for their own way of protest near the Houses of Parliament to performing intimate shows for them, Yungblud has this power that cannot be fathomed. But for sure he's using it in the right way: with his voice, his guitar, and his knowledge of social and political happenings.
A less political and more personal track from the EP is "parents," which is – as obvious from the title – about parents. "Parents ain't always right" is the key lyric and a way to relate the beliefs and the effect older generations have had on younger ones. It speaks of the generations that are having to live through what they've caused and trying their hardest to fix it and improve it. It's a fun song with a touch of tongue-in-cheek by the non-serious nature of most of the lyrics, but it's a protest in disguise. It's not encouraging kids to disobey parents – it's instead encouraging them to open their eyes and minds to the idea that these people aren't being mean or rude, but they're just wrong. They're from another time, and they can't keep up with it.
So, how to sum up a record full of good beats, anthem-like chanting, and messages of independence and advocacy by a 22-year-old singer from northern England? It's amazing! It's clever, it's brave, and it says something that is still lacking in society today. It's okay to be you, and it's okay to be happy – but it's also okay to fight for justice and equality, and it's okay to not be okay sometimes.
Being able to sum this up within six tracks is a fascinating feat, and Yungblud has just made himself an idol for the ages. As long as he keeps writing from the heart, thinking with his head, and wearing a dress on his body, he'll never lose sight of why the music scene and the world needs him.