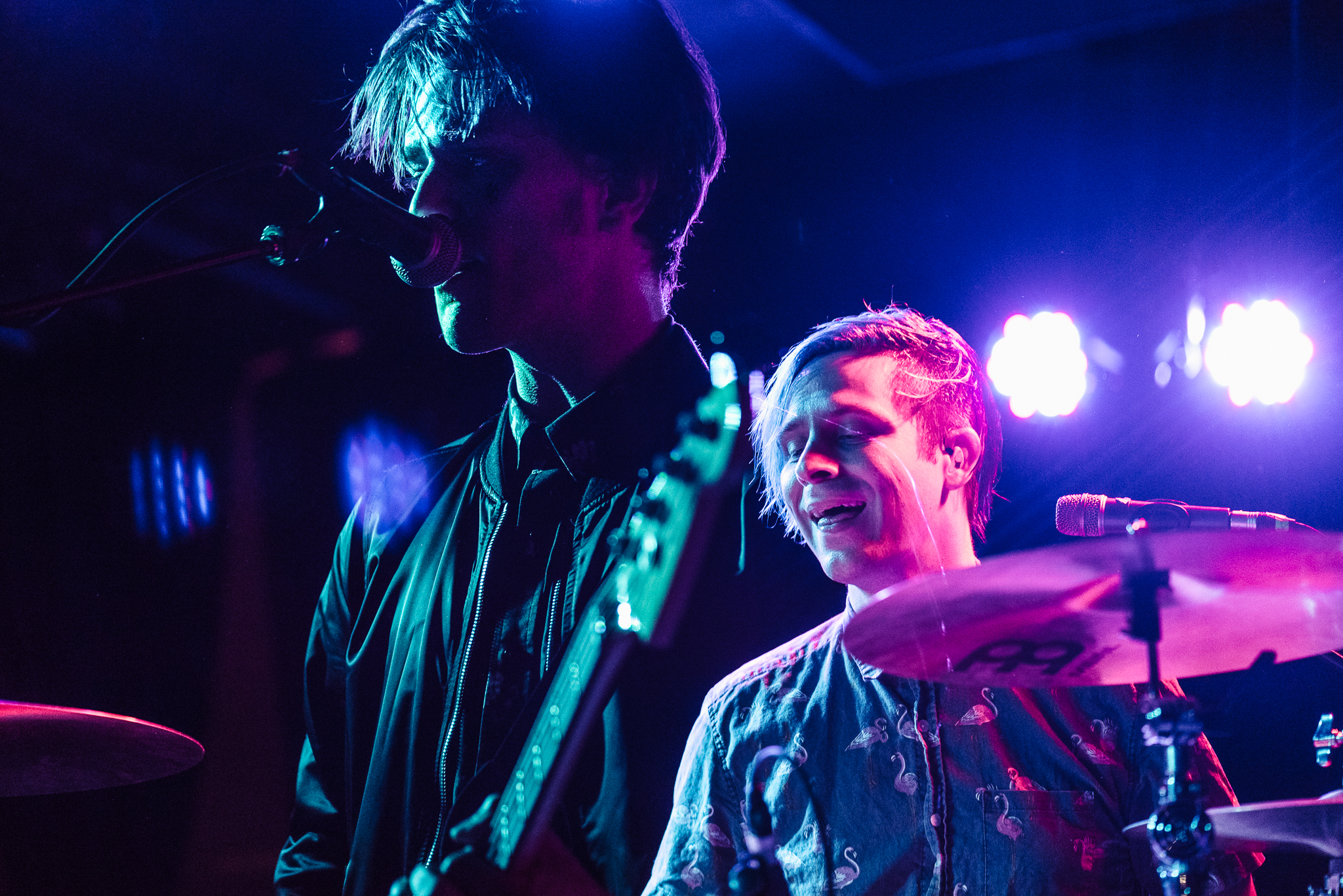 November 2, 2017
The Knitting Factory
Brooklyn, NY
See our photos of I Don't Know How But They Found Me here!
Like most, I discovered I Don't Know How But They Found Me through following frontman Dallon Weekes, who I've seen perform as the touring bassist for my self-professed obsession, Panic! At The Disco. I love when musicians create quirky side projects; we get to witness even more of their talent and audible aspirations. Since IDK formed only a few short months ago, I've kept my eye on show photos, videos, and reviews from the western states, where Weekes and ex-Falling in Reverse drummer Ryan Seaman (who also performed with Weekes in The Brobecks years prior) have been steadily amassing concert-going fans.
Eagerly anticipating a visit to the East Coast, I jumped at the opportunity to see this mysterious band perform at the Knitting Factory in my short-lived home base of Williamsburg, Brooklyn. Intentionally operating under a level of secrecy, IDK have released two singles on Spotify without any hints of a full-length album timeframe. Weekes seems to enjoy teasing enthusiasts, unexpectedly releasing material through social media like the band's latest track, "Choke," and the 80s-inspired, oddly campy video for "Modern Day Cain."
My arrival at the Knitting Factory was met with a line of overly eager fans spanning down the block. The venue's small room would soon be packed to the brim with a sold-out crowd, and there was no photo pit to plant myself for photographic purposes. Countless teenage girls invaded my personal space as I claimed my spot towards the front, dead center.
Opening band Pronoun took the stage to fabulous crowd response, especially considering they are a fairly new group. In fact, this was their drummer's first show with them after only one rehearsal. Channeling Rilo Kiley vibes, the foursome began their set with "Til Your Legs Give Up," and several audience members were more than familiar with the track, singing along with frontwoman Alyse Vellturo. The band later played "I'm Just a Loser," which made me feel like I was back in high school, lamenting my social status, before closing with "A Million Other Things." Pronoun's entire set was well-performed and incredibly endearing.
The excitement in the room began to swell once IDK's gear was revealed. Their seemingly reserved instrument tech/merch guy took the crowd's cheers in stride, knowing he was just a catalyst for what they were waiting for. He prepared the stage, and I noticed a slew of Panic! At The Disco phone backgrounds as young girls passed the time, their faces painted mimicking Weekes' sparkly cheeks. Shouts of "IDK!" broke out when the band was 15 minutes late getting on stage, which I imagined was a result of technical difficulties later experienced.
Finally, Weekes and Seaman emerged from black curtains and launched into "Nobody Likes the Opening Band" – an ironic selection given Pronoun's overwhelmingly positive reception, which Weekes later mentioned. Being in such an intimate venue, the hormonally crazed gals in the audience weren't shy about hooting, hollering, and crying out adoration to IDK in between songs. One teen praised Weekes flashy pants, to which he jokingly replied, "Yes, I'm 36 years old, and I'm wearing these pants."
Despite a few technical issues like a delayed backing track, Weekes and Seaman genuinely had a rip-roaring time, playing to each other and the audience with never-waning enthusiasm. Weekes mentioned that at each show, the two of them have a "contest for who can have the most fun." Perhaps a tie on stage, though below, the rest of us felt victorious (pun intended), having a blast and singing along to timely post-Halloween Rocky Horror cover "Over At The Frankenstein Place."
IDK favorite "Mr. Sinister" was described by Weekes as "a love song that you should never ever sing to anybody," though of course, everyone sang it back to him. There was also a steady stream of Brobecks tunes, as expected, including "A Letter" along with danceable Hot IQ's cover "Iggy Pop." Though it was The Brobecks song "Visitation of the Ghost," that was perhaps the most memorable of the night (and a very Panic-like track in my opinion). Seaman kept a steady beat while Weekes gave his bass-playing privileges to an ecstatic fan, Gina, as he jumped down into the crowd next to me. He began to sing "The Lovecats" by The Cure to confused faces, the majority of the crowd being too young to know the song. I, hailing from Weekes' generation, shared a short duet with him before he ascended back to the stage and gave Gina, the actually quite talented bass player, a sunflower that a fan had passed to him.
As the show came to a close, Weekes shared his amazement saying, "Somehow, you guys know the words to every song even though we don't have a record out yet." He announced "Modern Day Cain" as the last track, resulting in the loudest screams of the night. About an hour later, Weekes took to Twitter, posting "I've played NYC more times than I can count. That was THE best show, the greatest NYC crowd I've ever seen! Thank you!"
With only one other tour date on the band's website for the remainder of the year, who knows what's in store for IDK. Something tells me the boys know exactly what they have planned, and we'll find out in due time.