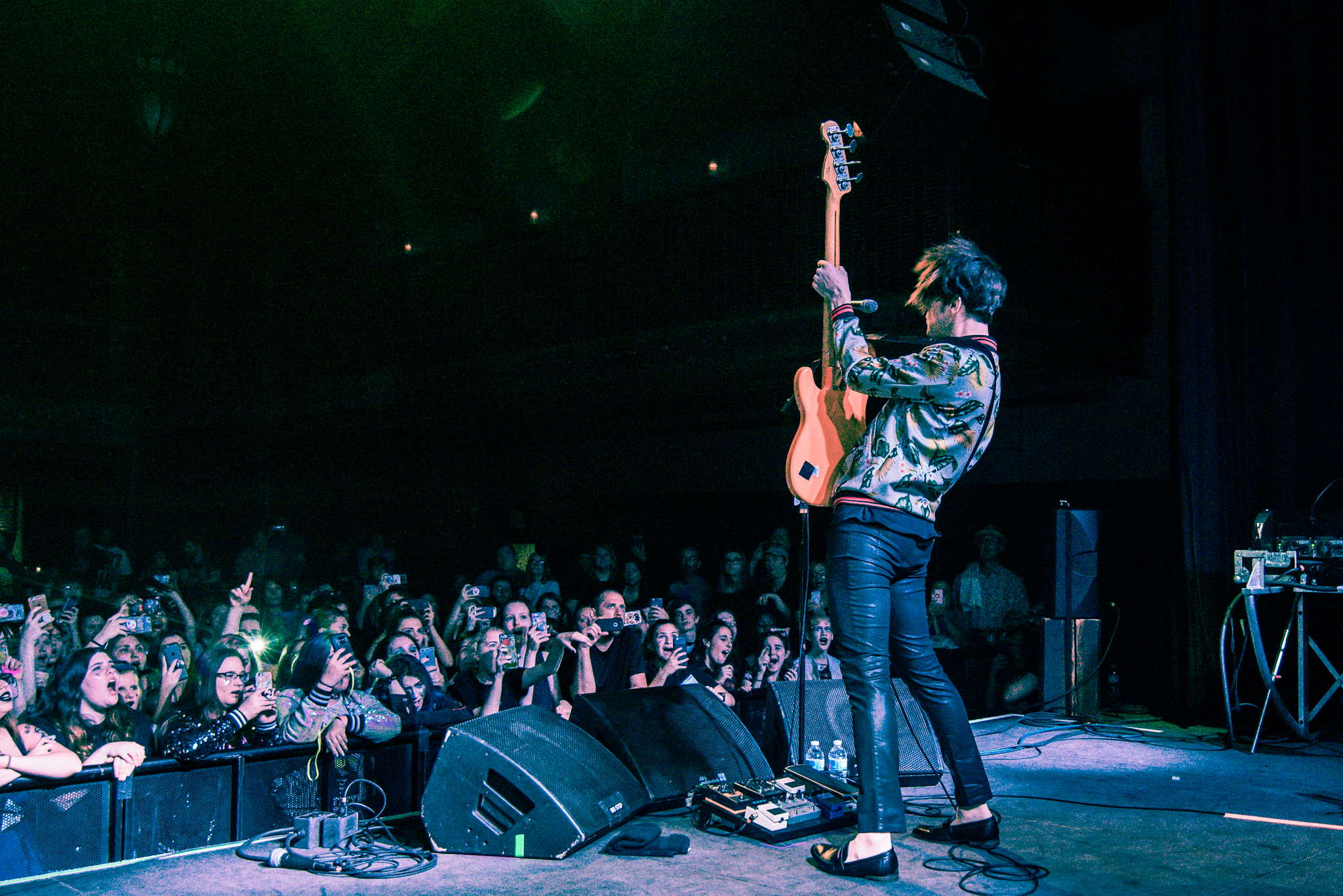 I Don't Know How But They Found Me
June 14, 2018
Union Transfer
Philadelphia, PA
Review by Rhiannon Levengood
Photos by Alyson Coletta
If you haven't heard of them yet, I'm here to introduce you to alternative rock band I Don't Know How But They Found Me. Yes, that's the entire band name. It's a mouthful, but it parallels the duo's complex lyrics, 80s electronic sound, and lowkey profile really well. The band, dubbed 'idkhow' by fans, is comprised of just two guys, bassist and lead vocalist Dallon Weekes (The Brobecks, Panic! At The Disco) and drummer Ryan Seaman (Falling in Reverse, The Brobecks). With only three released songs altogether, idkhow is slowly but surely taking the internet by storm.
Idkhow just wrapped their East Coast "Content Tour" in Asbury Park, NJ, but I had the privilege of seeing them in the City of Brotherly Love, Philadelphia. The band opened their show with two covers ("Bike Ride" and "Anyone I Know") from one of their previous bands The Brobecks before launching into one of their new ones called "Social Climb." Despite this song not being one of the three that idkhow has released, the entire crowd knew it word-for-word, every idiosyncrasy and every nuance. The energy in Union Transfer was full, electric, and unlike any crowd I've been in before. The duet continued their set with four more of their own jams, two more covers from The Brobecks, and a cover of "Iggy Pop" by Hot IQs and "Over at the Frankenstein Place" from Rocky Horror Picture Show, concluding the theatrical show with such high spirits that they came back for an encore with their very own "Nobody Likes The Opening Band."
Audience participation is so important when it comes to putting on a memorable show, and Dallon and Ryan know this well. During "A Letter," which is originally a song by The Brobecks, Dallon 'splits' the crowd down the middle and assigns each section a little piece of backup vocals to sing along with him. He makes it into a competition of which side of the venue can sing the loudest, but it ultimately just becomes a group effort to deafen the friends you've made around you. There's laughter, hugs, and dancing, a vibe that Dallon definitely doesn't want to miss out on, so during their cover of "Visitation of the Ghost," he joins his fans in the pit and sings to them without the help of a microphone.
Seeing I Don't Know How But They Found Me perform is so much like going to a house party. There's music and dancing, new friends and old friends, and a band that isn't quite popular enough to sell out larger venues just yet, but it's a party you don't want to miss. Lucky for you, idkhow plans on hitting the road again soon. Be sure to follow them on Instagram so you don't miss out on the fun!