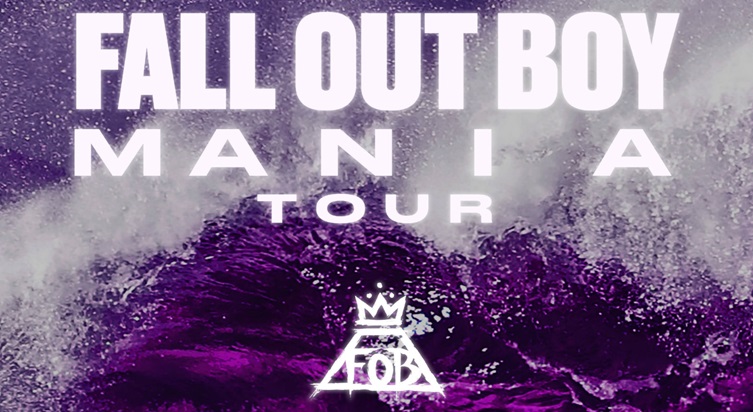 March 31, 2018
O2 Arena
London, UK
Last Saturday night was an evening five years in the making for me. From the first time I listened to their post-hiatus album, Save Rock and Roll, I knew there was something special and unforgettable about this Chicago band. I have many thoughts, emotions, and opinions on this group, their music, and now their live performance – there will be great detail, so prepare.
Saturday 31st March 2018 was Fall Out Boy's debut at London's famous O2 Arena; this was one of the biggest gigs they had ever played in London with over 17,000 people attending. I remember when I first had the urge to see Fall Out Boy live, I dreamt they would play The O2; however, this notion was doubted by many believing they weren't "big enough" in the UK to play The O2. I am not one to go all, "I told you so," but here's the proof. Ten years ago, they were only able to sell the Apollo in London – and now look where they are!
One thing that I always admired about a Fall Out Boy gig was that their visuals fit perfectly with the tone of the music. As the show began, the recent aesthetics of purple and violet tones among natural landscapes flooded our sights; as the first opening notes of "The Phoenix" played, we were greeted with spectacular pyrotechnics from the stage. Throughout the 90-minute show, there were blasts of fire and sparkler effects lining along the runway to the B stage in the middle of the standing section (where I just so happened to be standing throughout) – fitting when paired with tracks from Save Rock and Roll, such as their penultimate track "My Songs Know What You Did In The Dark (Light Em Up)." The technology used along the runway was shown off as the band played their more classic hits, like their trademark 2005 single "Sugar, We're Goin' Down;" between the effects jogged bassist Pete Wentz, in the middle of a crowd of screaming, singing and wailing fans, not missing a note of the song as it wound to a finish before running back.
With every song, the screens would show something different and fitting through and through. The visuals ranged from hilarious and satirical, to thoughtful and meaningful. My favourite tongue-in-cheek visuals used were throughout their performance of their only Folie a Deux track to make it onto the setlist, "I Don't Care," when the screen behind them played multiple clips from classic movies and television shows with characters flipping the bird to the audience – gave me a giggle, for sure – along with streams of middle finger emojis during the choruses of the song. "I Don't Care" was one song I was waiting to hear, because of the power and confidence in the track, and I was only disappointed by one possible feature they did not add: I would have loved a short pause in the middle of a verse and a flash of that brilliant Spaghetti Cat. But that's the hardcore fan in me speaking. The performance was tough and flawless.
One of the more deep and meaningful visuals came when the band performed Mania track "Champion," a song about staying strong and fighting on. The screen behind the band played multiple clips from the news and released home footage of the late royal icon Princess Diana, chronicling her life in the public eye, covering the breaking news of her death and her funeral. This was a beautiful homage to British history, and a British icon who captured what "Champion" is about. To many, Diana was a champion, a winner, a legend that shall never be forgotten. She wasn't given the title of "the people's princess" for nothing. She truly was a champion, and it was touching to see this American punk band pay homage in the truest way they could.
Other visuals behind them were more representative of the tracks or their music videos; such as during one of the newer songs, "The Last Of The Real Ones," there was a computer-generated humanoid dancing on the large screen in a colour-changing background which held great resemblance to the Mania album cover. "Hold Me Tight Or Don't" featured visuals of individuals in skeleton face makeup, such as those who appeared in the song's accompanying music video. You can always trust the guys to use something eye-catching, entertaining, and aesthetically pleasing when paired with the sound they're creating.
Now, onto one of my most favourite moments of the entire gig: the B stage performances. While lead singer Patrick Stump stunned on the piano with a calm rendition of Mania's lead single "Young and Menace," the other members were rushing to the B stage area beside me. As one part lifted, we saw drummer Andy Hurley perform a perfect, beat-for-beat drum solo; as one of the least appreciated band members, I believe we should be praising Hurley a lot more than we already do because he is the literal back-beat of the band. He keeps everyone in rhythm with each other, and judging from those short moments of his solo, he can prove himself to be one of the most talented percussionists out there right now in the punk world.
Joining him was the UK tour replacement for guitarist Joe Trohman, (who was unable to perform on the four-date tour due to family business), the band's guitar tech Ben. With strikingly similar talent – and looks, I must say – he filled in a massive space the best that anyone ever could. All props to him for stepping in and rocking out!
On another platform, in front of the guitarist and drummer were Stump and Wentz – staying as safe as possible with Wentz donning an orange hi-viz vest – and all eyes were on the foursome as they went into all-round popular hit "Dance, Dance." Throughout their stay on the B stage, the musicians were lifted into the air while colours and patterns flashed from the outside panels of the stage. I can imagine for those who were sitting far back, high up, it was a treat to have the American rockers in their direction, belting out a selection of their greatest tunes as if it was specifically for them.
After following performances of 2007 single "Thnks Fr Th Mmrs" and recent track "Wilson (Expensive Mistakes)," the stage lowered back onto the ground and the guys rushed back to the main stage. They couldn't leave the stage empty, so how did they keep the crowd occupied? One word: llamas.
As many fans know, the llamas have been a big thing for the Mania era: since the "Young and Menace" video, they have been used in multiple music videos, appeared on stage throughout the world tour, and have been used to promote the Chicago band's brand new purple album. For their short stint, they were shown roasting the band's performance backstage and then shot out a few shirts in cannons onstage. It was not a long moment with the grey furry "creatures," but I sure did appreciate a little humour to break up the band's set temporarily – like a little rest. It was a good laugh, and if this band is known for anything, it is having some fun while playing their music.
There are two last songs in this setlist I must discuss: first, I have to praise the band for giving us a live performance of Mania hit "Church." The tune was not played on the previous three dates of the UK tour; they had saved the song for their final show before continuing into Europe. Just before the song began, Wentz approached the microphone for one of multiple speeches, declaring "Church" as a song written with a venue like The O2 in mind. London, as most can probably predict, is a dream city for music acts, and Fall Out Boy are no different. I think keeping "Church" for this one show was a special gift to everyone in that venue. Personally, I want to give the whole band a thank-you for that. One genuine thank-you for keeping an exclusive performance for us. It is fully appreciated.
The last song is the biggest one in my five years of following this band – one of the earliest singles in their career – their closing number of the whole night. I am talking about the Take This To Your Grave single, "Saturday." This staple single, played at every show, on every tour, is highly anticipated by most – if not all – in attendance. It is one of their greatest songs (even if that is just my own opinion), and I was so ecstatic when I heard those first few words: "I'm good to go."
That is ending a terrific night with a bang, a strum and – with Pete Wentz being present – a scream. Believe me, it was loud and rough but still hardcore; Wentz's unclean vocals are stunning to hear and witness.
How can I sum up this night? Phenomenal. Unforgettable. Legendary, dare I say. As someone who lives, breathes and loves this music, and especially this band, I entered the arena with the highest of hopes I've ever had in my whole 19 years of life. I did not leave disappointed. I left excited, buzzing, more than willing to take the band up on their offer of "see you next time."
I WILL see them next time. And every time after that. Because this was an experience of a lifetime.
Fan of punk? Fan of emo? Hell, just a fan of Fall Out Boy? Open yourself to a night of pure rock fun, and go and see Fall Out Boy!