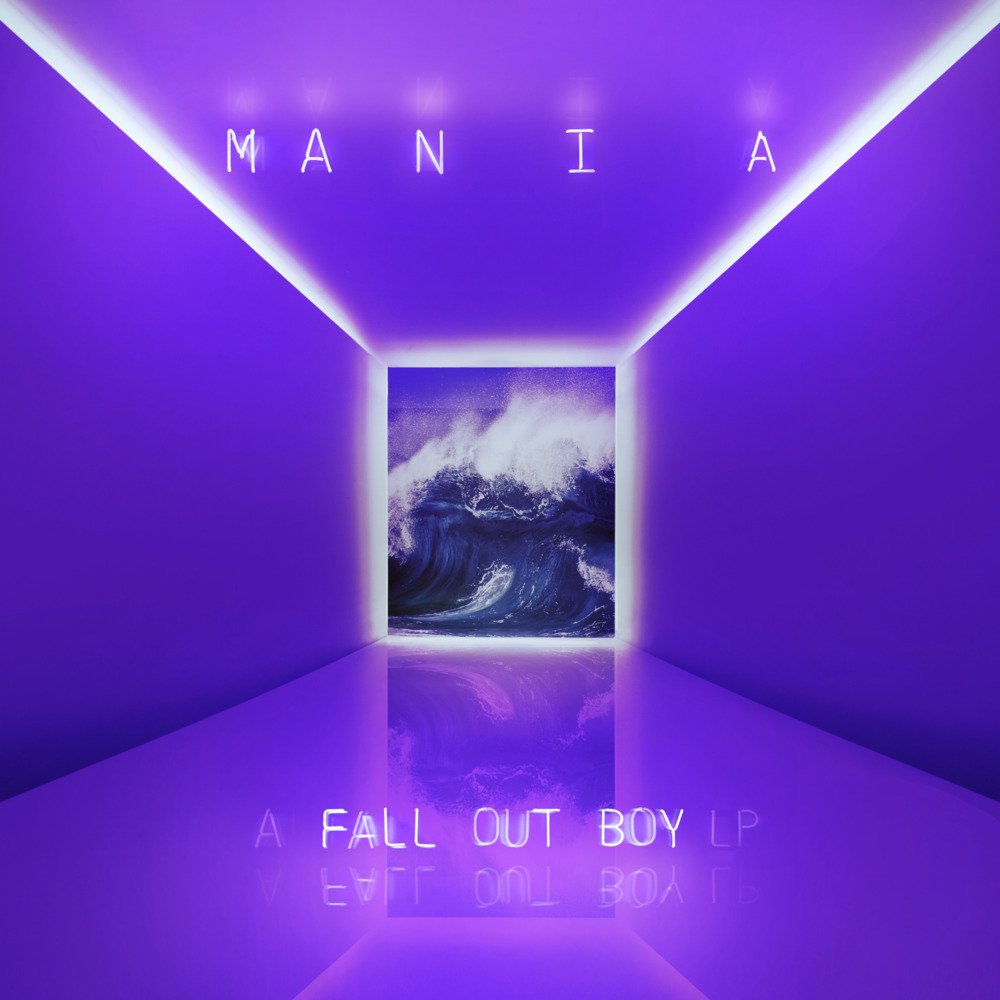 It has been three years since Fall Out Boy last dropped an album, the heart-winning chart-topper American Beauty/American Psycho, and it has felt like an eternity. A band like Fall Out Boy are known to take their time during the creating process; they write and work while traveling state to state, country to country, hiding their productions backstage until they feel secure and satisfied with the music they have been composing. This was proven when frontman Patrick Stump posted a statement on social media in August of last year, explaining how the band were pushing the album back from its original release date of 15th September 2017. The reasoning can be summed up by one phrase in Stump's overall statement: "The album just really isn't ready, and it felt very rushed."
Many music experts and fans believe you can feel a team's effort and pride in the final result, and I personally believe in this. Did the extra time do Mania good? Was it worth the extra four months of anticipation? I'll help answer that question.
This review was written from the CD edition of Mania released, and therefore will refer to the tracks using the track listing from this edition.
Based on online reactions from fans who received copies of the new release early, there has been some praise for the album's opening track, "Stay Frosty Royal Milk Tea." First of all, amusing title – has to be said – but second of all, this is an appropriate track to kick off the LP. Despite it being the shortest song overall, it draws the listener in. The song's electronic sound, specifically throughout the pre-choruses and choruses, gave me flashbacks of singer Patrick Stump's lesser-known solo project, Soul Punk, which received mixed criticism upon its release in 2011. It gave me one thought: "Perhaps Mania will be the whole band's Soul Punk."
This may mean less of that classic punk sound and more of that pop/dance/electronica thrown in – as we were hinted to from the work in the band's last two studio releases, Save Rock and Roll and American Beauty/American Psycho. This is why I personally recommend listening to an album in the order of the track listing: sometimes you might just be warned from the beginning of what to expect throughout the rest of your musical journey.
The album's messages seem to close in more than previous works, which tell multiple tales through bassist Pete Wentz's clever and multilevel lyrics, sung into our ears by the vocally talented Stump. Throughout their musical history, Fall Out Boy would produce songs that were semi-autobiographical. Their 2005 studio album, the highly-acclaimed From Under The Cork Tree, featured tracks such as "7 Minutes In Heaven (Atavan Halen)" and "I've Got A Dark Alley And A Bad Idea That Says You Should Shut Your Mouth (Summer Song)," which gave lyrical recounts of Wentz's life and his downfalls, both physically and mentally. It seems that in multiple tracks on Mania, he is back at it to give us a peek into his thoughts and feelings towards his friends and family, as well as what is going on in the world.
In the track "Wilson (Expensive Mistakes)", the key lyric that is repeated creates a million ideas in one's mind: "I'll stop wearing black when they make a darker colour." Black is associated with death, grief, self-depreciation, negativity, and darkness – it's as if Wentz was reaching back into the past to pull out all his old perspective on the world. That is why I believe if any of the album's 10 tracks can relate back to their previous work, it would be "Wilson (Expensive Mistakes)" due to how similar it is lyrically.
Special mention to the following lyrics from the track also: "If we hadn't done this thing / I think I'd be a medicine man / So I could get high on my own supply." It is one of the simplest but rawest lyrics on the whole album; it refers to Wentz's attempted suicide from overdosing on Ativan and speaks volumes to what he was feeling back in the early-mid 2000s. We all interpret lyrics differently – that's the beauty of music. But I only interpreted this lyric in one way: Wentz was praising the band ("this thing") because if he did not have the support of his band members – specifically best friend Stump – he would be suffering from his demons, in a lifetime he couldn't survive.
The theme of love and companionship can be also be found in the softer, R&B-infused track "Heaven's Gate." It is ambiguous on whether the lyrics are written about a romantic or platonic relationship, but it could refer to both, depending on the listener. It stands out from the rest of the tracks in a truly positive way; it is a soulful song and the undertones of faith are boosted by Stump's unique vocals (which works well with the band's unique music). It can also be interpreted as a subtle cry-for-help song, as it's a voice reaching out asking for "a boost over heaven's gate" – a helping hand in staying on the right roads in life.

I believe the R&B feel can be traced back to the man behind the music, Patrick Stump. As someone who is a fan of soul and R&B music, it is almost guaranteed that Stump added in these soul elements to make his personal mark on the album. Not to say the other tracks aren't trademark Stump – as long as he belts out those notes, they are as much his songs as they are the others' – but with the knowledge that there is a special place in his heart for the softer genres in the industry, it rings that "Heaven's Gate" might be more important to him than most of the others.
As we all know, even the most wonderful album has a downside, no matter how small it may be. In my eyes, the one drop in Mania is how out of place I felt the track "Sunshine Riptide" to be. The album's eighth track, the only one with a featured artist in the form of Burna Boy, was the one that stood out the most to me when listening to Mania – and standouts can only go one of two ways: they stand out for the best or the worst reasons. I felt like in this case, it was not for the best reasons. The song did not make me feel the same as the other tracks did from the first listen. I felt the auto-tune manipulation of Stump's vocals was not a good introduction to the song. Then, when it approaches Burna Boy's small vocal section in the song, it feels underwhelming. It doesn't fit in. With Fall Out Boy being a band that tries to steer away from overusing the concept of collaborations in their studio releases, I became accustomed to their music being theirs alone. If you want to listen to a suitable collaboration from Fall Out Boy, I recommend you go back to the 2008 release Folie a Deux and listen to tracks such as "Tiffany Blews" and "20 Dollar Nose Bleed." "Sunshine Riptide" was just a narrow miss, I'm afraid, and is the ultimate down in an album of ups.
Let's sum up these track discussions with the first one most of us heard from this violet-tinted release: the dance-inducing dubstep-inspired "Young and Menace." Released in April last year, it's safe to say "Young and Menace" did make an impact among the punk world, and especially among Fall Out Boy's massive fanbase. In all honesty, I was concerned that this song was going to be the best of a bad album – I had faith, but with such a strong change to their sound, there is always doubt that will appear. However, when a song gets you up on your feet and makes you both dance and fight, something right has happened for sure.

"Young and Menace," being placed as the penultimate track on the LP after all of the electronic beats and dance tunes before it, takes away the initial power from its first initial release nine months ago. However, this could also be due to the passage of time. We have purchased this song, we have played this song, we have memorised every lyric from this song – we have simply become used to this song, in a way. Is that a good sign or a bad sign? I still enjoy the track and can listen to it without any groans or sighs or murmuring, "not this one again," so I'll say that's something good.
As a final verdict, I know I made many mentions to the band's previous work, but what I believe is you can never make full comparisons between any two of Fall Out Boy's albums. You cannot compare Take This To Your Grave to Infinity On High, and you cannot compare Folie a Deux to American Beauty/American Psycho, and the same applies to comparing anything to Mania.
It has been apparent that many criticisms have been thrown to the band due to their recent music (post-hiatus, primarily) that has led to them being labeled as "sellouts," as the music may contain more elements of what is considered mainstream than what is considered pure unchanged punk and rock. The thing about bands in the punk genre, such as Fall Out Boy, is they live to change their style up and keep their following and themselves entertainingly hooked to the sounds they're putting out.
Is this album a guaranteed winner for everyone? Unfortunately, no.
Whether you're waking up on the wrong side of reality or paradise, I would still recommend you give it a spin; whether you live for those heavy guitar riffs and unclean vocals, or those beat drops and whistles, or you are just feeling skeptical. You may end up enjoying it.
It has ups and it has downs, but overall, what a manic way to start off 2018!