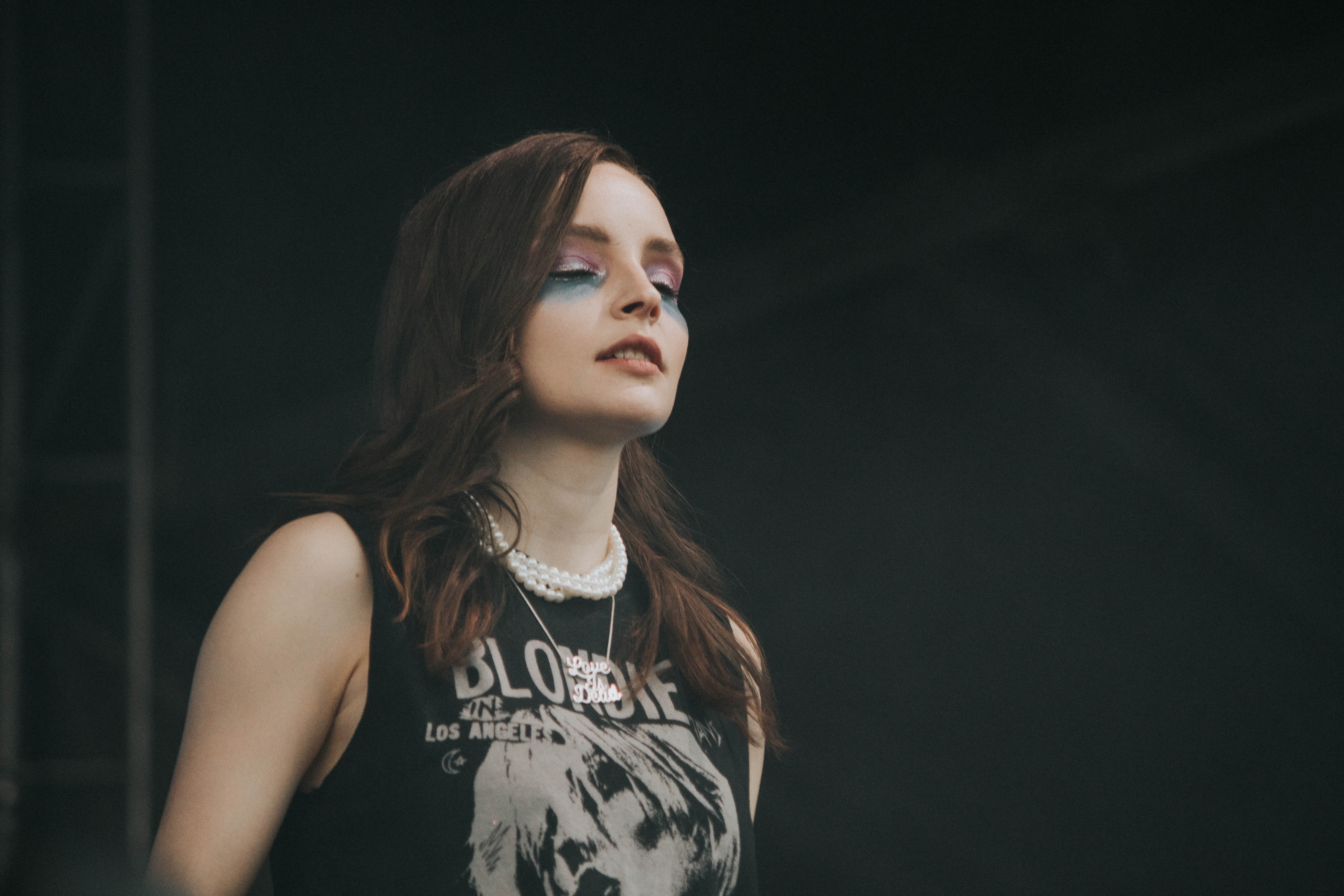 Chvrches
Hinterland Music Festival
August 3, 2018
Avenue of the Saints Amphitheater
Saint Charles, IA
Review and photos by Janet Eckles
Thousands attended church on Friday night. But not church in the traditional sense. At this service, synths replaced organ, a small town Iowa field was our sanctuary, and Lauren Mayberry was our preacher.
Known for a stage presence that is powerful, compelling and often frenetic, Mayberry puts her considerable talents to work as the frontwoman for the synth-pop group Chvrches (pronounced "churches"), which, despite the connotations, give a performance that is anything but pious. Formed in Glasgow in 2011, Chvrches have released three studio albums, with the most recent, Love is Dead, serving as the foundation for their current tour.
I caught up with the Scottish trio at Hinterland, a two-day festival held on the outskirts of St. Charles, Iowa at the Avenue of the Saints Amphitheater. Performing on the same bill as indie standouts like Band of Horses, Nathaniel Rateliff & The Night Sweats, and American rocker Sturgill Simpson, Chvrches marked a welcome change of pace from the Americana and rock dominated lineup. Mayberry and Co. shared their electric energy throughout their set and the audience mirrored and amplified it in return. The crowd was actively engaged throughout the show – bobbing their heads to the beat on 'slower' songs like "Lies," while jumping, dancing and singing under Iowa's starlit sky on the faster favorites.
For the majority of their set, the band featured newer songs from Love is Dead. Most notably, crowd favorite "Miracle," was met with raised hands and screams of excitement from the several thousand fans in attendance. Standouts from older albums, such as "Recover," "Clearest Blue," and "The Mother We Share," lost none of their punch as Mayberry twirled and leaped across the stage with contagious levels of excitement. Meanwhile, the addition of Johnny Scott on percussion provided an extra oomph to an already tight-sounding set and seemed to compel even the most reluctant dancers to twitch their hips in appreciation.
At one point, Mayberry commented on how she and the rest of the band were unprepared for the Iowa heat, which drew cheers of appreciation from a happy but sweaty crowd. She further endeared herself to the mostly Midwestern audience by sharing a story from her high school years in which she ate a funnel cake at the Illinois State Fair. She said that while she enjoyed the cake, her body did not and vomited the sugary treat right back up. This story also drew cheers and some groans from the collection of Midwesterners who seemed to share a sense of understanding perhaps learned through personal experience.
From start to finish, Chvrches put on a set that was consistently upbeat and impossible to ignore. Mayberry's vocals were flawless and strong – impressively undeterred by her non-stop dancing across the stage. Hardcore fans and casual festival attendees alike found themselves swept up in the relentless energy that seemed to radiate from Mayberry's onstage pulpit.
The Love is Dead tour kicked off in Toronto and continues worldwide before ending in Ireland early next year.