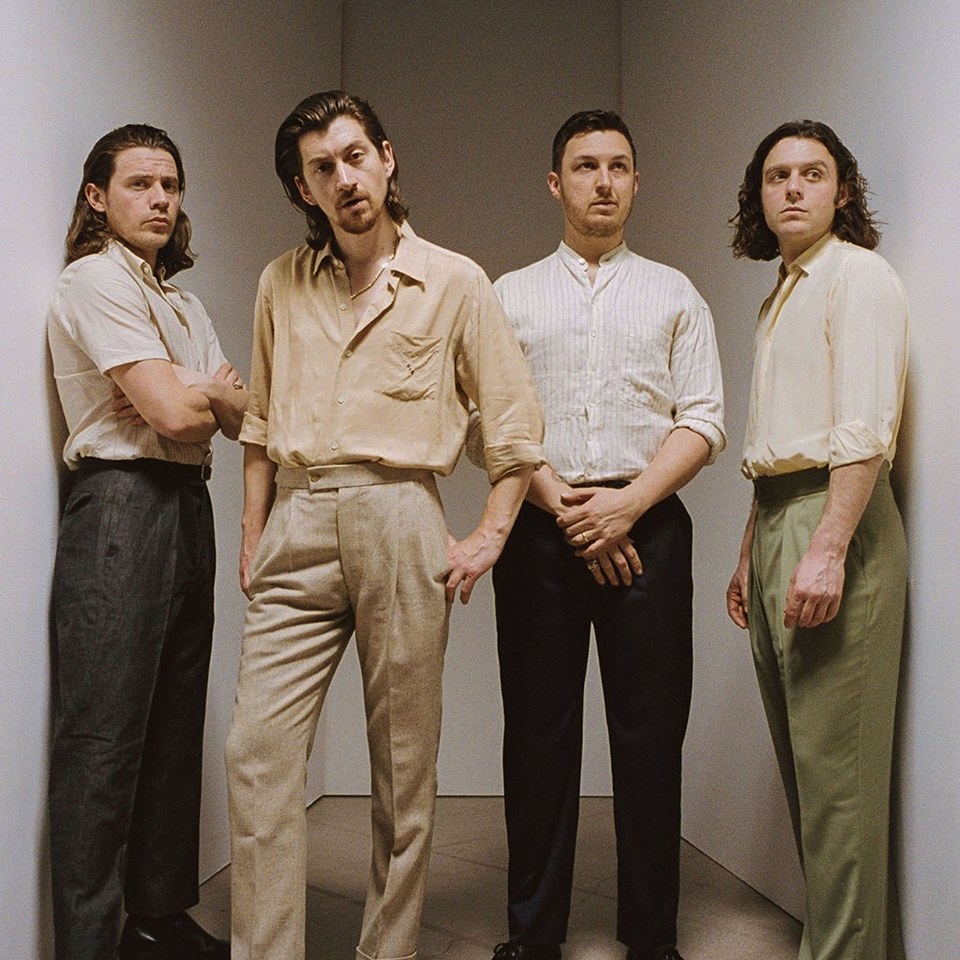 Arctic Monkeys
July 24, 2018
Forest Hills Stadium
Queens, NY
Monkey Business: How Arctic Monkeys conquered the galaxy and the stage at Forest Hills
It's hard to define what truly constitutes a noteworthy band these days, but a sense of evolution is usually a good indicator. In their 12 years together, Arctic Monkeys have been many different bands – The Strokes-inspired punk rock of their first two albums, the desert rock of their third and fourth LPs, the retro meets hip-hop of their fifth and most successful album AM, and finally the lavish lounge pop of their latest release. With a catalog as diverse, eclectic, and wide-spanning as the Monkeys', the question was always going to be how each era of the band would be represented on stage for their latest tour and fit together in a cohesive package. Thankfully, the answer upon attending their July 24 show at Forest Hills Stadium was "very well." Throughout the night, Alex Turner and company delivered a set full of soaring highs but also managed to deliver some intimate numbers and deep cuts with the same level of commitment and intensity.
The set-up employed on stage was simplistic yet effective – a black background with the word "Monkeys" displayed behind them with colored lighting and effects appearing throughout certain songs to accentuate their visual flair. The band opened up with the lead single from their latest album Tranquility Base Hotel and Casino, "Four Out of Five," showing off a glam theatrical style that more than suited lead singer Alex Turner. From there, the setlist rattled off a slew of Monkeys classics; the band threw themselves into visceral performances of hits such as "Brainstorm,"  "Crying Lighting," and "Don't Sit Down Cause I've Moved Your Chair." Mid-way through, the band slowed things down a bit after performing highlight "505" and segued into a couple of songs from the new album such as the ballad "One Point Perspective" and synth-pop-esque "Tranquility Base Hotel and Casino."  What made hearing these songs together so compelling is how organic the Monkeys were in inhabiting each selection. The band felt just at home performing the space jazz of their latest work alongside the guitar-heavy style of their debut, and each song was thoughtfully sequenced and arranged.
As a frontman, Alex Turner has progressed significantly from the band's early days, showing off a newfound swagger and theatricality which added expression and vitality to his performance. Vocally, he was in fine form the entire night adding dimension to some of their established classics and lending real soul to the band's many ballads, most notably "The Ultracheese" and "Star Treatment" are where his range was most apparent. Despite the array of styles and sounds the band explored on stage, at their core, Arctic Monkeys are still very much a rock and roll band. Their sense of excitement when performing classics in their discography such as " I Bet That You Look Good On The Dancefloor" and deep cut "Pretty Visitors" was palpable. That spirit of pure energy translated into their renditions of "Arabella" and "R U Mine?" which closed out the show. The crowd was notably exhilarated, and the connection between audience and performer was keenly felt. The sense of unity and cohesion between the band on stage was concise with drummer Matt Helders providing weight to many of their numbers, and bassist Nick O' Malley added texture and shape with his performances. As the evening was coming to a close, before settling into their final song of the evening, Turner asked the audience, " R U Mine?" Judging by the rapturous response he got in return, the answer was yes.