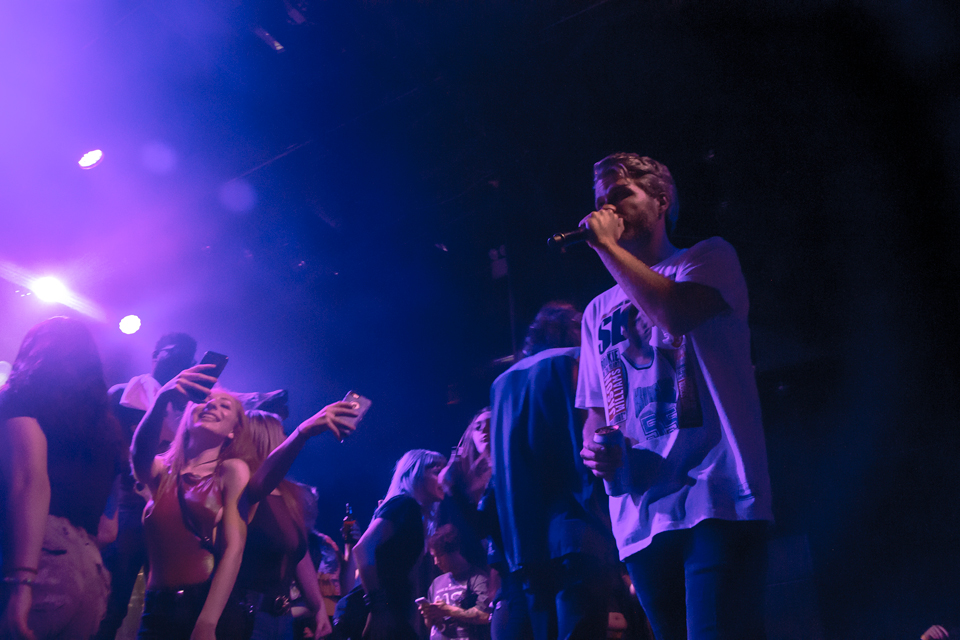 3OH!3
Emo Nite LA
Lil Aaron
November 27, 2018
Irving Plaza
New York City, NY
Show review and photos by Blair Levinger
Ah, the house party. A tradition as old as teenager-dom itself. It goes something like this: pick a night when your parents are out of town, raid the liquor cabinet, stock up on junk food and soda, pay your little siblings twenty bucks each to stay upstairs and keep their mouths shut, call like five or ten friends… and in no time, half the school will be in your living room, breaking your mother's dishes and dancing on the kitchen table.
And somewhere in all that commotion, one of your friends will no doubt elect themselves DJ. Now, if you're reading Stars and Scars, you probably were or are one of the "emo kids," and so that friend will probably be spinning a mix of pop-punk and hardcore. And assuming this party is happening around 2008 to 2012, I'd lay money that somewhere in that emo-kid-dance-floor playlist, there is a song by 3OH!3.
In 2008, Boulder, Colorado electronica duo 3OH!3 burst onto the scene with the release of their second album Want. An irreverent, exuberant mix of rap, electro-pop, and pop-punk, Want quickly became a huge hit in both the Top 40 and alternative markets and helped popularize the use of electronica in the emo genre as well as the grunge-and-technicolor aesthetics of the late-00s scene. With its go-for-broke club songs and anthems to debauchery, the album was catchy, vulgar, and fearless enough to rhyme "vegetarian" with "scared of him." There was nothing quite like it.
Today, Want is a crunk-core classic and still a go-to party album for the alternative world. So, it's only logical that 3OH!3 would choose to celebrate its tenth anniversary by throwing the biggest, rowdiest, craziest party they could manage. To that end, they teamed up with California DJ trio Emo Nite LA — also known for their big, rowdy, crazy alternative parties — and created the Want House Party Tour, a unique hybrid species of concert and club night.
From the moment I walked into New York City's Irving Plaza on Tuesday, November 27, it was clear that this would not be a normal show. For starters, it was 8pm — unusually late for a weeknight all-ages gig — and instead of the usual quiet mic checks, a DJ was already on stage, hyping the room with throwback pop songs. The party had started before anyone even walked in, and true to its title, it was a houseparty — as in, the stage was designed to look like somebody's living room, complete with plaid couch, table lamps, and a wall-projection backdrop. Over the course of the three-and-a-half hour show, the acts — 3OH!3, Emo Nite LA and special guest Lil Aaron — eschewed normal sets in favor of a seamless rotation of live music and DJ-ed tracks. And there were no seams between performers and fans either — two songs into their first set, the Emo Nite crew invited the audience members to sing and dance on stage, and they stayed there for all but one of the show's seven segments.
For their three turntables center stage, the Emo Nite LA crew spun a booming selection of pop-punk and emo hits from the 2000s. From "Dance, Dance" to "Face Down" to "Downfall of Us," the songs delighted the raging crowd, who sang, screamed and moshed along with every beat (Curiously, the song that inspired the most violent mosh pit was "Ocean Avenue"). If you've ever been to an Emo Nite event, you know how fun it is to be in a room full of people who know every word to your favorite Warped Tour jams, and this was no exception. From the spotless sing-alongs to the triumphant crowd-surfing that accompanied "Welcome To The Black Parade," Emo Nite's sets were a slam-dunk good time.
As for 3OH!3, ten years into their career, and they are still as wild as ever. Singing the most popular songs from Want as well as a few later hits, singer-songwriter-producers Sean Foreman and Nathanial Motte trounced the stage with the liveliness and antics of a Looney Tunes cartoon. From the choreographed butt shaking that accompanied "Starstrukk" to the choice decoration of two stuffed wolves that shot lasers from their eyes (their names, according to Foreman, were Gary and Warren), 3OH!3's sets were jam-packed with clever, crazy surprises and twists. Both Foreman and Motte are massively talented performers with tons of stage presence, and their brazen hijinks brought the energy to sky-high levels across the room. When they threw the cushions off the aforementioned couch, it really did feel like a high school rager.
And of course, that's the MO of both Emo Nite and the ten-year-anniversary tour model: to bring you back to music you grew up on and let you have a blast without worrying about trashing your parent's basement. So when, at the end of 3OH!3's last set, everyone both onstage and off lifted their fingers into the band's signature "gang sign," it was a reminder of a few more things that make house parties so special. This was a show about having fun, screaming along to songs you love, and causing some well-meaning chaos in a room full of friends. At the Want House Party Tour, we were all breaking dishes together.