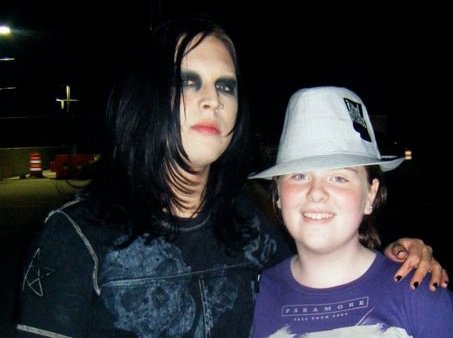 The Bamboozle
May 1 – May 2, 2010
Meadowlands Sports Complex
East Rutherford, NJ
Picture it: a 13-year-old girl in Bermuda shorts, a purple Paramore shirt just a bit too tight, and comic book themed Converse. She is wearing a gray fedora and stepping over a pile of vomit in a parking lot. I present to you The Bamboozle Music Festival 2010: a little girl's first concert. Her sweet preteen heart is obsessed with Escape the Fate (specifically Max Green) and has been dreaming for weeks of hearing them play "Not Good Enough for the Truth in Cliche" (they did not) and "Something" (they did) live.
Surrounded swat-style by my uncle, three cousins, and my older brother, my concert education began with heartache on a sunny May afternoon: my brother had forgotten our tickets at home and the festival was 45 minutes from our house. In a gift of mercy that will never be outdone in my entire life, my oldest cousin offered us her two tickets and drove herself back to our house to retrieve the ones we left behind for herself. Thanks to her selflessness, I didn't miss a single second.
My first set of the weekend was The Aquabats!, which was a very fitting start to my concert career: high energy, a little goofy, and way over the top. From the first note, I was hooked. Everyone around me was in the same place for the same reason. There were giant beach balls and pool floats for "Pool Party" and people were actually eating pizza while they played "Pizza Day." It was a blast. My family caged themselves around me so I could get my bearings without getting too roughed up, but I felt the movement of the crowd.
Bamboozle was my first experience with a rough crowd – and having to leave one. Drake went over his allotted time on his stage, preventing Paramore from starting on time and making the Paramore-loving crowd I was in a little rougher than expected. On the other hand, it was also my first experience with being close to the stage. I was able to see a Chiodos set from third row back, and that was the moment I decided I wanted to be that close every time I saw a concert. It was a foundational moment for the barricade-hugger I've become today.
The weekend overall was full of iconic moments: Max from Say Anything climbing the scaffolding on the side of the stage and jumping into the crowd, MGMT doing a rare performance of "Kids" live, my first taste of badass women that curse a lot during Matt and Kim's set, seeing a mosh pit for the first time, and winning a signed 3OH!3 poster (that I still have hanging on my wall to this day). Bamboozle weekend was one of the most important in my life. I learned all the important rules: Someone falls, you pick them up. Watch behind you for crowd surfers. Don't complain about getting landed on if you're in the front. Watch where you're walking. Drink lots of water. Make sure you have a sharpie for the schedule. Pick a meeting point in case you get separated from your friends. Forget about every outside problem, and focus on the band in front of you.
I recently found my Bamboozle ticket while going through my ticket box. It's yellowed and a little faded, but I picked it up and sat on the floor of my bedroom, opened up Spotify and put on "Something" by Escape the Fate. I outgrew listening to Escape the Fate just two years later after Max Green's departure from the band and moved on to other bands and other festivals. For 10 years, I kept the poster I bought that weekend hanging up next to my bed. Taking it down was more bittersweet than I was expecting.
On the way out of the show, we stumbled upon Max Green sitting outside of the stadium on the curb smoking a cigarette. I freaked out and asked him for a picture. I cringe every time I look at it now (you will too), but not even my awkward stage can hide the pure joy that was radiating from me in that moment. He gave me a guitar pick from his pocket, which I wore on a bracelet for three years until it fell off in my high school's parking lot. I hope it's still floating around in the universe somewhere. Maybe it's on some other girl's wrist now. I hope it reminds her of her first concert too.