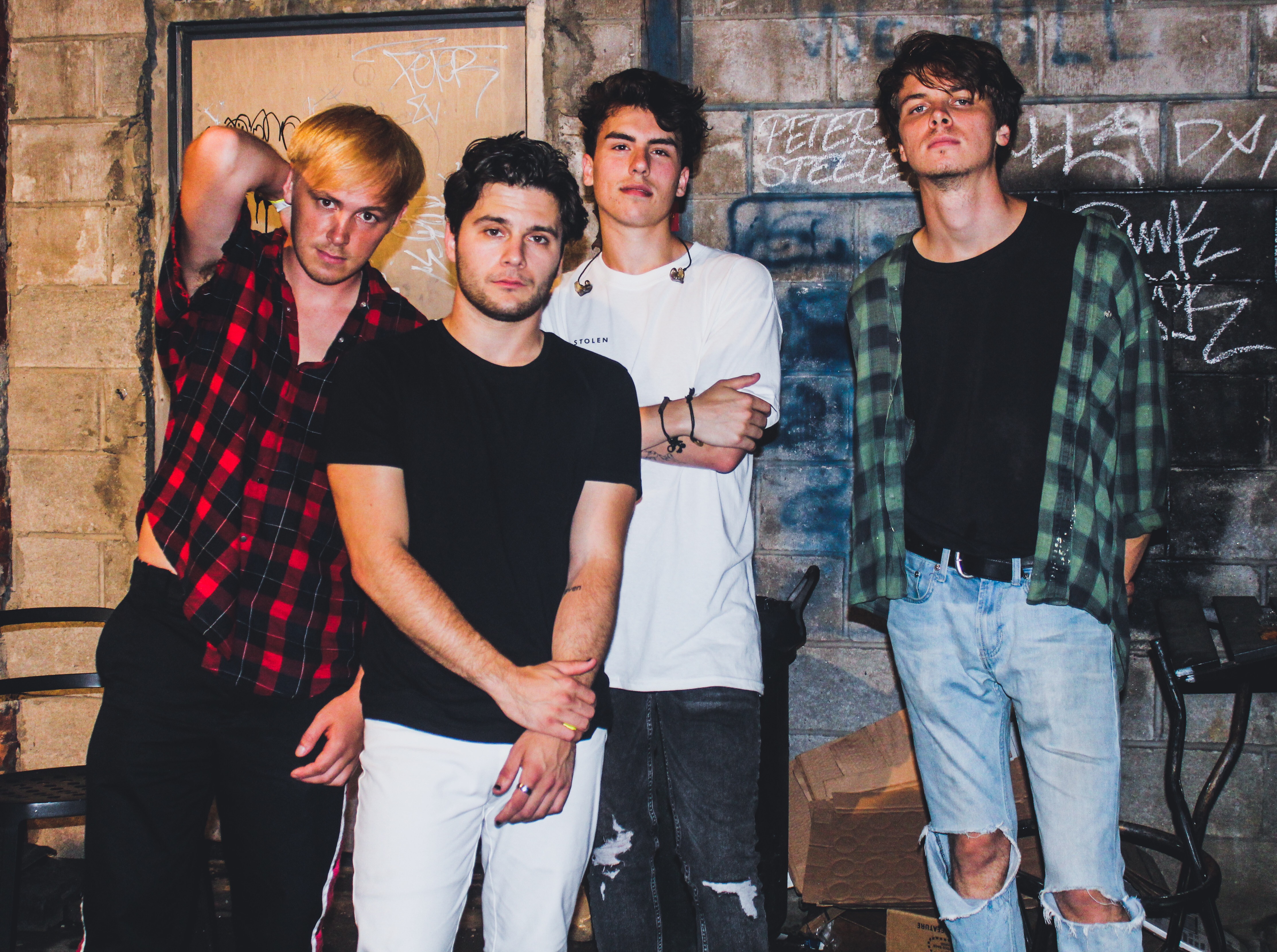 The Stolen is an alternative rock band from Old Bridge, NJ consisting of Dom Cuce (vocals), Rob Chiarappa (guitar), Kevin Smart (bass), and Mike Chiarappa (drums). The boys gave us the inside scoop on their tour life, fans, and new projects.
S&S: Today is your final day on this tour. How has it been?
Dom: It's been awesome! The support of our fans has just been incredible, and the shows are just getting better and bigger. More people are coming out, which is very cool. It's just a really good time to hang out with the people who support what we do, so it's just been amazing.
Rob: I think it's definitely the most natural feeling tour we've ever done. We've been touring for quite a bit now – granted it hasn't been our longest tour, but it definitely feels very natural. The band MILK are really cool guys, and like Dom said, the shows are getting bigger but it still feels very personal. It still feels like what we're used to, which is cool.
Kevin: Just to elaborate on that, it's been really dope. I think we've been touring for about 5-6 years now, so you know it's really cool to show up to venues and see people lined up like hours before the show. It's super humbling, and we're having a great time with all the fans.
Mike: I agree. This has definitely been one of the best headlining tours we've ever done because usually, we will do a support tour and then we'll come back and see people from that previous tour come back and see us. This time, we didn't do a support tour, and people still came to see us. So, I think we were all a little bit shocked that more people started coming which is super humbling and cool, and MILK who is supporting us are just a fantastic band to be on the road with.
S&S: What was your favorite show to play?
Kevin: Columbus!
Dom: I would say Columbus definitely. Ohio has always shown us some love. When we first started touring, Ohio was one of the first places out of the tri-state area we went to. Columbus and Cleveland always come out and show us their support. They get really wild. You know what they say – Ohio is for lovers.
S&S: What's your favorite song to perform live?
Mike: I would say "Overboard" or our new song "Stuck." It comes out in a few months, and we've been ending our set with it every night. It just has so much energy and so much emotion that we put out. It's just so much fun.
Rob: It's intimidating to end the set with a song that's not out. People don't necessarily know the words, but just something about it feels really right. I agree it's my favorite one to play.
Dom: I don't want to ruin anything. It's just fun. It's a really good song, and I agree with Rob it just feels right.
S&S: I saw you guys played at Vans Warped Tour in Holmdel, NJ. I actually got to see your set – amazing! What was it like?
Dom: Very hot!
S&S: I agree!
Dom: Very hectic. Warped Tour is very cool. We grew up going to Warped, so to have the opportunity to play the last tour, even if it was just one day, was very fun for us. We were out there with the typical Warped Tour hustle, talking to everybody you possibly can, sweating our butts off, drinking like 12 water bottles and still not being hydrated enough. Warped Tour is something special.
Mike: Yeah, I passed out at Warped Tour. I don't hydrate well. I don't know, something is wrong with me. They gave me an IV, and I'm alive. Just stay hydrated!
Dom: Mike passed out, and we had to go to the hospital. But he's better now so we can laugh about it.
S&S: Were there any bands that you guys went to go see while you were there?
Mike: I saw so many bands – that's probably why I passed out. I saw Movements, The Maine, Bowling for Soup, 3OH!3, just so many bands.
Dom: I saw Bowling for Soup and like half of the Chase Atlantic set.
S&S: I was at the Chase Atlantic set too – such a good set!
Dom: Yeah, and also The Maine.
S&S: Any new projects coming up? I know you guys kind of answered that a little bit before.
Kevin: We have a new single "Change the Record" that comes out August 10th. It just symbolizes a new start of a record cycle.
Dom: These are exciting times. We're just constantly writing and trying to better ourselves as musicians, so there's a lot of new stuff that honestly we can't share, but we have new stuff coming.
Rob: Stay tuned – it's coming.
S&S: If you guys could choose a celebrity or character/cartoon to represent your band's sound/style who would it be?
Kevin: I would say Shrek. Just kidding.
Mike: Maybe John Stamos.
Dom: I've been told I look like a mini John Stamos, and I'm okay with that.
Rob: How about we just do celebrity lookalikes?
Dom: You're just going to change the question?
S&S: We can change the question haha it's okay.
Dom: Rob is just like I don't like that question. We're just going to answer a different one.
Kevin: Dom is John Stamos. Rob is Drake Bell.
Dom: You're Shawn Mendes or Ferb from "Phineas and Ferb."
Kevin: And Mike is… I don't know. (The boys never came up with Mike's lookalike)
Dom: Oka,y now let's try to answer the question.
Mike: Bruce Springsteen because we love New Jersey.
Dom: I would say Bruce. We have a lot of pride in where we're from.
Mike: We're loud. We first pump every weekend.
Dom: We definitely don't do that, but can we all come to an agreement with Bruce? He's loud and he's from New Jersey and likes rock and roll.
S&S: You just have some awesome fans. Any memorable moments or crazy fan experiences?
Rob: I'm going to go on a whim here and say one thing that is mind-blowing to me is the amount of people who have tattoos relating to our band. For the size band we are, it's insane that almost someone at every show comes up with a tattoo of our band.
Kevin: Some people have multiple tattoos of us. It's wild.
Dom: Another thing that is crazy is a lot of people are traveling to see us. For people to go greater distances just to see us, it's great and we appreciate it. They are so passionate. The fact that they want to take the time out of their lives, when they can be at home or hanging out with their friends, there are just no words.
Rob: Personally speaking, the most I've traveled to see a band is probably an hour. There are two kids right now who are following our entire tour.
Kevin: Yeah, there were these two girls who traveled the whole country with us. It was about a month and a half tour, 30 tour dates, and it ranged from all the way in Buffalo, New York to all the way down to Florida, California, Seattle, Arizona, etc. And they followed the whole thing in a jeep.
Dom: It was awesome.
Kevin: Yeah, we kind of became friends. There were a few times where we went out to eat with them, and it was just cool to hang with them. We really appreciated all the support they gave us.
Dom: We want our fans to know that we genuinely appreciate them and that we want to talk to them. We're not going to sit back and play cool guy. That's not us. We really want to get to know the people who support us. We love our fans –  they're great!
S&S: Who would you guys love to tour with?
Kevin: These guys are like our brothers, we've known them for a while, [and] it would be really cool to tour with The Wrecks. They're such great dudes, so I would love to tour with them.
Mike: If it's realistic, I agree with Kevin. The Wrecks would be fun to tour with and Vinyl Theatre. If it's not realistic, I would love to tour with the Eagles, Rolling Stones, just come classic rock legends.
S&S: Dream venue to perform in?
Everyone: Madison Square Garden!
Dom: We want to be the biggest band that we can possibly be, and to play MSG would just be a dream come true. Also, if there's another place we can play and sell out it's this place close to home called Starland Ballroom. Playing there would be sick just because we grew up going to shows there.
Mike: I think if we accomplish that, we're going to try and sell out the Meat Locker at Montclair.
Dom: Nobody is going to get that!
Mike: They'll figure it out.
S&S: Final question and this is a fan question. Sarah wants to know if you could be any crayon color, which one would you be and why?
Rob: Macaroni and cheese! I think the idea of a food and color combination is cool.
Dom: I'm going to go with either blue or green just because they're my favorite colors, I don't know if that's boring. Or maybe black like my soul, I don't know.
Mike: I would be white so nobody could use me, and I would just be that fresh crayon in the box.
Kevin: I want to be black just because black goes with everything.