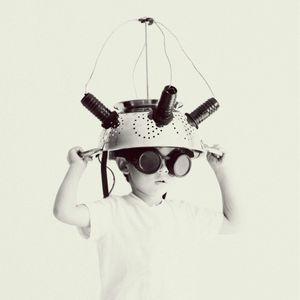 Maybe it's because The Wrecks sounds like a euphemism for my life. Or perhaps because "Favorite Liar," the first song I ever heard from them, is an absolute banger. Whatever the case may be, I have been waiting for the day The Wrecks release more than three songs on Spotify. Their new EP is titled Panic Vertigo, and can we talk about the cover art for a minute? A black and white photo of a child looking like he's about to go exploring in some fantasy world immediately brings me back to my childhood. As for the actual music, it does not disappoint.
Style-wise, it sounds very similar to the We Are The Wrecks EP released last year. My favorite song at the moment is "James Dean" just because it's fast-paced, upbeat, and witty. From start to finish, there is so much energy from the vocals to the electric guitar jamming in the background. If we're being honest, there isn't one track I don't like.
"Panic Vertigo" is probably my second favorite track, and I definitely love the fact that they named the EP after this song. It just sounds like it should be a title to something bigger. I love Nick Anderson's vocals and the chorus of people practically chanting in the background. This track feels like such a great song to perform live or listen to if you need a pick-me-up. "Revolution" feels like it could potentially be the theme song for this band or really any band just starting out. They sing, "won't waste any more time, I'll start a revolution before I die," which I think sums up how bands feel if they are passionate enough about their music.
"Figure This Out" is extremely catchy and even though this EP hasn't been out for long, I find myself singing, "someone's gotta tell me how to figure this out," a good amount. This track reminds me of a pop song on the radio, but like not the ones that get annoying quickly. Finally, "Way With Words" starts out pretty mild but picks up relatively quickly. It sounds like it should be part of a movie soundtrack, which if you're someone like me who lives for movie soundtracks, that is a high compliment. Overall, if you've been waiting for this EP like me, then all your wishes have finally been granted. And if you've never heard of The Wrecks until now, get out and listen to their new EP, Panic Vertigo.