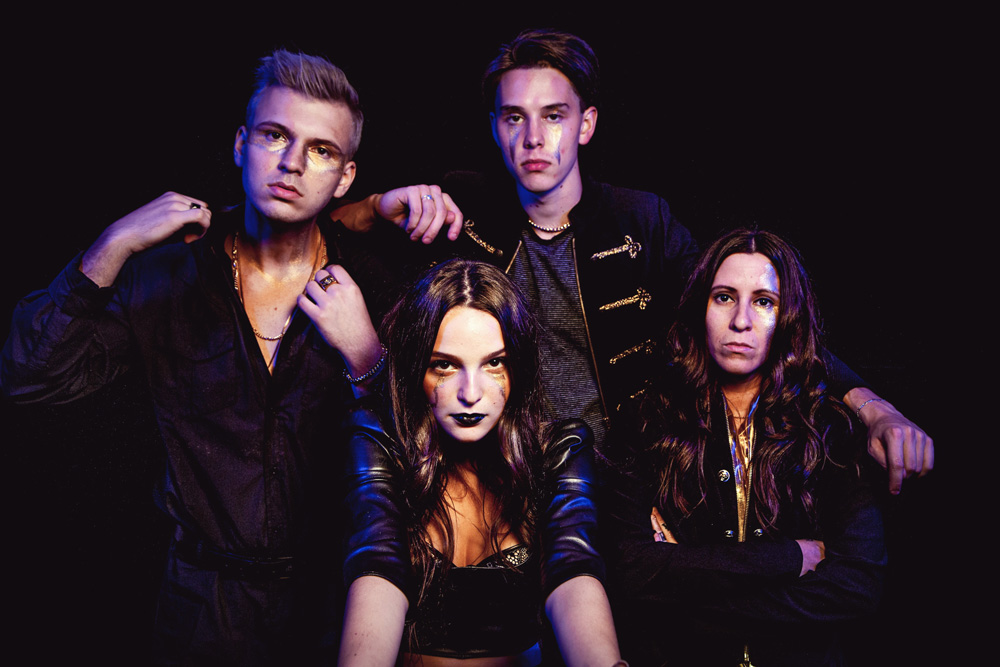 Hailing from Fort Lauderdale, Florida, alt-rockers The Haunt just wrapped their European tour. Teenage siblings Anastasia Grace and Maxamillion Haunt merge together for an eclectic sound, combining alternative, indie, rock and roll, garage, and blues. As a victim of bullying, Anastasia had a vision for their music video "All Went Black" which went viral with over 100,000 views. The group partnered with the Stop Bullying Now Foundation to help contribute to putting an end to the epidemic of bullying among today's youth, empowering them through counseling, life skills training, open communication, and creative outlets. Next up, The Haunt will release "Why Are You So Cold?," a powerful song that summons the band's notorious haunting eeriness that burrows into your soul. To learn more about this captivating group, read what I asked them below:
S&S: You recently toured Europe. What was your favorite destination and why?
The Haunt: I think collectively our favorite destination was Milan, Italy. We have Italian heritage, so we were already very interested in the country, but when we got there it exceeded our imaginations. It's a truly beautiful place with lively, wonderful culture and warm-hearted people. Anyone who gets the chance to visit Italy should definitely take up the opportunity.
S&S: Where do you plan on touring next?
The Haunt: We're open! Right now, we're working on a bunch of different things, such as recording music and videos, writing, and all that jazz, but we'd love to tour anywhere that would have us. We're dying to visit Asia – Japan specifically.
S&S: What's it like being so young and touring other countries?
The Haunt: It's not all that different from touring in the U.S., honestly. The biggest difference, aside from the slightly increased energy in some European crowds, is the fact that we lost weight on the European tour, whereas we gained weight in the U.S. LOL. I can't tell you what the reason is for that, but it's a thing.
S&S: What's like being a young musician?
The Haunt: I'd say that people automatically want to look down on you just because you're young. Some other bands think they know more about this business than we do just because we're young, but the truth is we've been doing this for four years, which is much longer than most other bands can say for themselves. It's really fun winning people over, proving to them that we're genuine musicians and not some gimmick. I think over the recent years, the climate has changed on young musicians, and it seems like now is one of the most accepting times in the general public for younger acts, and we're really excited to be coming up in this time period.
S&S: What's it like working together with family?
The Haunt: Exactly as you'd expect it to be. Lots of arguing and fighting but just as much love. It's not always easy working on something as personal as art with your sibling, but the process has led us to become best friends, which we definitely were not before the band started.
S&S: Do you guys play any instruments?
The Haunt: Anastasia plays piano, ukulele, and, of course, sings. I (Max) play piano, guitar, bass, ukulele, synth, and also sing. We've been taking music lessons since we were really young, about five years old.
S&S: Your self-titled EP was released last year and is spectacular! What can we expect from your upcoming music?
The Haunt: Thank you! The EP was a blast to make, and we were really excited at the response it got. We have a new album on the way. It's currently titled AREA51, and we're really excited to share the first single "Why Are You So Cold?" in the next few months. It's something new and different, so look out for it! 🙂
S&S: What do you like to do when you're not making music?
The Haunt: I (Max) draw a lot, and write short stories. It's my second passion. Anastasia loves musical theater and has been in a few school musicals, including being Wednesday Addams last year.
S&S: Who are your favorite artists to listen to?
The Haunt: We have a really diverse music taste. I've always loved more modern rock stuff, like Catfish and the Bottlemen, Royal Blood, K. Flay, Arctic Monkeys. Anastasia's always loved older classic voices, such as Nina Simone, Billie Holiday, Amy Winehouse, and others. Our favorites mix in bands like The White Stripes, The Kills, Cage The Elephant, The Dead Weather. Bands that make modern versions of blues rock. We love that stuff.
S&S: What's the music scene like in Fort Lauderdale?
The Haunt: The music scene in Fort Lauderdale is better than you'd expect. Collectively, the music community here was really good to us. There's a lot of talent here; the sounds that come out of South Florida are very diverse, and that definitely helped us shape who we are as musicians.
S&S: The masks for your "All Went Black" video were terrifying and unique! Where did you get the inspiration for that?
The Haunt: Terrifying and unique is a good assessment. The masks are symbolic of an adolescent society that has been less than kind to each other through recent years, leaving young people feeling insecure, judged, ridiculed, and fearful to be themselves during a time where it's most important for them to find their value. We wanted to shine a light on that aspect of adolescence and hope to do whatever we can to improve that reality.
To listen to more of The Haunt's music, click here.